We make the short trip to Coatbridge on Saturday to take on Albion Rovers. As we move into the 2nd half of the season, every game becomes must wins, especially as Kelty Hearts and Forfar seem to have 1st and 2nd place sewn up. That leaves 7 other teams battling out for the final two places.
History has been favourable for The Warriors in this fixture, with 85 wins, 53 draws and 70 losses. Albion Rovers have also only won 1 of the last 6 meetings between the two sides. Perhaps a good sign for The Warriors going into Saturday's match.
Some good news for The Warriors is that Robert Thomson has returned to light training. We're hoping to see big Thommo back on the pitch before the end of January.
Nicky Jamieson is back to full fitness with Mikey Anderson, Ryan Tierney and Ryan Marshall all returning to training on Tuesday after various dealings with COVID. Dec Hughes and James Lyon remain out and may feature on Saturday while BJ Coll is currently isolating. Graeme Smith and Jon Craig remain long term injury concerns.
Match entry is pay at the gate on Saturday and if you can't make it, PPV is available here.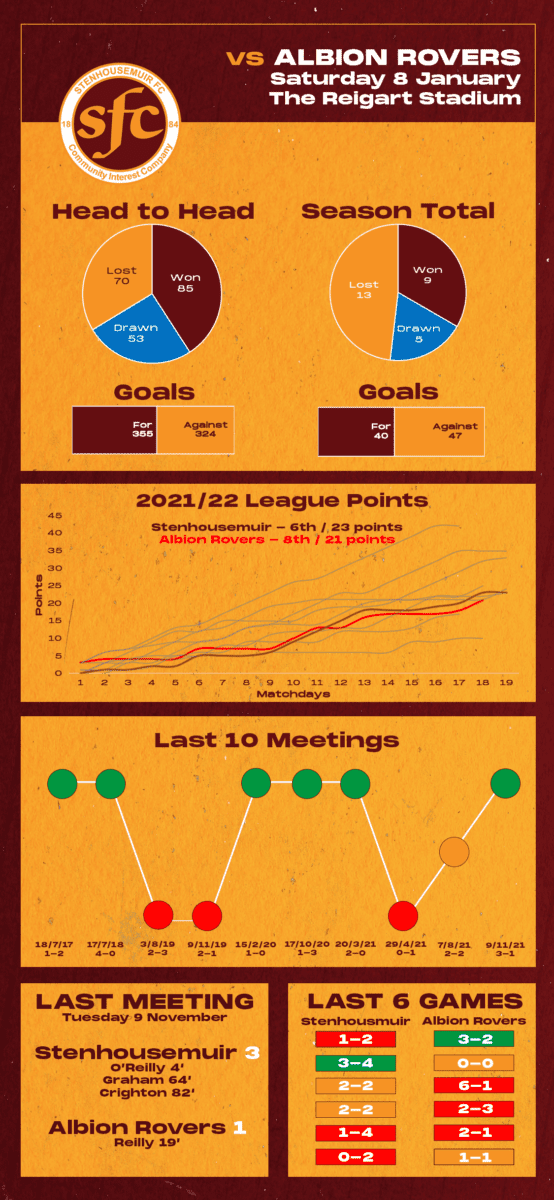 ---
MANAGER'S PRE-MATCH INTERVIEW
Stephen, after Sunday's game, how has training been and how's the mood in the camp?
We actually had an upbeat session on Tuesday and got everyone back to normal. But you can imagine the disappointment in the boys. I thought on Sunday we were the better team in the first half. They came out probably better in the second half, but we were 1-0 up, so you can expect t drop deep at times and try and see the game out. But, it just seems to be that we're getting clobbered every time this season. So we need to cut out these mistakes and hopefully they go away.
Last time against Albion Rovers, it was a pretty convincing result, what do expect from Albion this time around and how do we play this game?
I think the result looked convincing, but they gave us a tough game. We know what we're getting with Albion Rovers and I actually think that they're really good at what they do and they're a wee bit different from the teams we've played in the last few weeks. They pose a different threat with how direct they are and how energetic their strikers are and how they make it difficult for the centre backs. We're well aware of that and we'll try and set up accordingly. We're very aware it will be a difficult game, especially with the conditions at Cliftonhill.
As we said a few weeks ago, Forfar was the end of the first half, meaning that we've played everyone at least twice now. Do you think this affects your preparations going into each game, knowing how the teams are going to be set up?
I think tactical knowledge will come into it and some teams will be well prepared for us as much as them. But we've got a few aces up our sleeve in regards to Saturday. The difficult thing about changing any tactics on Saturday was that we only had 1 or 2 fit subs and the subs that were on the bench had just come back from COVID, or injury. So it was very difficult to change anything at all on Saturday. Now that we're starting to get players back, we know we'll go to Cliftonhill with a totally different game plan, so we'll look to set up accordingly.
---
MATCHDAY INFORMATION
Kick-off: 3pm
Match Entry: Pay at the gate is in operation for this match. Adults – £13, Concession – £7, Under 12s – £2
Live Stream: If  you can't make the match, ARTV has you covered with PPV, available here.
Getting Here: Click here for details of how to get to The Reigart Stadium by car or train.
Face Coverings: Face coverings are not mandatory inside the ground but fans are encouraged to continue to wear these. Masks must be worn when moving around the ground.
Covid Secure: Please ensure that you are following all safety guidance when visiting the ground. If you're feeling unwell or are showing symptoms, please do not attend. You should also take a Lateral Flow Test before attending any crowded places.