HAPPY NEW YEAR! 
I'd like to start this week's Inside Ochilview by saying that we wish all of our fans all over the world a happy, safe and hopefully successful 2022!

John Spencer Moreland joins The Warriors! 
Shortly before the Stirling Albion game, a loan deal for St Johnstone midfielder Spencer Moreland was agreed by the clubs. Spencer is highly regarded within the Perth outfit and was an unused sub away to Galatasaray. He was on the bench on Sunday, but never made an appearance. Welcome to the club Spencer.

Stenhousemuir vs Stirling Albion
Stenhousemuir welcomed near neighbours Stirling Albion to Ochilview for the first game of 2022.
Stirling came into this one on the back of a poor run of form having lost their previous 7 league matches, a run that started with a 3-1 loss at home to The Warriors.
The game started pretty quiet and it took until 19 minutes for the match to have it's first proper chance. an in-swinging corner for Stirling Albion was deep with an attempted header back across goal, but ended up on the roof of the net.
It was a few minutes later when the game sparked into life. Ross Forbes took a quick free kick down the line to Daz Christie. He expertly controlled the ball and chipped it inside to Tam Orr and the striker was not missing from 6 yards out. 25 minutes played and the Warriors are 1-0 up.
It was only 5 minutes later when Stenhousemuir had their next chance. Ross Lyon drove into the box and stayed on his feet despite a shove on the back. He set up O'Reilly who's initial shot was cleared, falling only to Lyon, the ball made it's way out wide again to O'Reilly who swung in a deep cross. It dropped to Christie on his wrong foot and his shot was blocked. It then fell to Corbett, again on his weaker foot and as he tried to switch onto his right, the defence swooped in and cleared the danger. It fell to Wedderburn who set up Miller, his shot was blocked and the ball was eventually cleared.
Despite the home pressure, it was the away side that had the next big chance. Another free kick clipped into the back post was met by an attacker, but Div Wilson knocked the ball out for a corner.
Stirling saw out the first half with another chance, but former Clyde and Alloa midfielder Ray Grant saw his shot go wide from the edge of the penalty area.
HALF TIME: STENHOUSEMUIR 1-0 STIRLING ALBION
The first chance of the 2nd half was a mirror of the last chance of the first with Grant picking up the ball on the edge of area, however his shot was well wide.
60 minutes in and The Warriors had their best chance to double their lead. A dangerous corner by Ross Forbes was met by Jordan Tapping. But his header was cleared off the line perfectly by the Stirling defence when it looked destined for the back of the net.
Stirling continued to push for an equaliser with some intelligent football, and at times it was hard to see why they'd been on such a poor run, but it was Tam Orr who picked up the ball just inside his half and drove forward into the Stirling box, his cross was tantalising, but with no one following up, it was missed by everyone.
Tam Orr himself had another shot on target on the 70th minute when his quick turn and shot was matched by Blair Currie.
The Warriors were starting pick up the pace and after weathering a tough storm, looked dangerous again on the break. Euan O'Reilly managed to dance passed a few defenders. his cut back was met by Adam Corbett but Currie pulled off a great save to deny the big defender.
Despite the pressure, it was Stirling Albion that were ready to turn this game on its head. A deep free kick by Grant was missed by everyone, except for Jordan Tapping. His attempted clearance was miss-timed and ended up in the back of the net to make it 1-1.
Stirling now really had their tales up and took the lead just a few minutes later. A perfect through ball was met by Flanagan who managed to dink the ball over the onrushing Wilson to give the away side the lead. And for the 4th time this season, The Warriors have conceded 2 goals in the space of 5 minutes.
The last action of the match saw Euan O'Reilly pick up a second yellow card which will see him miss the next match. His first booking was for kicking the ball away and his frustrations grew as the Stirling keeper received no punishment for the exact same offence. A silly foul just 4 minutes from time saw him talk the early walk up the park.
It's more lost points from winning positions and it's a trait that needs to be knocked out of the team should the aspirations of a play-off finish be achieved.
FULL TIME: STENHOUSEMUIR 1-2 STIRLING ALBION 
Starting XI: Wilson, R Lyon, Crighton[c], Tapping, Corbett, Miller, Wedderburn, O'Reilly, Forbes, Christie, Orr
Subs: Brown, Coll, Graham, Moreland, Jamieson, Smith
Goal: Orr 25′
Bookings: Miller, O'Reilly, Tapping, Brown, Forbes
Sent Off: O'Reilly
Following the match, Warriors TV caught up with Stephen Swift. His mic cut out for the final few questions, we've tried to pull up his audio, but unfortunately it's just not been possible to accurately pick up what he's said.
In the penultimate question, Stephen mentioned the fact that he thought the referee was poor, for both sides. It would be unfair to Stephen to try and transcribe what he's said on this topic as we can't be 100% accurate.
For his final question, Swifty was asked on his preparations for this Saturday's match against Albion Rovers.
"Training's going great. The boys have been really positive in that respect in regards to working hard in training. Training on Tuesday and Thursday was absolutely brilliant. We did all we could have done and were working on set play stuff that we're trying to get fixed.
Everyone's bought into it so it's really disappointing because I know that we're all working hard, we really are. We need to get this fixed because we're losing goals far too cheap."

Albion Rovers vs Stenhousemuir 
We make the short trip to Coatbridge on Saturday to take on Albion Rovers. As we move into the 2nd half of the season, every game becomes must wins, especially as Kelty Hearts and Forfar seem to have 1st and 2nd place sewn up. That leaves 7 other teams battling out for the final two places.
History has been favourable for The Warriors in this fixture, with 85 wins, 53 draws and 70 losses. Albion Rovers have also only won 1 of the last 6 meetings between the two sides. Perhaps a good sign for The Warriors going into Saturday's match.
Some good news for The Warriors is that Robert Thomson has returned to light training. We're hoping to see big Thommo back on the pitch before the end of January.
Match entry is pay at the gate on Saturday and if you can't make it, PPV is available here.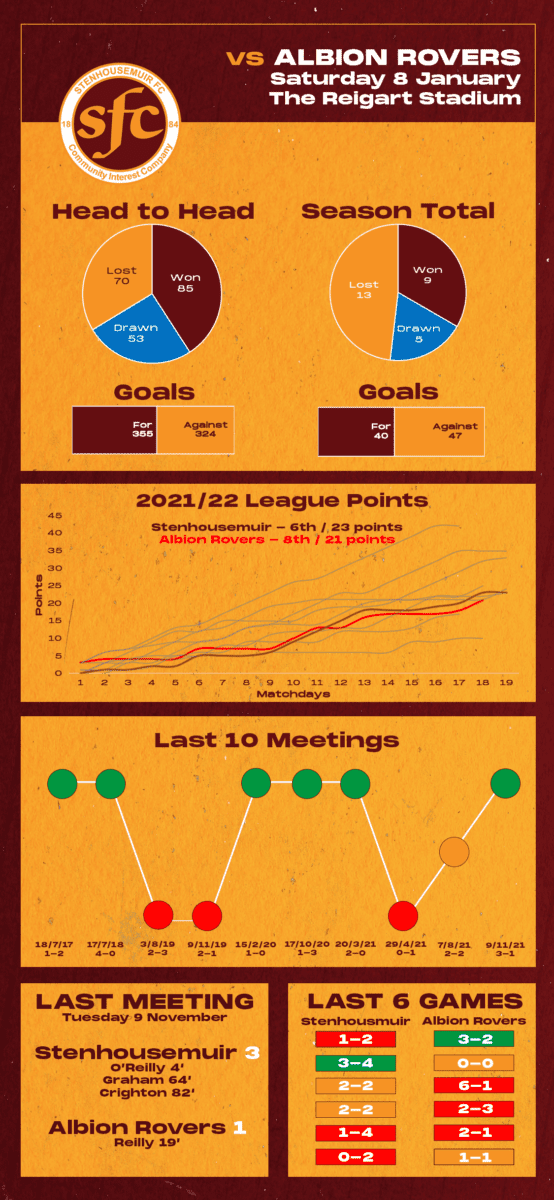 Stenhousemuir Ladies vs Rangers Women – Scottish Women's Cup Round 3
Our Ladies Team take on Rangers in their biggest match of the Season in the Scottish Women's Cup this Sunday.
Kick off is at 2pm and you can get in on the action!
Tickets are £5 for adults and £3 for concession, available HERE
If you can't make it to Ochilview, we have live PPV for £5, which you can purchase HERE

Defensive Deep Dive
Following our look at our goals scored, we've taken a deep dive into our midfield and defensive departments. take a look below.
McInnes Joins Kilmarnock 
Derek McInnes replaces Tommy Wright who was sacked last month; Kilmarnock are fourth in Scottish Championship; former Aberdeen boss has been out of work since March 2021; first match will be against Queen of the South on Saturday. Read all about it HERE
Social Media Tops Poll
Across the weekend, Scottish Football fans took part in polls to determine the best Social Media account in Scottish Football through A View From The Terrace.
Against all odds, The Warriors took the crown after some tough battles against Montrose in the semi finals and Arbroath in the finals!
Many thanks to everyone that voted!
We're always looking to improve our Social Media content and output, so if there's anything that you'd like to see, or If you'd like to join the team, either message us across our social channels, or email Ian.fitzpatrick@stenhousemuirfc.com