A further update on the first team squad
Last weekend saw a bumper couple of days in terms of transfer action as 5 new faces agreed to join the Warriors to become Stephen Swift's first new signings as manager. In last week's Inside Ochilview, we did allude to 7 new signings, however we have experienced a couple delays in relation to one or 2 new additions. We can confirm that we expect several more new faces to agree deals to join the club in the coming days, so keep your eyes peeled for announcements!
Each of the weekend's new signings were over the moon with the response they received from Warriors supporters on social media following the announcements, as everyone involved with the club extends the warmest of welcomes to them.
Stephen Swift spoke about the new signings and had this to say: "We have been carefully identifying players that will fit into our model and the culture that we're looking to create. These payers tick all of our boxes and we are looking forward to working with them."
With these new signings, our current first team squad now looks as follows: Michael Anderson, Adam Brown, Adam Corbett, David Hopkirk, Declan Hughes, Ross Lyon, Graeme Smith, Callum Tapping and Robert Thomson.
In case you missed our previous announcement regarding the players departing the club, you can find a complete list in last week's edition of Inside Ochilview: https://www.stenhousemuirfc.com/2021/05/13/inside-ochilview-your-weekly-warriors-update-13-5-2021/
Lastly, don't worry if you missed any of the weekend's announcements, here is a full list alongside a short introduction to each of the new faces:
ROSS LYON
Ross is a right back who is also able to fill in at midfield if required. He comes from pedigree having played for Rangers at youth level, as well as being capped on numerous occasions for Scotland at under 15 and under 16 level. After a loan spell at Stranraer, Ross joined Clyde in 2018, where he went onto be part of The Bully Wee's League Two promotion winning team in 2019. Ross has agreed to join the Warriors from BSC Glasgow and brings experience to team despite only being 23. Ross is also currently a coach with the Rangers Youth Academy.
ADAM BROWN
Having been born locally, Adam came through the youth setup at Celtic, before joining St. Mirren in 2012. At the buddies, Adam played 7 times in the Scottish Premiership before switching to Airdrieonians where he spent 3 seasons in League One. He then signed for Alloa Athletic where he was involved for 3 seasons, prior to recently agreeing to join us for next season. Adam is a midfielder and at 25 will add pace and energy to the team as well as plenty of experience of playing at a higher level. Adam said: "I'm delighted to be joining the club and looking forward to next season. Hopefully we can go on and have a successful season and be fighting at the top end of the table."
ROBERT THOMSON
Robert, 27, is a product of the Dundee United academy and is another player that has a wealth of experience of playing in higher divisions. After making his professional debut in the SPL for United, Robert had spells in League 1 with Alloa, Dunfermline and Brechin, before moving up to Championship level with Dumbarton, Greenock Morton and Alloa. Having agreed to make the move to Ochilview, Robert said: "Delighted to have signed and I'm looking forward to what hopefully is a successful season."
MICHAEL ANDERSON
Michael is the youngest to agree to join us so far at just 21 and is coming from BSC Glasgow. The midfielder has had spells with East Kilbride and spent the remainder of this season on loan at Forfar Athletic in League One, with the Lowland Leagues on hiatus. Michael has said, "I'm looking forward to the challenge and working with the gaffer. Hoping for a great season with fans back cheering us on."
DECLAN HUGHES
The final player to agree to join us, so far, is Declan Hughes, 25, from BSC Glasgow. Declan started his career at St. Mirren before spending time with Cowdenbeath and East Kilbride. Declan is another midfielder and is looking forward to making his mark on our season.
Ladies team update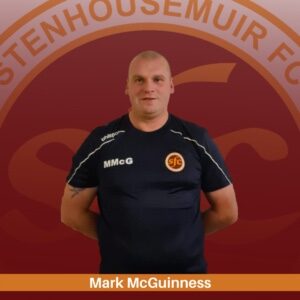 The club can confirm that Mark McGuinness will be moving on from his role as The Ladies Team Goalkeeper Coach at the end of this week. Mark has spent the last 2 years at Ochilview and had been a great addition to our Ladies Team as well as also helping support Community Team Sessions for both the Boys and Girls Community Select Teams.
Mark has chosen to take a step back from his role at The Warriors to focus some more time with his young family. He has let us know that him and his family will always still be involved with Stenhousemuir FC and we are sure to see him at future games as well as his family being involved with our community programmes.
All of us at Stenhousemuir FC would like to thank Mark for his time and commitment over the past two years and wish him and his family all the best for the future.
However with Mark departing, a new opportunity within the club has been created as we look for a replacement. All relevant details regarding the new role can be accessed by clicking on the following link: https://www.stenhousemuirfc.com/2021/05/17/ladies-team-goalkeeping-coach/
To apply please send a Coaching CV and a full Covering Letter detailing why you are suited to the role to andrew.thomson@stenhousemuirfc.com . The closing date for applications is the 30th of May at 5pm.
Follow us on LinkedIn!
Over the coming months, the club's newly appointed media team will be working towards improving the clubs media output and communications, in order to help the club meet its strategic objectives.
A big part of this is the development of our new official club page on LinkedIn. This platform will be the primary channel where a range of partnership, sponsorship and advertising opportunities will be promoted.
So why not give us a follow so that you and your network are able to stay up to date with the latest commercial opportunities being presented by the club.
Our page can be found by clicking on the following link:
https://www.linkedin.com/company/stenhousemuir-fc
We're hiring: Groundsperson
We are pleased to announce that we have an exciting new opportunity to join the club, as we look to recruit a new groundsperson. The successful candidate will be responsible for the maintenance of the pitch and stadium at Ochilview, ensuring it remains the very best of facilities for the use of both the club's men and women's teams and also the community.
The purpose of the role is to manage and implement a maintenance programme for the Ochilview Park facility including main pitch, 5 a-side pitches, main stand/terracing and the surrounding grounds. This will include a weekly programme of pitch maintenance as directed by the pitch manufacturers and a general maintenance plan for all areas within the facility.
The Club is looking for an individual with experience of working within a maintenance role and with a skill set that enables them to carry out general repairs and maintenance jobs within the facility. Someone with experience of working as a Handyman, Caretaker or Janitor would be ideally suited to the role.
The closing date for applications is 5pm on the 27th of May and CV's should be sent to Jamie.swinney@stenhousemuirfc.com
All the relevant details regarding this new position can be accessed by clicking on the following link: https://www.stenhousemuirfc.com/2021/05/14/we-are-hiring-groundsperson/
Community Help Initiative: Volunteers Required
Existing to serve the local community is an essential part of the Warriors ethos and is something that everyone involved with the club can safely say that they're proud of. Quite simply, it's our duty as a local football club to help support the community that helps to support the club.
A massive part of this has been our well-publicised Community Help Initiative. To date, 10,018 meals have been delivered as part of 1,570 food parcels, delivered to 441 families, thanks to 26,501 volunteer hours.
There is no doubt that this programme has been a great success, however it couldn't be possible without community participation. At the end of the day, it's just the local community helping the local community, with the club as a facilitator.
With this in mind, we're keen to recruit some extra volunteers to help to increase our positive impact. Specifically, we're looking for dog walkers and weekly shoppers, although any contribution would be massively appreciated.
If it's something you'd like to get involved with, then please do get in touch my emailing info@stenhousemuirfc.com
Just in case you're interested…
Scotland's Euro squad is finally out!
Ever since the national team qualified for the Euros back in November, there has been fierce debate amongst supporters over who exactly should be in the squad for the finals. But the wait is finally over and it isn't without controversy! The full squad list can be accessed by following the link below:
https://www.bbc.co.uk/sport/football/57171330
 Hibernian strike a strategic partnership with Brighton and Hove Albion
By now we will all be familiar with the strategic partnership we have with Hibernian. However, this week, the Edinburgh side announced that they will also be entering into a similar arrangement with English Premier League outfit, Brighton and hove Albion. Follow the link below to read more:
https://www.bbc.co.uk/sport/football/57149221
Football's Her Game Too campaign
Recently, Hull City fan Bobbi Hadgraft launched the "Her Game Too" campaign which aims to highlight the issue of sexism in popular football supporter culture. Follow the link below to read more about Bobbi's campaign and also to hear about some of her experiences at football matches as a female supporter:
https://www.manchestereveningnews.co.uk/sport/uk-sport-news/her-game-too-campaign-football-20623977