Big changes in the first team as 18 players depart
With the dust having well and truly settled on last season, the attention of everyone at the club is now set fully on preparing for next season's campaign. Like in any close season, players will move on to make way for new additions. This summer will be no different as Stephen Swift looks to put his mark on the team.
As this rebuild takes place, Inside Ochilview will ensure that all supporters are fully informed of all developments as they happen. So we're kicking things off this week by being the very first place to find out about the players departing the club at this time.
Departing
The following players have returned to their parent clubs following the expiry of their loan deals: Callum Yeats, Paddy Martin, Jack Brydon, Jayden Fairley, Thomas Collins & Alan Docherty.
Additionally, the following players have also left the club upon the expiry of their contracts: Creag Little, Jonathan Tiffoney, Chris McQueen, Ryan Blair, Thomas Halleran, Botti Biabi, Greig Spence, Mark McGuigan, Ryan Watters, Chris Kane, Tommy Muir and Martin Shiels.
The manager is also in talks with Callum Erskine, Cameron Graham, Josh Grigor & Paul Brown, while Jack Hodge and Adam McCracken have been invited to pre-season.
The club would also like to place on record its sincere thanks to all of the players moving on from their service to Stenhousemuir FC. We wish them all the very best for the future.
Incoming
With such a large turnover of players, it's not unreasonable for supporters to begin to get exciting about the prospect of a range of new signings in the coming weeks. The manager is currently working hard to identify additions to the squad and we will announce player news as soon as we can.
What can be confirmed at this stage is that we are close to finalising the signings of SEVEN new players, including a former Rangers Academy player, a Championship Striker and a Championship Midfielder! So keep an eye on our social media channels over the weekend!
Club signs new RJM and Puma kit deal!
Last week, we alluded to an imminent announcement regarding the club signing a new multi-year deal with a sporting manufacturer, and here it is! The club is delighted to have signed a new 5 year agreement with RJM Sports, making the local company the exclusive supplier of teamwear, equipment and trophies for the Warriors. As part of the deal, the prestigious brand Puma, will become the kit manufacturer for the 2021/22 season. Over the coming weeks, the club will be working with RJM to revamp the club shop with a range of Puma products.
Club CEO Jamie Swinney described the deal as:"the most significant kit deal in the club's history and opens an exciting new chapter for our supporters, shareholders, partners, and community members."
You can read more about the deal and what Jamie had to say about it by clicking on the following link:
https://www.stenhousemuirfc.com/2021/05/07/high-5-for-stenhousemuir-and-rjm-sports/
So, this raises the question as to when supporters will first get to see the new Puma kits. We're happy to confirm that preparations for this season's kit launch are underway and supporters should keep an eye out for the first sneak peak in the coming days! We may even need your opinion on something further down the line…
Club announces new strategic partnership with Syngenta FC
Yesterday evening, the club announced that we will be entering into a new strategic partnership with local football club Syngenta FC!
Syngenta, originally from Grangemouth, are a well known club locally, especially by anyone who has been involved in local youth football in one capacity or another. They are an ambitious club, who's senior side has recently joined the professional pyramid by being accepted into the East of Scotland League.
The new partnership will see Syngenta train and play their home fixtures at Ochilview for the coming 2021/22 season. It will also allow the Warriors to identify, recruit and develop exciting emerging youth talent in the local area. By teaming up and creating a player pathway, not only will both clubs and many young players benefit, but the wider footballing community in the Forth Valley should also improve.
To read more on this exciting new partnership and to see what officials from both clubs had to say, please follow the link below:
https://www.stenhousemuirfc.com/2021/05/12/stenhousemuir-and-syngenta-form-strategic-partnership/
Warriors in the Community girls programme is recruiting!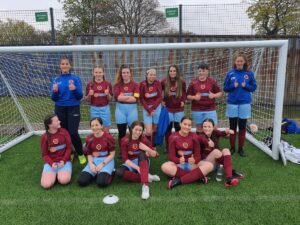 The Warriors in the Community girls programme is looking to recruit new players from all ages 5-15! Why not give it a shot and receive a range of member benefits as well as high quality SFA registered coaching.
Andrew Thomson can be contacted at either 01324562992 or andrew.thomson@stenhousemuirfc.comfor more details.
Just in case you're interested…
Celtic and Rangers colt teams given green light by Lowland League
Celtic and Rangers recent attempts to have their colt teams participate in the lower leagues of the SPFL have been well publicised, however they failed to gain enough support from clubs to make this happen. Now, the two clubs look set to enter their colt sides into the Lowland League for one season only. Please follow the link below to read more:
https://www.bbc.co.uk/sport/football/57059711
Scotland midfielder Kenny McLean out of Euro 2020
 As Scotland's return to a major tournament draws ever closer, everyone at Stenhousemuir is just as excited as the rest of the nation. With this in mind, you can't but help to feel bad for Norwich midfielder Kenny Mclean who has been ruled out of the tournament with a knee ligament injury. Follow the link below to read more:
https://www.bbc.co.uk/sport/football/57062336
SFSA Fans Conference
The Scottish Football Supporters Association are hosting a "90 minutes to save Scottish football" online conference on the 30th of May. The event will allow supporters to discuss the problems with Scottish football and more importantly, how we can all work together to make it better for us all. If any Warriors supporters might be interested in participating or observing, then you can register for tickets by following the link below:
https://www.eventbrite.co.uk/e/90-minutes-to-save-scottish-football-tickets-153984436595?aff=ebdssbonlinesearch