STENHOUSEMUIR WOMEN FC – HEAD COACH
Responsible for:  1st Team Players & Staff
Responsible to:  Women & Girls Football Group
Required Qualifications: C-License (working towards B License)
STENHOUSEMUIR WOMEN FC
Stenhousemuir Football Club have an exciting opportunity for a Women's Football Head Coach to join our highly respected, community-orientated football club.
Our Women's First Team currently play in Scottish Women's Championship (South). We train twice per week (Wednesday & Friday evenings at Ochilview Park, Stenhousemuir) and play on Sunday.
As a club, Stenhousemuir FC are passionate advocates of female sport. We strongly believe in the power of sport to change lives. The successful candidate must demonstrate to us that they share this view.
The Women's Head Coach will play a pivotal role in developing our Women and Girls Pathway. We seek a motivated individual who is passionate about female sport and sees success as coming through the development of strong, female athlete role models.
This is a voluntary role.
MAIN DUTIES:
Management of all SWFC First Team activities, including training sessions and matches.
Management of SWFC Coaching Team, including delegation of tasks, to ensure training is delivered to highest possible standard.
Identify and recruit players for SWFC.
Attend quarterly Women & Girls Football Group.
Be a role model and set high standards for all members of SWFC, including players, coaching staff, support staff and committee members.
Brief all coaches and players on the aims of the session and the purpose of each activity. Involve all members of staff where possible and make sure they are made aware of the value of their input.
Identify opportunities for personal and team Be responsible for your individual personal development.
To engage, inspire and empower all participants within the SFC Women & Girls Pathway.
Always represent Stenhousemuir Football Club and set high standards in a with respect to attitude, work ethic, appearance, conduct and personal
PERSON SPECIFICATION
Title: Head Coach
Responsible to: SFC Women & Girls Football Group
ESSENTIAL
Passionate advocate of female sport.
Ability to work well with others.
Scottish FA C Licence.
Full, clean PVG (update provided by Stenhousemuir FC).
Full UK Driving License
Ability to represent Stenhousemuir FC and communicate positively with all stakeholders.
Personable and enthusiastic with a strong work ethic.
Good team player who can work on own initiative.
Ability to create an environment where female athletes can fulfil their potential.
DESIRABLE
Scottish FA B Licence.
Previous experience of coaching adult female football players.
Previous experience of working with young people.
Stenhousemuir FC offer:
Full Stenhousemuir FC Coaching Kit and training equipment provided.
Full first aid training.
Support from Full-Time staff to coordinate and develop the team on and off the park.
Support from award-winning social media team to promote team activities.
Potential for support through SFA Coach Education Pathway.
Support from the Club Chaplin.
TO APPLY
To apply, please send a CV with covering letter to bailey.hanlon@stenhousemuirfc.com
For an informal conversation regarding the role, please call Blair Cremin (Chief Executive Officer) on 0131 562992.
Deadline – Friday 8th April.
#WeAreWarriors

Stephen Swift made 1 change from the team that started against Edinburgh last week.
Ross Forbes is added to the starting 11 and The Warriors will look to get the best from his experience with Mikey Anderson dropping to the bench.
Euan O'Reilly's return from injury is almost complete and he starts on the bench.
Cammy Graham misses out due to a covid related issue.
The game was slow to get underway and it was Cowdenbeath that collected the first corner of the match inside 4 minutes. Ross Forbes was able to header away the ball with Nat Wedderburn completing the clearance.
The Warriors picked up a free kick halfway inside the hosts half. Ross Forbes swung it in but it failed to clear the first defender. The visitors have yet to find their feet in this match with Cowdenbeath having most of the first 10 minutes which culminated in another corner which resulted in a free header, but was well over.
It took 11 minutes for the visitors to have their first shot on goal, but Adam Corbett's shot was well over after a back post knock down by Sean Crighton which was tee'd up by Robert Thomson.
The first 15 has seen Cowdenbeath with a lot of the ball but their long balls over the top are causing no issues for the Stenhousemuir defence.
21 minutes into the match and the referee pulls out his yellow card for the first time. Robbie Buchanan is the recipient after a late foul n Robert Thomson. Ross Forbes flighted the resultant free kick towards the back post to Sean Crighton but the captain was penalised for climbing over the home defence.
Cowdenbeath picked up their second yellow card in 32 minutes when Andy Barrowman bundled Callum Yeats to the ground just inside the home half. Ross Forbes again floated the ball in, but another free kick is given for the challenge by Tam Orr.
Another foul and anther yellow card for the home side. This time Fraser Mullen is booked for a cynical foul n Ross Forbes on 35 minutes.
Overall, a very poor 45 minutes from both sides.
HALF TIME: COWDENBEATH 0-0 STENHOUSEMUIR
No changes for either side at half time as Tam Orr gets the 2nd half underway.
The first chance of the half came to the home side as they picked up a free kick 20 yards from goal. Fraser Mullen's drive went straight into the wall and summed up the game same so far.
Big Nat was inches away from getting his first goal for The Warriors with the game's first real bit of magic. The big man turned and volleyed a clearance from 20 yards out, but was agonisingly over.
The Warriors are starting to turn the screw now as back to back corners cause chaos in the home box but eventually the ball goes out for a goal kick.
Cowdenbeath make the first change of the match with Sam Ompreon replacing Quinn Coulson on 52 minutes.
Stenhousemuir's next chance came up on 61 minutes, but Mikey Miller fired well over the home goal.
Cowdenbeath almost broke the deadlock on 63 minutes with an in swinging corner. The header went marginally wide of Urminksy's goal. They came even closer just a minute later with Urminsky doing well to parry, then hold a stinging shot.
SUBSTITUTION: Stephen Swift makes his first change of the afternoon with Ross Lyon and Daz Christie replacing Tam Orr and Adam Brown  [65 minutes]
Cowdenbeath had another good chance on 71 minutes with Ompreon forcing a good save from Urminksy as he was one on one with the big keeper.
Just as Cowdenbeath prepare for their 5th corner the match, they make a change with Aikamhenze coming on for Andy Barrowman.
Another fine save by Urminksy as Aikamhenze was through one on one. Again, the big keeper stayed tall and saved the shot.
BOOKING: Peter Urminsky is booked and gives away a penalty for bring down Aikamhenze in the box.
GOAL: Fraser Mullen drives the ball down the middle to give the hosts the lead. COWDENBEATH 1-0 STENHOUSEMUIR [79 minutes] 
SUBSTITUTION: O'Reilly and James Lyon look to add some creativity to the match as they replace Ross Forbes and Callum Yeats. [82 minutes]
Into injury time and it was last chance saloon with a long throw by Adam Corbett making its way to the back post. Daz Christie popped up and headed the ball back across goal and into the far corner.
FULL TIME: COWDENBEATH 1-1 STENHOUSEMUIR

KELTY HEARTS vs STENHOUSEMUIR
The Warriors return to Fife this weekend as we face champions-elect Kelty Hearts.
We've faced The Maroon Machine 3 times in competitive fixtures, all the season and all resulting in losses For Stenhousemuir.
Both clubs have drawn their last two fixtures but The Warriors need to have a massive improvement on their showing against bottom of the table Cowdenbeath if they want to take anything form this fixture.
Stenhousemuir are still looking at the playoffs places and a victory on Saturday along with an Edinburgh loss will see The Warriors move into the playoffs as we head into the last 5 games of the season.
For the home side, the opportunity to become the first SPFL league champions to be crowned this season is more than enough motivation. A victory for Kelty along with a loss for Annan will see Kevin Thomson's side crowned champions.
Early team news shows that Mikey Miller will miss out after contracting COVID. As usual, we'll have our match preview and team news across our social channels on Friday.
For those wishing to attend the game, the Supporters Bus is running and you can book your place by contacting @AndyMcf8 on Twitter.


ANDYS MAN CLUB
Our mental health group run by Andy's Man Club launches on May 9th. Keep an eye on our social media channels over the next few weeks for full details.
.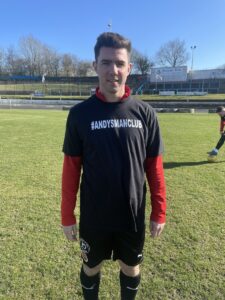 WARRIORS WELLNESS PROGRAMME
Stenhousemuir Football Club's charitable arm; Warriors in the Community are delighted to announce that our application to the Falkirk Communities Mental Health and Wellbeing fund has been successful.
The funding allows us to grow new opportunities which aim to positively impact the mental health and wellbeing of those across our community.
Within an ever-changing world we strive to ensure the mental health and wellbeing of those in our community is at the forefront of everything we do. Our Warrriors Wellness programme aims to provide a variety of different opportunities to our community which are not specifically focussed on Football.
The Communities Mental Health and Wellbeing fund allows us to expand on our current community programmes and start our journey of creating a lasting impact in our community.
Keep an eye out for our new programmes coming soon!
With special thanks to CVS Falkirk for their help and support regarding the Mental Health and Wellbeing Funding.

RUSSIA AND TURKEY SUBMIT EURO 2028 HOST BIDS
Russia and Turkey have joined the UK and Ireland in declaring an interest to host Euro 2028.
It had seemed a joint-bid from the UK and Ireland would be the sole application for the tournament but on Wednesday Russia – despite the current suspension of their clubs and national teams by FIFA and UEFA over the country's invasion of Ukraine – and Turkey surprisingly put their name forwards to host the competition.
Russia and Turkey have also declared an interest in hosting Euro 2032, with Italy rivalling them for that edition of the European Championships.
The Euro 2028 and Euro 2032 competitions will be awarded to host countries in September 2023.
Russia successfully hosted the 2018 World Cup but has been exiled from the international sports community since its invasion of Ukraine a month ago, with UEFA having already stripped St Petersburg of hosting rights for this season's men's Champions League final.
SCOTLAND ENTER POT 4 
FIFA have confirmed the seedings for the World Cup finals draw next month, and it sets out just how tough it could be for Scotland if we reach Qatar 2022.
The draw for December's showpiece takes place on April 1, but after Scotland's clash with Ukraine was postponed due to Russia's ongoing invasion of the neighbouring nation it means that not all 32 teams at the finals will have been decided when the groups are drawn in just over a week's time.
The headline news from a Scotland point of view is that we will be in pot 4 if we get reach the finals.
There's still a long way to get there, of course, with the semi-final against Ukraine still to be played followed by a final against Austria or Wales to decide who will head to compete in Qatar.
It means that if Steve Clarke can lead Scotland to a first finals since 1998, a tough old draw awaits us!
In the draw, FIFA will use a 'placeholder' to represent the final European play-off winner, which will come from Scotland's path.
The final seedings will be decided by FIFA's World Rankings to be released on March 31.
In pot one, host nation Qatar will be joined by the 7 highest ranked countries in the world, including the likes of Belgium, Brazil and defending champions France.