ALBION ROVERS 1-2 STENHOUSEMUIR
After some community spirit, Saturday's game went ahead but the pitch looked very heavy in parts. Another downfall just before kick off didn't help.
Swifty opted for a new look back 3 with Sean Crighton, Nicky Jamieson and Jordan Tapping making up the trio. The match also saw Ryan Marshall making his return to the starting XI for the first time since our home match against Kelty Hearts.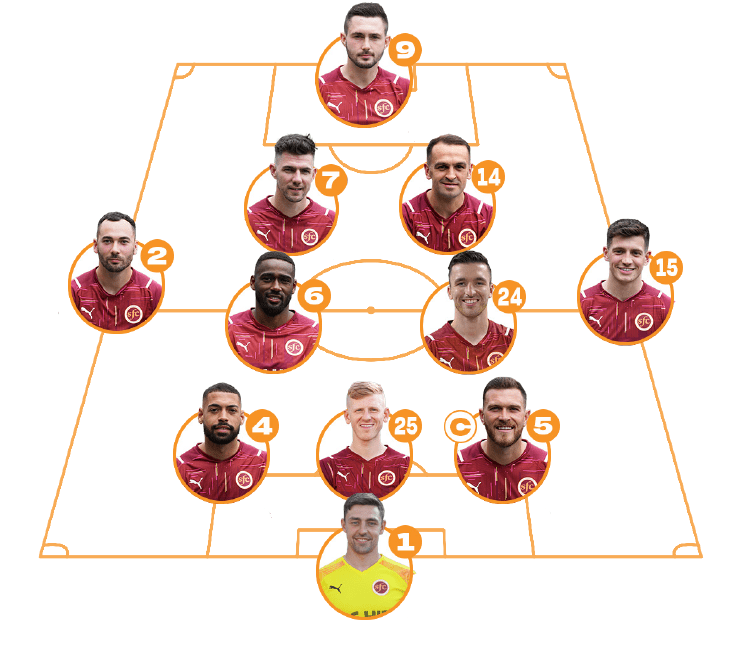 The first chance came for the home side with the first corner of the match inside 5 minutes. The cross was too deep though, causing no issues for The Warriors new look defence.
Stenhousemuir made they first major venture forward a few moments later but Ross Forbes was deemed to be offside as he tried to knock the ball down.
Adam Corbett then tried to play Tam Orr in, but the striker was forced wide but managed to get a corner.
The corner was taken short to Daz Christie, but his cross was too high for anyone. It made its way out wide to Ross Lyon and his cross was met by Tam Orr, but his header was never under control.
Into the 12th minute and Jordan Tapping gives away the first foul of the match, close to the corner of the 18 yard box. The cross was swung in by David Wilson, but was matched by Adam Corbett who produced a strong clearance.
GOAL: Fast forward 30 seconds and Albion have another free kick in the exact same area, this time for a foul by Ross Lyon. This time it was Jamieson that med the cross however the ball was fizzed back across the goal and somehow ended up being judged to have crossed the line. Albion Rovers 1-0 Stenhousemuir [12 minutes]
GOAL: The lead only lasted a few minutes when a through ball from Crighton was met by Corbett and his driven pass was met at the back post by Tam Orr who equalises with his second goal in two weeks. Albion Rovers 1-1 Stenhousemuir [18 minutes]
The pitch was definitely playing its part in the game with either side really getting the ball under control.
Albion Rovers were next to have an attempt.  Nicky Jamieson managed to get in the way of a cross with the ball ending up in Marshall's hands.
Albion Rovers picked up another free kick in a dangerous area after a push by Ross Forbes. Nicky Jamieson again made his presence known with a commanding clearance. The ball fell to The Warriors right side this time and after another foul by Forbes, Albion had another chance to swing in a dangerous ball. This time more easy dealt with by the away defence.
Stenhousemuir had a strong penalty shout as Tam Orr was fouled un the box, no penalty though and the ref waves play on.
The first half continued with neither side producing any clear cut chances.
HALF TIME: ALBION ROVERS 1-1 STENHOUSEMUIR 
The Warriors had the first proper chance of the second half. Adam Corbett burst forward and his cut back was met by Daz Christie, but he won't be wanting to watch that one back!
The next chance also dropped to The Warriors. this time it was Tam Orr with the cut back but the ball was met by the Albion defence and was cleared.
GOAL: Daz Christe and Tam Orr combined again to turn the game on it's head. Jordan Tapping played a neat ball over the top to Daz Christie. His cross was met by Tam Orr again who gets his second of the game. Albion Rovers 1-2 Stenhousemuir [56 minutes]
The was almost an exact replica a few moments later. This time Ross Forbes played. the pass to Daz, but he was fouled just outside the box. Up step Rss Forbes, his shot look destined for the back of the net, but was just wide.
The Warriors were well in control an it should've been three. Tam Orr laid off to Forbes, his perfect through ball was met by Daz Christie but he didn't get his shot on target as another cane goes a miss.
Another chance came in the 61st minute with Tam Orr getting into the box. His cross was met by the defence with the keeper eventually claiming the ball.
SUBSTITUTION: Daz Christie's afternoon was over in the as he was replaced by Adam Brown [68th minute]
The game should've been put to bed just a few moments later. A four on one attack saw Tam Orr taking a shot, saved by the keeper for a corner. Big miss for The Warriors and it really should've been 3.
It was Stenhousemuir more likely to score, and Ross Forbes was next to fire in a shot which just fizzed past the keepers post.
Just a few moments later, Adam Brown made his way to the touchline, but his cutback was against cleared by the solid home defence.
Ross Lyon almost replicated his wonder strike against Huntly. His 20 yard shot cannoned off the crossbar and went over for a goal kick.
Big Nat was next. He had two chances to score but only a fantastic double save by the Albion keeper kept him the big man off the scoreline.
SUBSTITUTION: Mikey Anderson comes on in stoppage time, he replaces Adam Corbett who may have a niggling injury.
FULL TIME: ALBION ROVERS 1-2 STENHOUSEMUIR 
All in all, this should have been a far more convincing result, but the 3 points is enough to move Stenhousemuir into 4th place in the league. The defensive trio looked solid and Nat Wedderburn was a standout in the middle of the park. Ross Forbes was another to have a good game and Tam Orr continued his fine form.
| | | |
| --- | --- | --- |
| Albion Rovers  | | Stenhousemuir |
| 56% | Possession | 44% |
| 6 | Shots | 13 |
| 2 | On Target | 5 |
| 4 | Corners | 3 |
| 9 | Fouls | 12 |
| 0 | Yellow Cards | 1 |
| 0 | Red Cards | 0 |

STENHOUSEMUIR vs COWDENBEATH
On Saturday we welcome Cowdenbeath to Ochilview as we look to make it 2 wins in a row.
The two sides last met in in October which resulted in The Warriors taking a 2-0 win with a goal from Robert Thomson and an own goal by Craig Thomson. This was Robert Thomson's last match being forced off injured. Unfortunately there's no chance for a dream return for the big striker against Cowdenbeath, but he does return to full training on Tuesday and should be in contention for a return against Elgin City.
Our head to head record against Saturday's visitors has not been favourable. There's been 189 meetings between the sides with The Warriors coming out on top 30.2% times. Cowdenbeath wins count for 43.3% of the games with 26.5% resulting in draws.
Both teams haven't been on the best of form lately. The Warriors boast 2 wins, 2 draws and 2 losses in our last 6 matches, while Cowdenbeath have 1 win, 4 losses and 1 draw.
We have played Cowdenbeath once on 15th January, again, this wasn't a positive result with The Warriors going down 1-0 away back in 1977! The Warriors have played 10 times on 15th January, only registering 2 wins.
The squad is almost back to full strength with Graeme Smith and Robert Thomson the only absentees. Dec Hughes has returned to training, but Saturday maybe too soon for a return.
Jon Craig has officially returned to Kilmarnock and will continue his rehabilitation as a Kilmarnock player.
---
MATCHDAY INFORMATION
Kick-off: 3pm
Match Entry: Entry is only available via Season Tickets or Tickets purchased on FanBase, which you can purchase HERE. Tickets are only available for The Terracing. Adults – £14, Concessions – £9, Children – £5
Live Stream: If  you can't make the match, Warriors TV have you covered with commentary from Cammy and Batchy. PPV costs £10, and you can purchase HERE.
Getting Here: Ochilview is easily accessible by Car or Train and you can find directions HERE.
Face Coverings: Face coverings are not mandatory inside the ground but fans are encouraged to continue to wear these. Masks must be worn when moving around the ground.
Covid Secure: Please ensure that you are following all safety guidance when visiting the ground. If you're feeling unwell or are showing symptoms, please do not attend. You should also take a Lateral Flow Test before attending any crowded places.

SPENCER SPEAKS TO WARRIORS TV
Warriors TV spoke to our newest Warrior, Spencer Moreland this week to see how the young midfielder has settled into the Club.
---
First of all Spencer, welcome to The Warriors, how does it feel to get the deal done?
I was told about the interest from Stenhousemuir a few weeks ago, so I started to come to training and meet with the boys. I feel like I've done well so far, to earn the move, and I'm looking forward to seeing how the rest of the Season can go.
And for such a young football player, you've had quite the start to your career, being on the bench against Galatasaray. How was that for your first appearance on the St Johnstone bench?
It was a bit surreal to be honest. Especially for the first time being on the bench and having to fly out to Turkey for the Europa League game. It was a big stage for me. Obviously I was very grateful that I could go, and it was a great experience for me.
I can imagine what the atmosphere was like over in Turkey. I don't think it will be the quite the same at Ochilview, but what have you made of the atmosphere and fans so far?
It seems like a close bunch of fans who are all getting behind the team and supporting the team. Fans bring a great presence to the game and they can encourage the lads to go out and do well and they seem like a great bunch of fans.
Talking about playing in Europe, there is 1 member of the squad that's played in Europe before in Ross Forbes, how much can you learn off him in your time here?
Forbsey is a good role model for me to learn off of and is an experienced player. So he's definitely someone that I can look up to and look to learn from.
Finally, what are you looking to achieve during your time at the Club?
I'm looking to get as much first team exeprience and game time as I can really. I'm looking to prove to myself and to others exactly what I can do on the pitch and I'm looking forward to doing just that!
---
Spencer is still looking to make his first appearance for The Warriors after featuring as an unused substitution in our first 2 games of 2022. Spencer comes to the Club on the back of some high praise and we look forward to seeing what he can do on the pitch.
JON CRAIG RETURNS TO KILMARNOCK
With one loan coming in, one also left the Club this week. Jon Craig has returned to his parent Club Kilmarnock as he looks to recover from a shoulder injury that has kept him out of most of the season. Jon made a single appearance for The Warriors, a 3-0 win over Dundee United B Team in the SPFL Trust Trophy. Jon leaves the Club with a 100% win rate and we wish him all the best in both his rehabilitation and his career at Rugby Park.
STENHOUSEMUIR 1-14 RANGERS
Sunday's Scottish Women's Cup between The Warriors and Rangers was a dream afternoon for our Ladies Team. The result was a painful one, but the experience gained was invaluable. The Rangers squad was full of internationalists and the Ladies loved the big match build up, atmosphere and game itself.
Unfortunately, the ugly side of the beautiful game made in appearance with some extremely negative comments on social media towards our team.
The aftermath saw a sea of support coming in for The Warriors, including an article written by Supporters Direct Scotland, which you can read HERE.
The Ladies Captain, Nicole McPhee, also had a personal message:
"I know everyone's probably seen on the news and all over Twitter about the nasty comments I received by trolls hiding behind a keyboard. I just want to say a massive thank you to each and every person who has reached out to make sure that I'm ok. All the support on Twitter, all the messages and phone calls I've received has been insane.
"I've been hurt by these comments, but let me tell you one thing, they will never affect my love for the game or my team.
"I'm captain, and one message I'll leave here is BE KIND. You never know how much your words can affect someone."
CLYDE vs STENHOUSEMUIR
The ladies are back to League action this weekend with a home match against Clyde on Sunday 16th January.
As always for League games, entry to Ochilview is free and kick off is at 2.30pm.
If you can't make it along to cheer on the Ladies, you can also watch for free on Warriors TV HERE.

THANK YOU! 
Over the Christmas period, we asked for help and support to fill up our Donation Station for KLSB. We were overwhelmed with the donations that we received! On behalf of Stenhousemuir FC, Warriors in the Community and KLSB, we'd like to say thank you for doing a little, which meant a lot.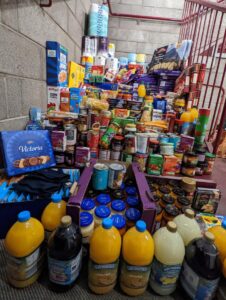 HELP NEEDED
We're looking to get our Support Groups with Andy's Man Club up and running.
To run the club, we're on the lookout for 1 more volunteer to help facilitate the sessions that run on a Monday Evening. Full training will be given to anyone that's interested, but to keep in tone with the group, it has to be a man.
If you're keen to volunteer as a facilitator, please contact Fiona Kennedy.

TUNISIA 1-1 MALIA
Mali and Tunisia's Africa Cup of Nations game finished in chaos after the referee first signalled for full-time on 85 minutes, then ended the match when the clock showed 89 minutes and 47 seconds.
Tunisia coach Mondher Kebaier and his technical staff raced on to the field to confront referee Janny Sikazwe after his final whistle consigned them to a 1-0 defeat in Group F.
Twenty minutes later, after Mali manager Mohamed Magassouba's post-match press conference had started, tournament organisers ordered the game to be played to a conclusion.
However, in more farcical scenes, Tunisia's players did not return to the field and Mali were declared winners.
FULL CROWDS RETURN
Nicola Sturgeon has given the green light for fans to flock back to football grounds after lifting current restrictions.
But clubs must carry out Covid certification checks on at least half of the crowd with a booster also now required for full vaccination status.
Only 500 supporters have been allowed at games up and down the country since Boxing Day fixtures.
The restrictions on outdoor events were among a series of measures imposed by the Scottish government in an attempt to slow the spread of the Omicron variant.
That saw the Scottish Premiership clubs agree to bring the winter break forward in a bid to minimise the financial impact of the limited capacity.
It was hoped by the time the top flight action resumed that capacity crowds would be allowed back in.
We will keep all of our fans up to date on what that means for us as soon as we have full details.