As a club we continue to strive to be the best we can be in every area and our commercial avenues are no different. We cover all areas of commercial activities at Stenhousemuir FC, from matchday hospitality to our sponsorship and advertising opportunities at Ochilview Park. Our friendly staff all have the aim to make your experience an enjoyable one.
Our vision remains to be an outstanding community centric club, playing football at the highest sustainable level. We believe that we provide the perfect platform to promote your business, engage with customers, reward employees and meet your corporate social responsibilities.
Whatever happens on the pitch, you can always rely on Stenhousemuir Commercial to deliver the finest matchday experience, whilst covering all of your business needs.
It is vitally important for Stenhousemuir Football Club that all our commercial partners get value for their investment and we will strive to ensure that all your 'goals' are met.
Any inquiries for Match, Matchball, Player Sponsorship or any advertising opportunities either at Ochilview or across our digital platforms should go to 
info@stenhousemuirfc.com
Our Women's team kick off their season this Sunday as they make the trip to Eastwood Park to take on Giffnock. They enter the Scottish Women's Football League 1 and have high hopes for the season ahead. 
The match kicks off at 1pm but we'll have highlights and post match interviews for those that can't make it.
WarriorsTV spoke with Head Coach Jack Cameron ahead of the season kicking off this Sunday. You can check out that interview HERE

In case you missed it, the Warriors will be making the trip to Borough Briggs in a few weeks time to take on Elgin City in the Second Round of the SPFL Trust Trophy. City overcame Dundee United B 1-0 to set up the all-League 2 tie in the next round. Details tbc,

For the first time this season, Stephen Swift had a full squad to choose from.
Mikey Miller was the preferred option to Euan O'Reilly in midfield, that one change aside though, it's as you were with the team that started against Albion Rovers.
Ann controlled the first 5 minutes and it was the hosts that had the first chance on goal as Aidan Smith picked the ball up on the edge of the box, but his shot was just over the bar.
The Warriors took the warning though and started to push forward a bit themselves. Bryson and Corbett both had some good crosses, but nobody was able to get on the end of either.
Stenhousemuir had their best chance of the first 10 minutes as Matty Yates fired in a cross that Swinglehurst managed to head behind for a corner. Eventually, the ball dropped to Mikey Anderson and his shot from the edge of the box hit a few players and was eventually cleared.
Straight up the park a few minutes later and Tommy Goss had his first chance. The tall striker got on the end of a cross by Tony Wallace following a strong drive forward by the midfielder. Connor Brennan was able to get down and hold the ball though.
Mikey Miller had a solid drive on 14 minutes after being set up by Tam Orr, but his shot was fired wide.
End to end as Luissint had a glorious chance on 17 minutes, but it's a shot he'll want to watch back again.
Just a few moments and Goss had a glorious header that was just inches over. Another chance though, and the big striker is getting closer.
Swinglehurst almost scored in 21 minutes, but was at the wrong end! The big defender was looking to head the ball back to this keeper, but Fleming was luckily on his toes and adjusted well to prevent the defenders blushes.
GOAL: A Sean Crighton foul on edge of the park allowed Annan to float in a free kick. Swinglehurst rose above everyone at the back post and nodded in a header.  ANNAN ATHLETIC 1-0 STENHOUSEMUIR [Swinglehurst 30 minutes]
Stenhousemuir pushed forward but are struggling to get the game under control.
Matty Yates had a glorious chance to grab his 4th goal of the season. on 40 minutes. Fleming came to collect but completely missed with the ball dropping to Matty near the back post but his cross/shot went wide.
Stenhousemuir were finally starting to find their stride with Matty Yates and Tam Orr linking up well. It was Mikey Anderson that had another shot, but was well blocked.
HALF TIME: ANNAN ATHLETIC 1-0 STENHOUSEMUIR
No change for either side during the break.
Matty Yates floated in a cross for the visitors first foray into the home half in the 2nd half. It was bit high though with nobody being able to get on the end of it.
Just a few moments later, Callum Yeats had a driven shot that went high and wide.
The opposite left back, Jordan Lowdon, had an almost identical shot a few moments later. His shot was deflected into the grateful arms of Conor Brennan.
GOAL: As Stenhousemuir were trying to play the ball out from the back, Nat Wedderburn was caught out and Luissint managed to do enough to get the ball in the back of the net. ANNAN ATHLETIC 2-0 STENHOUSEMUIR [Benjamin Luissint 56 minutes]
SUBSTITUTION: Swifty immediately changes up with Tam Orr, Craig Bryson and Mikey Anderson coming off for Euan O'Reilly, Will Sewell and Ross Forbes.
After the change it was Annan that came closest to scoring the next goal with Aidan Smith firing a shot wide.
After the 2nd goal, Annan were more than happy to allow the visitors to hold the ball and catch the hosts on the break. Stenhousemuir are paying a high press which allows the home side to break quickly when they gain control looking dangerous when they do.
And exactly that happened on 68 minutes and only a world class save by Brennan kept the score at 2-0.
And another. This time Lussint was through 1 on 1 with Brennan, but again, the big keeper again made the save.
SUBSTITUTION: Another change for the visitors with Adam Brown replacing Adam Corbett for the last 20 minutes. Mikey Miller moves to right back.
GOAL: Out of nothing Matty Yates, picks up the ball in his own half, takes it forward and fires home a shot into the top corner from 30 yards. ANNAN ATHLETIC 2-1 STENHOUSEMUIR [Matty Yates 75 minutes]
And just a few minutes later, it was almost 2. Will Sewell got on the end of a Sean Crighton long ball. Swinglehurst was never keeping up with the former Largs player and his cross was met by Euan O'Reilly who managed to glance his header just wide.
Stenhousemuir are now finding their stride perhaps too late. Will Sewell's pace is causing all sorts of issues this the striker picked out Ross Forbes and his first time she was fired wide.
Straight up the other end though and a last ditch challenge from Nicky Jamieson prevented another golden chance for the home side.
Ross Forbes picks up a booking for talking to the referee who refused to book an Annan player for throwing the ball away.
SUBSTITUTION: Final change as Nicky limps off and is replaced by Daniel Higgins.
9 minutes of added time wasn't enough to gain an equaliser.
FULL TIME: ANNAN ATHLETIC 2-1 STENHOUSEMUIR
You can view the highlights from the match, alongside interviews with Stephen Swift and Conor Brennan HERE
We make the short trip to Forthbank this Saturday as we take on Stirling Albion in cinch League 2 action. The Warriors won both meetings in Stirling last season and will look to continue that form. 
Stirling came from 2 goals down to get a point at home to Elgin last Saturday, whilst the Warriors fell to a 2-1 defeat.
You can pay at the gate this Saturday with admission prices set at £15/10/5.
We hope to see you there on Saturday!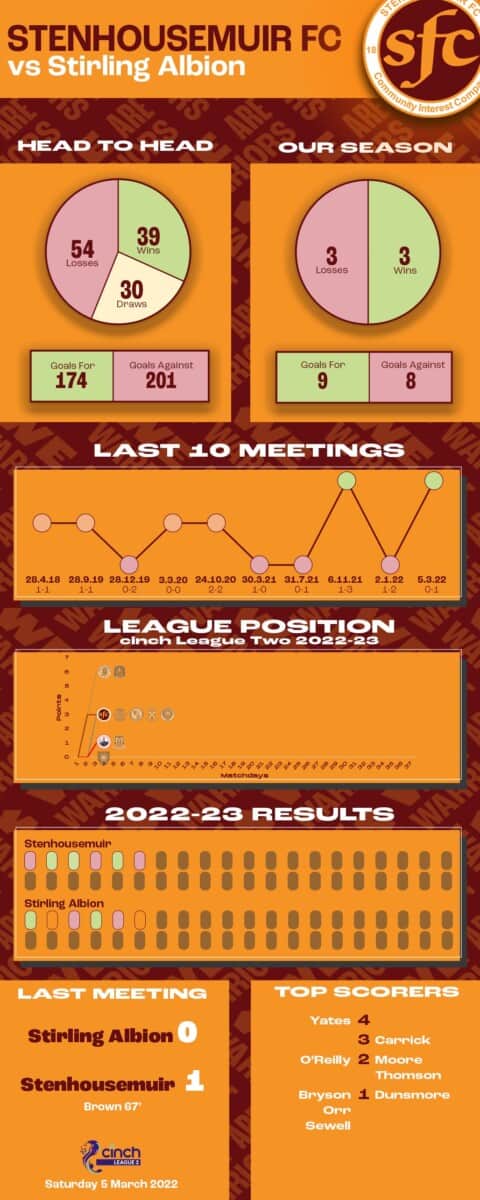 This week we sat down with someone who can be described as Mr Stenhousemuir. He's the longest tenured member of the men's first team set up. The person we spoke to was Stuart Orr, known to all (including himself) as Oscar. Oscar joined the club in December 2006 and took over the role as kitman of the team.
On paper, the kitman's job can be explained easily but we asked Oscar what his role actually involves with the men's team:
"I'm actually 'agony aunt' for the first team as well, when some of them aren't playing. Also, cash and carry at times but everyone mucks in when they can.
The first team kit is important to get them out looking good, so they are comfortable to play in. At home we can set up pretty easily and when we're away we usually try and get ahead to see what colour kits we'll need to take with us. I do my best to get on this from the start of the week so everything is packed and ready to go on the Friday morning. Overall it's about making sure the players have the correct kits and numbers for training and games."
He touched on it slightly in his first answer but preparing for home games and away games are different processes completely so we asked Oscar to give us a more in-depth look at how he goes around preparing for the matches:
"The away games can be difficult, depending on the size of some of the dressing rooms aka Annan and Albion Rovers, which are like cupboards. We tend to use coat hangers for quickness, when coming off the bus, the players head out onto the pitch, so they are out the road, allowing us to get everything up on the coat hangers."
Occasionally Oscar has to drive to games himself, if they aren't too far away, so he takes the club van to those, he let us know how his thought process for those games work:
"If I take the van, I tend to go a bit earlier and it's also easier because I can have everything ready to go for the lads arriving at the away ground. It always is good to have things ready for the lads arriving around an hour and a half before kick-off."
Training is a key part of any football team and Oscar has a key role to play in the men's first team training:
"As soon as they come in for training on Tuesdays and Thursdays, it's hell for leather to try and get everything dry for the Saturday, it's as simple as that. It's a challenge but a good challenge at that. I also make sure that everything the coaches need for the sessions is available too, so it's as simple as them grabbing the stuff and getting it out onto the pitch."
Unfortunately, there will be times where some kit is left back at Ochilview…
"There has been a few occasions, away from home, where I have forgotten things. Ross County springs to mind. I couldn't do a thing about it so I was hurriedly trying to find a loan for a keeper strip. I've learned from that so I always have a check list for each game to ensure that all the correct equipment travels to the games and nothing is forgotten."

We mentioned last week that, Europa League Finalists, Rangers fell to a 2-0 defeat in Champions League Qualifying action. The second leg took place this past Tuesday as the Gers welcomed Union Saint-Gilloise to Ibrox. It was going to be a tough battle for the Glasgow side but they managed to pick up a 3-0 win, setting up a Play-Off tie with PSV, with the winner entering the Champions League Group Stages!
Talking about Dutch sides, AZ Alkmaar made the trip to Tannadice last Thursday to take on Dundee United in Europa Conference League qualifying action. Not many would have expected Dundee United to get something from the game but many were left surprised as the Tangerines picked up a 1-0 win thanks to a Glen Middleton goal. The second leg takes place tonight, can United advance to the next round?