A Plan for Falkirk – Stenhousemuir FC & Falkirk Community Planning Partnership
Carse and the Tryst – Stenhousemuir, Larbert, Carron, Carronshore and Airth Parish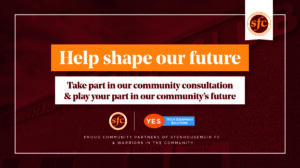 Stenhousemuir Football Club and Falkirk Community Planning Partnership are working together to create a plan for our community. We want you, our community, to help us shape the future. Complete the survey below and help us make a difference in the lives of the people of our community.
Full community survey – https://surveyhero.com/c/sfc
Young persons survey – 11-18 years – https://survey.alchemer.eu/s3/90312498/Stenhousemuir-Football-Club-Young-Peoples-Survey
Stenhousemuir FC will always be a club that puts our community at the heart of our decision making and as we embark on our new Charity adventure, we want to kick off our campaign with all of you as part of our community team. As a Community Anchor Organisation we want the club to play a leading role in the recovery, rebuild and growth of our town. But to do that properly we need to hear your views, ideas and suggestions.
We'll use what you tell us to focus our new charity on the issues that really matter. The consultation will also feed into the wider 'Falkirk Plan' – a ten-year plan, that will use your priorities to make our communities better for everyone. We're holding two online meetings in April. Here's what we want to know:
what is good about our community
what challenges are people facing?
what are your priorities?
what services / support do you need that you aren't already receiving?
what support do you need from Falkirk Council and other service providers like the Health and Social Care Partnership, to enable you to participate?
We're trying to find solutions that will help people who are struggling the most. We want as many people as possible to attend these meetings. If you've got something to say about your community, and about what can be done to make it better, we want to hear from you.
We'll be holding two themed online / video meetings for people and community groups in Stenhousemuir, Larbert, Carron, Carronshore and Airth on,
 Wednesday 21st April 7-9pm – Employment Education & the Environment
Wednesday 28th April 7-9pm – Health, Wellbeing and Sport
SIGN UP FOR FREE
A Plan for Falkirk-Carse and the Tryst – Employment, Education, Environment Tickets, Wed 21 Apr 2021 at 19:00 | Eventbrite
A Plan for Falkirk – Carse and the Tryst – Health, Wellbeing and Sport Tickets, Wed 28 Apr 2021 at 19:00 | Eventbrite
Attendance is free of course, and you can book a place online by clicking the link here:
If you can't attend this meeting, but still want to let us know your thoughts on these important issues, then please email: community@stenhousemuirfc.com
#WarriorsAsOne