From season 22-23, Stenny Ladies will become Stenhousemuir Women FC.
For many years, Stenhousemuir Football Club have Women and Girls teams as part of our community programme. We are always looking for ways to improve our club in every aspect and as a result all "Ladies" references from Stenhousemuir Football Club will be dropped from WarriorsTV, social media and wider club messaging.
Blair Cremin, Stenhousemuir CEO, said "This is a small but significant step for Stenhousemuir Football Club. The growth of the Women and Girl's game – both at the club and nationally – has been incredible in recent years. We want to ensure that our programme reflects this and aligns with our values, as well as with national partners such as Scottish Women's Football."
Stenhousemuir FC have made this decision as part of modernising our Women's and Girls Programme and to provide a clear signal of togetherness across the club. For formal purposes we will be renamed as Stenhousemuir Women Football Club to avoid any confusion with our men's team. We will use graphics and video to make it clear what team we are referencing and where possible refer to our Women's team as "Stenhousemuir".

We are delighted to announce that Lucy Sullivan, Leah Jones, Sarah Dolan, Samantha Montgomery and Eirinn Maguire have signed on for the 2022/23 season. 
They join Rachael Ann Vickerman, Shantel Patterson, Erin Wilson, Jude Connolly, Carolanne Phee and Eva Ralston for the season ahead.


For the remaining home matches in the first quarter of fixtures, Warriors' season ticket holders as well as friends and family of volunteers, players and staff can book hospitality for just £50 per person.
The matches that this will affect are:
20th of August – Dumbarton
3rd of September – Stranraer
17th of September – Elgin City
Email info@stenhousemuirfc.com to book!

The Warriors opened up their league campaign against a team that they had the better of last season.
Albion Rovers were the visitors to Ochilview on Matchday 1 with Stephen Swift's team looking to get off to a better start than last season where they fell to Stirling Albion at home on Matchday 1.
It was the visitors though that had the best of the opening 5 minutes after forcing a few corners in the opening spell but the home defence stood firm.
Stenhousemuir did manage to get the game under control with Euan O'Reilly and Craig Bryson linking well, but struggled to carve open the equally stubborn visiting defence.
Stenhousemuir forced their first corner in 15 minutes and Tam got his header on target, but was easily cleared Only a couple minutes later, Tam was through on goal but the keeper was quick off his line and cleared the ball.
Albion Rovers had the best chance of the match on 19 minutes. Matty Yates played a slack pass and Charlie Reilly found himself in acres of space. The big striker is usually lethal in that situation but, thanks fully for The Warriors, dragged his shot high and wide.
GOAL: Only minutes after, the Warriors open the scoring. Matty Yates played in Craig Bryson. The veteran midfielder cleverly dummied the ball though and it found its way into Tam Orr's path. Last season's top scorer made no mistake and opened his account for the season from just inside the box. STENHOUSEMUIR 1-0 ALBION ROVERS [Tam Orr, 21 minutes]
Tam had another good chance just moments later but completely miss-timed his header and the ball bounced wide.
Albion Rovers were lucky not to have Ayrton Sonkur sent off in the 27th minute as the big defender hauled down Tam Orr as he was through on goal. The referee judged that Adam Fernie was in a position to cover, and only issued a yellow card.
Both teams struggled to really create many chances as the half progressed.
HALF TIME: STENHOUSEMUIR 1-0 ALBION ROVERS
The Warriors start the second half strongly but struggled to break open the visiting defence.
SUBSTITUTION: Adam Corbett's afternoon has come to an end and he's replaced at right back by Mikey Miller [58 minutes]
Albion Rovers almost equalised a few moments later when Charlie Reilly struck the crossbar from a 20 yard free kick.
The visitors have a bit more control of the match this half as they look to find the equaliser.
SUBSTITUTION: 2nd sub for The Warriors with Ross Forbes replacing Craig Bryson [69 minutes]
SUBSTITUTION: 3rd sub for The Warriors as Euan O'Reilly leaves the pitch to be replaced by Niyah Joseph [75 minutes]
The hosts had a good chance in 83 minutes as Ross Forbes tee'd up Mikey Miller for a first time cross. The ball was controlled by Tam Orr looking to lay it off to Matty Yates, but the defence blocked the shot.
And just a few seconds later Tam had a chance of his own but for a good blocking challenge by the defence.
That seemed to spark The Warriors into life and only a world class save by Jack Leighfield kept Tam off the scoresheet again. The Rovers keeper somehow managed to make a point blank save from Tam that surely would have sealed the win.
Ross Forbes struck a 25 yard free kick that caused Leighfield problems, but the keeper managed to gather at the second attempt.
FULL TIME: STENHOUSEMUIR 1-0 ALBION ROVERS
You can find highlights from the game here.
WarriorsTV spoke with Stephen Swift and Thomas Orr after the match.
This Saturday, the Warriors make the trip to Galabank to take on Annan Athletic. The Galabankies had an impressive Premier Sports Cup group stage, becoming the first League 2 side to win their group in the competition's history.
Despite this, Annan started off their league campaign with a 1-0 defeat away to Stranraer. 
You can pay at the gate on Saturday but you can buy your ticket through the fanbase app beforehand. You can do that here.
The Supporters Bus will leave Ochilview at 11:30 am. Prices are set at £20/10. Names to Andy McPhate as usual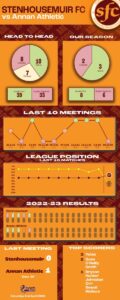 The Summer Camps are still ongoing for the final few weeks of the Summer Holiday. Interested in booking your child in? Check out the graphics below and you can book them in here!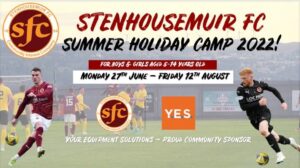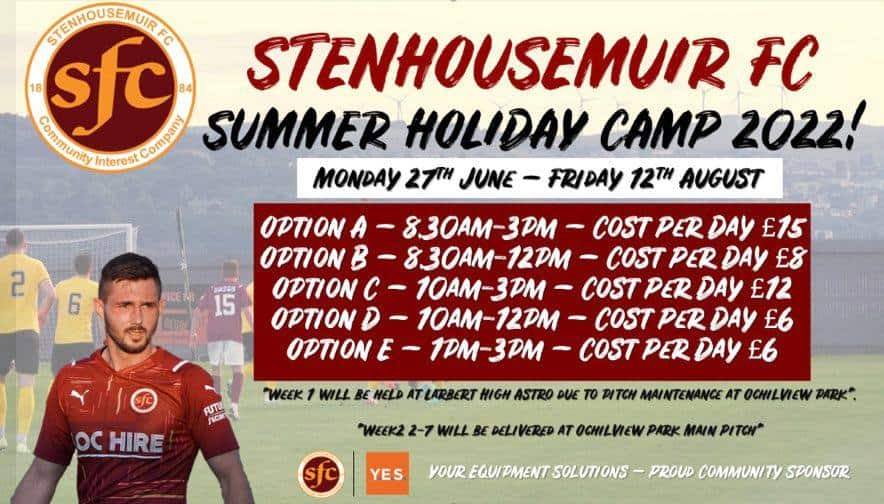 RYAN THOMSONS JOURNEY – CHARITY FUNDRAISER
We are delighted to launch our Charity Game for Ryan Thomson & his Family
Ryan Thomson has been diagnosed with Hodgkin lymphoma – Cancer.
On the 14th of August our 2007s will be coming up against a team of Part-Time & Full Time Community Coaches.
On top of that there has been 4/5 Community Team Players from other age groups selected by Danny to play in the coaches team.
This is heartbreaking for any family, but for a young boy we know as one of our own, we want to ensure we are with Ryan & his family every step of the way & to raise further awareness.
We are all behind you Ryan!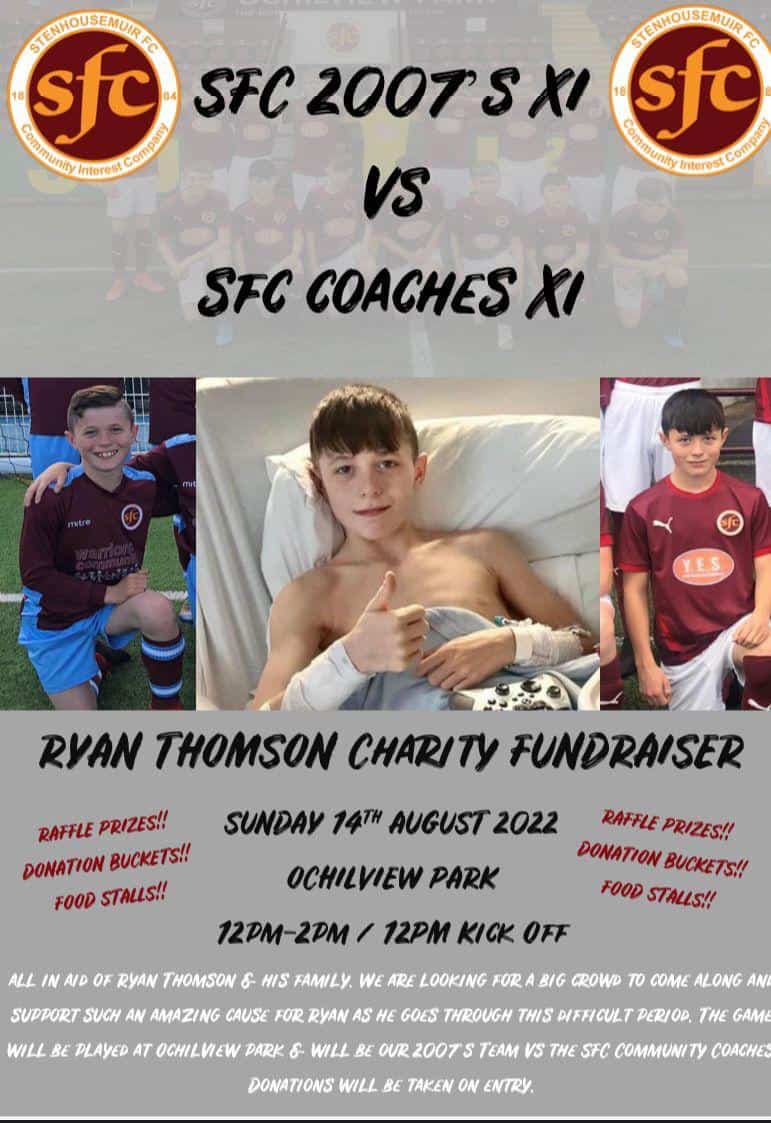 1st Prize £250 – Neal Casley
2nd Prize £100 – Colin Finlayson
3rd Prize £50 – Gareth Edwards
Congratulations to the £20 prize winners : Dale Henry, Donald Smillie, James Binnie & Moira Kennedy.
JOIN OUR LOTTERY
The Goldline Sports Lottery is a Prize draw with four bands of entry level, Platinum, Gold, Silver and Bronze.
The fees are as follows per month:
Platinum £50.00 (10 entries plus 2 complimentary hospitality places worth £150), Gold £20.00 (4 entries) Silver £10.00 (2 entries) or Bronze £5.00 (1 entry) per Month. The cash prize grows with the number of players involved with guaranteed cash prizes every month of £500.
On joining the Goldline Community Sports Lottery you will receive your unique Membership number(s) corresponding with the entry level you have selected, after having received it you will be entered into the Monthly Draw for cash prizes.. Winners are announced every month and if you win the money will be paid directly into your bank.
Set up a monthly standing order for either £5, £10, £20 or £50 to the following account
Stenhousemuir FC
800674
06000848
You can set up a standing order simply through your bank app on your phone, on-line or in your local branch. You can also cancel this at any time with no long-term commitment and no cancellation fee.
2. Send a confirmation email to info@stenhousemuirfc.com confirming membership level (bronze, silver, gold or platinum), full name and contact number and what date of the month your standing order is set for.
Every new member will be welcomed on social media (if they wish) as a thank you from the Club. We wish to showcase the many hundred's of people who care about our Club and celebrate their backing. If you would like a thank you on social media please email a photograph over with your application.
As we look to find out more about the roles around the club, we spoke with Daniel Newbigging this week. We started off by asking him what his role is and what the role entails:
"My role within the football club is Head Of Community Football for Warriors In The Community. My role is to specifically manage the full community programme. This includes a wide range of activities for all walks of life. From the two year olds, in the mini maroons, up to the seventy year old walking football players. We want to try and ensure that we are delivering for everyone, which we feel is really important and we think engaging with the community, even in non-footballing activities is crucial as well and being there for those that need us. 
For me right now, in terms of coordinating programmes, I'll give our other two full time members of staff a bit of responsibility, being Bailey and Declan, so we share the workload but my role is to oversee and deliver a successful community programme. This brings a lot of enjoyment, a lot of success stories, we want to make sure that we are delivering the best possible programme within the country and to provide a pathway for all ages and all abilities."
One of the big parts of the community set up is our Community Select Teams. We were interested to find out how these teams run each season and Daniel's role in making this happen:
"So, for our community teams, we want to make sure we give everyone an opportunity and for those that are committed and ready for team football, we make sure there is a pathway for them to get involved. We want to make sure that we are helping players with their development by giving them a platform and giving them the best possible opportunity to push on and get better. 
My role is to help the coaches by giving them a platform and opportunity to deliver the best possible sessions to make the kids want to come back and be a part of it. We want to make sure that the kids are playing at the correct level too, so that they are getting the maximum enjoyment out of being here. That might be from Fun 4's all the way up to 11 a side football, we want to make sure that everyone is around the same level so that they are getting the maximum usage out of it."
Another key part of the community set up is the Holiday Camps, you would have seen above the information in regards to the ongoing Summer Camp. We asked about these and the main aim behind these camps:
"So we deliver holiday camps throughout the Easter, Summer and October holiday periods but we all run camps during the staff development days throughout the year. We do this as we feel it's important to get the kids out there playing football, socialising with each other and they aren't just stuck indoors playing their playstation or getting into bad habits.
We aim to provide as much activities as possible on the pitch. I think our prices are very reasonable and our quality of delivery is strong as we have full time members of staff delivering every week alongside part time members of staff. 
We want to create an environment that the kids will enjoy, making them want to come back and keep playing football, making friends and just overall enjoying themselves."

The Women's European Championships came to an end this past Sunday with England being crowned winners! An extra time goal from Chloe Kelly helped see England pick up a 2-1 against Germany.
Continuing on with the Women's Football theme, the Scottish FA is proud to announce it will launch an ambitious new national women's cup competition this season, with both semi-finals and the final taking place in 2023 at Scotland's National Stadium, Hampden Park. The Warriors were eliminated by Rangers in the Scottish Cup last season but could be on the road to Hampden this season! Interested in finding out more? Check HERE 
The dates for the Men's Scottish Cup were announced earlier this week. The Warriors will enter in the 2nd round, taking place during the weekend of the 22nd of October. The Warriors saw off Huntly 4-1 last season at the same stage before losing to Airdrieonians in the next round. You can check out the dates for this season's Scottish Cup HERE!
Some of the Scottish Premiership Clubs continue their European Qualifying campaign. Motherwell were unfortunately eliminated from all European competitions last Thursday as they lost 3-0 on aggregate to Sligo Rovers.
Rangers kicked off their Champions League qualifying campaign with a first leg trip to Belgium to take on Union Saint-Gilloise. Rangers were runner ups in the Europa League last season and could find themselves playing in the next round of the Europa League qualifiers as they fell to a 2-0 defeat. They'll be back in at Ibrox on Tuesday night looking to overturn the first leg defeat and if they are able to Monaco or PSV Eindhoven await in the Playoffs.
Dundee United are in Europa Conference League action tonight as they take on, Dutch side, AZ Alkmaar. The Tangerines know if they can win over the two legs either Riga or Gil Vicente await in the Play-off.
It may be a few weeks away but Hearts Europa League Play-off opponents will be Linfield or FC Zurich.
Thank you for reading this week and we hope to see you backing the Warriors as we take on Annan Athletic on Saturday!