Goldline Sports Lottery- Play for only £5 per month
Stenhousemuir FC is welcoming new members to its Goldline Sports Lottery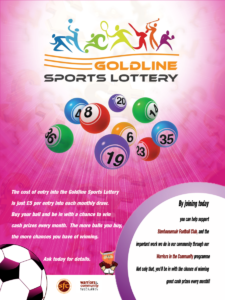 The monthly lottery is a a simple and hassle free way to support the Club and give yourself the chance to win money with several cash prizes up fro grabs every month. There is guaranteed winners every month with £250, £100, £50 and several £20 prizes to be won.
All you have to do is sign up once for either £5 (1 shot), £10 (2 shots) or £20 (5 shots) per month via a monthly standing order and that's you in the draw every month.
The Football Club developed a 3-year plan last year with contributions from board members, staff, supporters, parents and community members. One key strand of the planning is our Facility Development Strategy. The Club has ambitious long-term plans for the facility as well as short- and medium-term maintenance and upgrade requirements.
With your help we want to use the proceeds from the Lottery to support the Facility Development Strategy and allow for future growth and development. You may have already noticed a few recent facility improvements which the lottery has helped fund.
If you are able to support, at any of the 3 levels (£5, £10, £20 per month) it could make a massive difference to the Club and our future as well as improving the overall experience of supporters, community members and visitors to Ochilview Park.
To join visit us at the Main Office, call us on 01324 562992 or email info@stenhousemuirfc.com
#BackYourWarriors