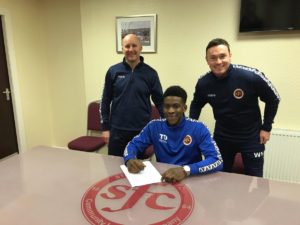 Stenhousemuir Football Club is pleased to announce Tiwi Daramola as a new signing for the first team.
Tiwi will make the step up from our Community Under 19s to join the first team set-up and will work under recently appointed first team manager Colin McMenamin. Tiwi originally joined the club at the age of 5 and has progressed from the Young Maroons , through all age groups within the clubs pathway to become the first player to move directly from the community programme to the first team. It is a remarkable journey for the youngster and shows what is possible at a community club like Stenhousemuir.
Tiwi (17) will train with the squad tonight before joining Bo'ness United on loan. He has already featured for Bo'ness making 2 sub appearances for the East of Scotland side as a trialist, scoring 1 and assisting 2. Its a busy week for Daramola as he also has trials on Thursday for the Scottish Schools Under 18 squad.
McMenamin welcomed Daramola to the club saying;
'Tiwi has a great opportunity to get out and play at a very good level with a strong club in the East of Scotland which is where I started as a player. He has trained a few times with the first team and played in a recent bounce match against Bo'ness which is when the interest started. He will go out over the next few months and hopefully get some game time under his belt and learn and develop. I look forward to supporting his development and watching him make the next steps in his journey'
Tiwi was joined at tonight's signing by first team manager Colin McMenamin, CEO Jamie Swinney, Head of Community Football William Hoggan and U19s Head Coach Wilson Millar.
Wilson Millar commented;
'While Tiwi making the step up will no doubt be a loss for the Under 19 team we are delighted that he has earned this opportunity to progress after performing extremely well over a number of seasons for the team. The coaches and his teammates wish him the very best of luck and wish to thank him for his efforts over the seasons. We hope to see him playing for the club in the future'