Hello and welcome back to another edition of Warriors Weekly. It's been a busy week at the Warriors, read on to find out more!


Stenhousemuir FC has this week parted company with Stephen Swift.
We would like to record our thanks to Stephen and his staff for their efforts since taking charge in April 2021.
Club captain Sean Crighton will take charge of the team until a successor is appointed.
Stephen took over as Warriors manager in April 2021 and the closing end of the season, taking the team for two games where he saw one win and one loss to close out the season.
He then managed a complete overhaul of the playing squad with only Graeme Smith, Cammy Graham and Adam Corbett being retained from the previous season.
In 2021/22, he managed the team for 44 games with 16 wins, 10 draws and 18 losses. We exited the Premier Sports Cup in a very tough group stage, which included a victory over Dumbarton, followed by defeats from Partick Thistle, Dunfermline Athletic and St Mirren. Our SPFL Trust Trophy and Scottish Cup runs both ended in the Second Round. Our SPFL Trust Trophy run started with a 3-0 victory over the Dundee United B Squad at Ochilview. We then lost on, on penalties, to Cove Rangers, after a 0-0 draw. Our Scottish Cup run ended at the hands of Airdrie in a 2-0 loss, with a 3-0 victory over Highland League Huntly in the 2nd Round. Our League Two campaign ended straight down the middle with 13 wins, ten draws and 13 losses across the 36 games. During the season, he was awarded the cinch League Two Manager of the Month for February.
Swifty then came into the 2022/23 season with pretty much a fully retained squad, with only a few additions. As the previous season, the Premier Sports campaign ended in the group stage. Despite this, positive results against Highland League side Fraserburgh and League One Montrose gave some hope for the season ahead. The group stage began, and ended, with defeats to Partick Thistle and Kilmarnock, respectively. The SPFL Trust Trophy ended at the first round with a 3-1 loss to Elgin City in the Highlands. Swifty has taken us into the 3rd Round of the Scottish Cup, following victories against East Fife and Fortmartine United, his final two victories for The Warriors. Livingston await in the 3rd Round, but that will be a challenge for a new manager. The League campaign has been very inconsistent with five wins, five draws and six losses in the opening 16 games. A sequence which leaves The Warriors 6th in table, 14 points off top and four points from bottom. Swifty's record for the season ended with nine wins, five draws and nine losses. A failure to keep a clean sheet has been the thorn in Swifty's side with the last being on the opening League Game of the season against Albion Rovers. The team have conceded an average of 1.82 goals per game this season. There is encouragement to be taken though, scoring 1.78 goals per game.
Swifty leaves the club after 69 games managed and has oversaw 26 wins, 15 draws and 28 losses with a win percent of 37.68%. This puts him 6th in the record of Stenhousemuir Managers with 26 wins from 69 games. He's behind Des McKeown [34 wins from 62], Terry Christie [107 wins from 273], Martyn Corrigan [29 wins from 74], Jim Meakin [34 wins from 87] and Graeme Armstrong [20 wins from 53].
Swifty leaves behind a very talented squad and an attractive opportunity for any manager to take over. We wish Stephen, Mick and Fraz all the best in their futures, both inside and outside of football.
Stephen Swift shared a message on his twitter, which you can view HERE

Elgin City vs Stenhousemuir
Stephen Swift takes his side into The Highlands for the 2nd consecutive week as he looks to get his league form back on track following last week's Scottish Cup win against Formartine United.
Just the one change from the side that ran out 3-1 winners, with Adam Corbett being preferred in the right back position over Ross Philp.
Euan O'Reilly, Tam Orr, Will Sewell and Matty Yates continue as an attacking group, with 23 goals between them in the 22 games played so far.
It took ten minutes before the first chance of note, and it was the home side to deliver. Kane Hester got on the end of a fine through ball, he managed to wriggle passed Sean, but Jay was on hand to make a good save with his feet to keep the score level.
It was the visitors turn just a moment later. Euan O'Reilly managed to get passed his man and deliver a cross into the box, but McHardy was on hand to deal with albeit at the expense of the game's first corner kick. Matty Yates took the out swing corner and Crighton rose tallest, but his header fell well wide.
GOAL: It wasn't long before the first good chance of the match became the first goal of the match. Euan O'Reilly was beaten on the left as he was covering for Callum Yeats, the ball was passed back to the edge of the box where nobody was picking up Dingwall and the striker rifled home from the edge of the box under no challenge at all for the visitors. ELGIN CITY 1-0 STENHOUSEMUIR [Russell Dingwall, 19 minutes]
The Warriors pushed for an equaliser and Euan O'Reilly was fouled again on 20 minutes given Matty Yates a chance to swing in a free kick. It was well defended and The Warriors claim another corner. Matty Yates again delivered and Mikey Miller, who loves a goal against Elgin, saw his drift inches wide.
25 minuted played in the first half and The Warriors are thawing everything at the home defence who have stood strong so far. Mikey Anderson the next up to have a go from range, but he won't want to watch back his scuffed shot as he claimed the ball on the edge of the box.
Will Sewell is next up to try his hand as he gets on the end of a cut back by Euan, but his attempt is too casual and flies wide of the mark.
SUBSTITUTION: Stenhousemuir's defensive injury crisis continues as Sean Crighton goes down holding his calf in the 32nd minute. He can't continue and is replaced by Ross Philp who will slide into the right ball position allowing Adam Corbett to partner Dan Higgins in the middle of the park. Mikey Miller take the armband in the absence of Sean and Ross Forbes.
GOAL: The home side got a bit too comfortable on the ball and Tam Orr was able to nick in and steal the ball thanks to a very short pass, he burst into the box and found Will Sewell close to the penalty spot and the striker finds the back of the net with a side foot finish. Will's 5th of the campaign and The Warriors are back in the match after an extended period of pressure. ELGIN CITY 1-1 STENHOUSEMUIR [Will Sewell, 39 minutes]
And it was almost two for The Warriors just a few moments later. The home defence just can't cope with O'Reilly and his drive ended up inches wide.
GOAL: Dan Higgins broke up an attack which lead to his booking. The free kick was swung and Dingwall headed back across with Kane Hester able to tap in unchallenged. Extremely harsh on the visitors who have controlled the last 15 minutes of the game. But again, failure to defend a set piece has proven costly. ELGIN CITY 2-1 STENHOUSEMUIR [Kane Hester 45 minutes] 
HALF TIME: ELGIN CITY 2-1 STENHOUSEMUIR
The 2nd half was void of any proper action in the opening ten minutes. Dan Higgins did go down injured which looked to spell the end of the game for him. But the centre half received some treatment and was back on the pitch.
The first proper chance of the half came on 57 minutes. Dingwall seemed to trip up over his own feet, with the referee awarding the free kick. That got some tempers going and after a bit of handbags, Dingwall took the free kick which was well saved by Jay down to his right.
It was the home side that started to add the pressure looking for a third. Kane Hester played through but Jay making another good save with his feet. The rebounded shot was struck straight into the side netting.
SUBSTITUTION: Double change for Stenhousemuir with Adam Brown and Scott Walker replacing Will Sewell and Mikey Anderson on the 61st minute.
Dan Higgins almost caused himself some bother when he appeared to be caught with the ball at his feet. As Hester looked to have broke away and through on goal, Higgins recovered with a perfect slide challenge allowing Jay to collect. The action then spilled straight up the other end with Yeats and Brown combing, but the latter drilled his shot well over the bar.
20 minutes to play and Euan O'Reilly should've equalised. He got on the end of a Matty Yates cross and only a fine save by McHale kept Euan off the scoresheet.
SUBSTITUTION: Into injury time and Dan Higgins is finally forced to be replaced. The defender isn't looking too comfortable which could leave Swift with only one recognised fit centre back in Adam Corbett. He's replaced by Niyah Joseph in the closing stages of the match.
It was Niyah that had the chance to claim a deserved point at the end. As he settled himself to take a shot, the defender came sliding in to deflect the shot wide, which was missed by the referee who signals for a goal kick.
FULL TIME: ELGIN CITY 2-1 STENHOUSEMUIR
Starting Lineup: Cantley, Yeats, Higgins, Crighton, Corbett, O'Reilly, Miller, Anderson, Yates, Orr, Sewell
Subs: Brennan, Walker [Anderson 61], Forbes, Brown [Sewell 61], Philp [Crighton 32], Joseph [Higgins 90]
Goals: Sewell [39 minutes]
Bookings: Higgins [45 minutes]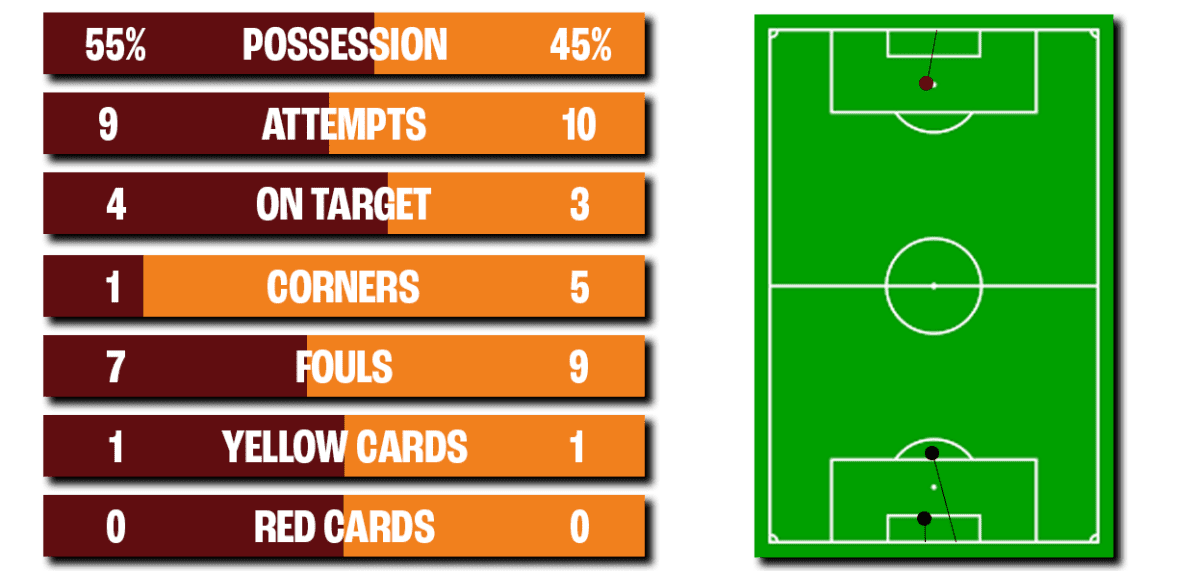 WarriorsTV spoke with Stephen Swift and Euan O'Reilly following the match. Highlights can be found HERE
It's the final home game this Saturday as we welcome Forfar Athletic to Ochilview Park. The two sides met in August, with the Warriors winning 2-1 that day, ending a run of 4 defeats in a row. With the Warriors chasing their first win since the 1st of October, could history repeat itself? You'll need to look back 4 weeks more to find the last home league win, which was the 3-1 victory over Stranraer.
Ray McKinnon's Loons picked up a 1-0 win at the weekend, seeing off Albion Rovers but were unable to bring themself off the foot of the table.
Admission for Saturday's game is set at £14/9/5, with tickets being available through the fanbase app. You can also pay at the gate.
Can't make it? Don't worry, WarriorsTV will be live streaming the game for £10. You can find that HERE

Stenhousemuir vs Central Girls
It's was cup action, in the newly reformed Scottish Cup for the Warriors as they took on SWFL Central/South East side Central Girls.
Heading into the match, the Warriors hadn't conceded in 4 games and were unbeaten in 5, so the side went in with confidence.
Lucy Sullivan scored her 4th goal of the season to open the scoring but the visitors would reply almost immediately. Eirinn Maguire fired the Warriors infront but the visitors were able to level up once again.
The match would go into extra time but the 30 minute period would remain goalless.
It would be Central Girls that advance to the next round of the Scottish Cup, winning 5-4 on penalties.
We wish them the best for the rest of the season.
It's a weekend off for the women's side before the final match of 2022 next weekend. We'll have more about that in next week's edition.

 ???????? ?????? ???? ???
 Our Warm Hub will now open 0930am – 1230pm on Mondays, Tuesdays & Thursdays at Tryst Community Centre on Park Drive, Stenhousemuir.
Pop in for a hot drink, a biscuit, a heat or a chat.
No cost and all are welcome.

1st Prize £250 – Robert Beagley
2nd Prize £100 – Paul Sweet
3rd Prize £50 –  Colin Finlayson
Congratulations to the £20 prize winners : M&T Mynett, Sandy Reid, David Reid, Peter McKenzie and Michael Hay.
JOIN OUR LOTTERY
The Goldline Sports Lottery is a Prize draw with four bands of entry level, Platinum, Gold, Silver and Bronze.
The fees are as follows per month:
Platinum £50.00 (10 entries plus 2 complimentary hospitality places worth £150), Gold £20.00 (4 entries) Silver £10.00 (2 entries) or Bronze £5.00 (1 entry) per Month. The cash prize grows with the number of players involved with guaranteed cash prizes every month of £500.
On joining the Goldline Community Sports Lottery you will receive your unique Membership number(s) corresponding with the entry level you have selected, after having received it you will be entered into the Monthly Draw for cash prizes.. Winners are announced every month and if you win the money will be paid directly into your bank.
Set up a monthly standing order for either £5, £10, £20 or £50 to the following account
Stenhousemuir FC
800674
06000848
You can set up a standing order simply through your bank app on your phone, on-line or in your local branch. You can also cancel this at any time with no long-term commitment and no cancellation fee.
2. Send a confirmation email to info@stenhousemuirfc.com confirming membership level (bronze, silver, gold or platinum), full name and contact number and what date of the month your standing order is set for.
Every new member will be welcomed on social media (if they wish) as a thank you from the Club. We wish to showcase the many hundred's of people who care about our Club and celebrate their backing. If you would like a thank you on social media please email a photograph over with your application.

The Men's FIFA World Cup continued this past week with the Round Of 16 taking place. Below you'll be able to see the results from the first round of knockouts:
Netherlands 3-1 USA
Argentina 2-1 Australia
France 3-1 Poland
England 3-0 Senegal
Japan 1-1 Croatia (Croatia won 3-1 on pens)
Brazil 4-1 South Korea
Morocco 0-0 Spain (Morocco won 3-0 on pens)
Portugal 6-1 Switzerland
The Quarter Finals take place this Friday/Saturday, Croatia will take on Brazil, Netherlands will play Argentina, Morocco and Portugal go head to head, whilst England take on reigning champions France.