YOUR new away kit as chosen by the supporters!
In last week's edition of Inside Ochilview, supporters were promised an opportunity to vote for their favoured away kit for next season from 3 possible options. We fulfilled that promise over the weekend where 591 Warriors fans had their say in our Twitter poll!
In case you missed the winning kit then here it is, your new Stenhousemuir away shirt for the 2021/22 season!
The above shirt was a comfortable winner, receiving an impressive 40.3% of the overall vote. RJM Sports are now working on bringing everything together to ensure that our new online shop is ready to launch in the very near future.
We simply cannot wait to see both the Warriors and all of the supporters showing off the new kits!
Friendly matches now announced
We can safely say that the Swifty era is well and truly underway with the building of an exciting new team. The next step is of course getting the new side playing well together on the pitch, ready for the new season.
For this reason, we have set about arranging a preseason friendly schedule, which is detailed fully below:
Tuesday 22nd of June – Warriors v Bo'ness united
Saturday 26th of June – Benburb v Warriors
Tuesday 29th of June – Warriors v Alloa Athletic
Saturday 3rd of July – Spartans v Warriors
Saturday 10th of July – St. Johnstone v Warriors
Depending on Covid restrictions and arrangements made, there is the possibility of Warriors supporters being able to attend some of the above matches. So please do keep an eye out for announcements regarding attendance information!
Erskine and Hopkirk depart
Stenhousemuir FC can confirm that both Calum Erskine and David Hopkirk have left the club this week.
Calum signed for the Warriors at the start of last season and featured on 3 occasions for the first team. The goalkeeper's contract had expired and he has now chosen to sign for League 1 side Dumbarton.
David had been at the club since 2019, in which time he made over 50 appearances for the Warriors. He felt that just now was the right time for him to move on from Ochilview and the club decided to honour his request to leave.
We would like to put on record our sincere thanks to both players for their contribution to the club and wish them the very best for their careers going forward.
This means that our current squad for next season now looks as follows: Bernard Coll, Ryan Marshall, Jamie Mills, Thomas Orr, Cammy Graham, Josh Grigor (on loan at Syngenta), Michael Anderson, Adam Brown, Adam Corbett, Declan Hughes, Ross Lyon, Graeme Smith, Ross Forbes, Jordan Tapping, Sean Crighton, Darren Christie, Nat Wedderburn and Robert Thomson.
Ladies team latest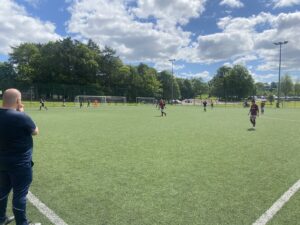 Back on Sunday, the ladies team picked up their first friendly victory ahead of the resumption of competitive football as they defeated United Glasgow 5-4 in a thrilling encounter!
Last week, the club website spoke to first team coach Ryan Smith, covering his time at the club as well as the Warriors recent matches against Rossvale and St. Johnstone in a changing room update. Please follow the link below to read more:
https://www.stenhousemuirfc.com/2021/06/04/ladies-team-changing-room-update-3/
Donate your unwanted football kits!
The club can confirm that we are now open for supporters to drop off their unwanted football kits as part of our donation to KitAid. We have been an ambassador club for the charity since 2011 and have helped them in their mission of supplying football equipment to people in some of the poorest regions of the world.
All football shirts will be accepted, regardless of size or club and can be dropped off to the club at any time during the day. However, there will be the opportunity to meet some players if donating at around 7:15 on Tuesday and Thursday evenings.
As a club we like to think that we do our best to look after those that need support within our local community, however it's important to not lose sight of the difficulties faced by those all around the world. Football is a universal language and hopefully, with the help of supporters, our club will be able to make a positive impact on these communities through this donation.
 2008's victorious in Divisional League Cup final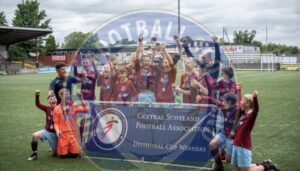 At Stenhousemuir, we believe massively in the importance of running an extensive community football development programme. Therefore, we were extremely proud when our 2008 side were victorious in the Divisional League Cup final at the weekend.
The boys showed great mental strength as they came from 1-0 down at half time to draw 1-1 with Rossvale, before coming out on top 5-4 on penalties!
We would like to offer up a massive congratulations to everyone involved as the 2008's won silverware in their first ever season of 11-a-side football. Hopefully we will see some of you in the first team in years to come!
 Club personnel update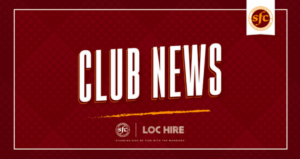 Welcome to Fiona Kennedy!
A short while back, the club advertised for a vacancy as we looked to hire our first ever Community Engagement and Inclusion Officer. After an extensive selection process, we are delighted to welcome Fiona to the club as the successful candidate!
Fiona has over 10 years' experience working in community sports and will lead our new soon to be launched charity after she starts on Monday. We're more than excited to have her on board!
We're hiring – Head Sports Scientist
Full details of this new role and how to apply will be released over the weekend so do keep an eye out, however we felt that it was appropriate for Inside Ochilview to break the news first of all.
This new part time role will see the successful candidate oversee readiness to play and train programmes, injury prevention and rehabilitation programmes, as well as individual player performance programmes.
We feel that hiring the correct person for this new role is the next step that needs to be taken in terms of pushing the club in the direction that we all want it to go in.
Cammy Graham opens up
By now we will all have heard of the story of our very own Cammy Graham as he fought back from a shock cancer diagnosis to not only receive the all clear but earn a new deal at the club.
You can now hear about his story in his own words as he spoke to the Courier. Please follow the link below to read more:
https://www.thecourier.co.uk/fp/sport/football/scottish-league-2/2282194/my-best-pal-saved-my-life-how-ex-hearts-and-dunfermline-kid-cammy-graham-recovered-from-terrifying-cancer-diagnosis/
Just in case you're interested…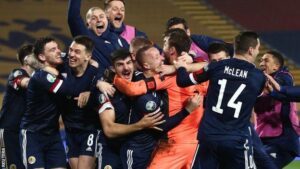 Study gives Scotland a 57% chance of reaching the knockout stage of the Euros
Scotland have never reached the knockout stages of a major tournament, however we have a chance to rectify this in the next week or two. A new study factoring in a range of variables and over 1 million scenarios has backed the scots to do just that. Please follow the link below to read more:
https://www.bbc.co.uk/sport/football/57402506
Vaccine or negative test proof required for Wembley admission
If you have plans to attend Scotland's match with England next week then its likely that this news will have reached you already. However just in case it hasn't, supporters will now need to show evidence of a negative test or of vaccination to get into Wembley. Please follow the link below for more details: 
https://www.bbc.co.uk/sport/football/57404223
Ukraine Euro 2020 shirt proves to be controversial
Ukraine have caused a stir, especially in Russia, after they unveiled their Euro 2020 shirt which contains the boundary of Ukraine, also including the now annexed by Russia, Crimea region. The shirt also carries the slogan "glory to the heroes". Please follow the link below to read more:
http://www.insideworldfootball.com/2021/06/08/russians-get-shirty-crimea-included-within-ukraine-boundary-euro-2020-kit/