Hello and welcome back to another edition of Warriors Weekly. Both of our men's and women's teams were action over the weekend and will be in action at Ochilview this weekend. Read on to find out more!
We have several opportunities, both paid and voluntary, to join our club and welcome applicants for each of the roles listed below.
MATCH ANALYSTS
---
 Stenhousemuir Football Club have created a football department structure and strategy that is at the very forefront of the Scottish game with a club philosophy and ethos that is performance driven and encourages all players and staff to maximise their ability and potential. Improving performance on an individual and collective level is at the very core of everything we do. Our Football Department is committed to the provision of an integrated, structured and proactive approach to the management of player development with the aim of improving individual and team performance
We are looking to identify and recruit hardworking and enthusiastic Analysts to work alongside and with our First Team coaching and playing staff.
 The roles will initially be engaged on a voluntary basis but will offer a unique opportunity to become involved and gain experience in senior professional football.
 Successful applicants will work within the current Analysis dept under the supervision of our senior analysts.
 For more information, including how to apply, click here. 
CLUB PHYSIO
---
The 1st Team Physiotherapist is integral to the success of the Football Club by providing the highest level of physiotherapy care. The individual will work closely with the 1st Team Coaching Staff and 1st Team Sport Scientist to ensure all injured players are rehabilitated effectively and available for selection as quickly as possible.
This is a fantastic opportunity for a hard-working, dedicated, and caring professional to join an ambitious Club with aspirations higher than SPFL League 2.
 For more information, including how to apply, click here. 
MATCHDAY MEDIA TEAM
---
We have some exciting opportunities available to join the Stenhousemuir FC Media Team.
The club is seeking applications from highly motivated, knowledgeable, and skilled individuals who wish to pursue a career in the media and within sport.
All media roles are voluntary and would ideally suit a student undertaking a qualification within a media or sports field. 
Primarily, we are looking for a Matchday Twitter controller, however, if you feel that you could contribute to the Media Team in any way, please contact Ian.fitzpatrick@stenhousemuirfc.com and we can have a chat.


Bonnyrigg Rose vs Stenhousemuir
2 goal hero Euan O'Reilly returns to the starting line up as Swifty goes with Matty Yates up top supported by Broony and Euan
New boys Ross Philp and Liam Brown both start on the bench
Dan Higgins misses out through injury
The game started slow as both teams were trying to suss each other out with Bonnyrigg looking to have the opening few minutes in their control.
But it was The Warriors that had the first good chance of the match. Euan O'Reilly played a neat 1-2 with Matty Yates and the midfielder ran through on goal but was halted by a good challenge. The ball dropped to Matty Yates, but another block saw his shot cleared.
GOAL: Big mistake from the home keeper who tried to clear but Matty Yates was too quick to chase him down and managed to get the ball into the back of the net. BONNYRIGG ROSE 0-1 STENHOUSEMUIR [Yates 7 minutes]
A glorious chance for the visitors to take it 2. Euan O'Reilly played a perfect through ball to Adam Brown who managed to slip the ball under the keeper, 2 covering defenders were able to clear the ball off the line, almost conceding in the process. Matty Yates took the resultant corner which was easily cleared by the home defence.
The home side are struggling with Stenhousemuir's quick passing and moving but are holding strong and look a threat when they're attacking.
A hand ball claim for the home side was denied by the referee who pointed for a corner instead, which was eventually knocked over for a goal kick.
Another good chance for Matty Yates in 17 minutes as he picks a knock down from Adam Brown. A covering defender made the block though at the expense of a corner.
GOAL: Euan O'Reilly is on fire and doubles the Warriors lead. A corner was headed towards goal by Adam Corbett. The ball may have crossed the line but the keeper and defender cleared the ball, but Euan O'Reilly was on hand to make no doubt. BONNYRIGG ROSE 0-2 STENHOUSEMUIR [O'Reilly 18 minutes]
20 minutes in and The Warriors have complete control over the game. The home side are seeing plenty of the ball but are struggling to find any creativity to get passed The Warriors defence.
The hosts had their first good chance of the half on 22 minutes but Kevin Smith just couldn't get his shot on target.
The rest of the half was played out without much more instant. The home defence are struggling to cope with the movement of Brown, O'Reilly and Yates and the visiting defence is hoovering up anything Bonnyrigg can muster.
 HALF TIME: BONNYRIGG ROSE 0-2 STENHOUSEMUIR
Into the second half and Bonnyrigg, again, started the stronger side. Again though, the visiting defence had an answer to all of The Rose's questions.
GOAL: A mistake by the visiting keeper this time as he spills a McGachie header and Kevin Smith has an easy knock in. BONNYRIGG ROSE 1-2 STENHOUSEMUIR [Smith 51 minutes]
Straight after kick off, anther good chance for the home side but Brennan manages to come out quick and smother the through ball. The home side have definitely come out fighting in the second half and The Warriors need to concentrate to get hem through a difficult spell of the match.
SUBSTITUTION: Euan O'Reilly and Adam Brown go off on 56 minutes and are replaced by Tam Orr and Liam Brown who makes his debut for The Warriors.
Bonnyrigg continue their push for an equaliser as The Warriors struggle to get anything in the game.
SUBSTITUTION: Ross Philp makes his Stenhousemuir debut as he replaces Callum Yeats on 61 minutes just a moment after th left back had entered the referee's book and seemed to have injured himself in the process.
Just a moment later, Smith thinks he has his second of the game, but the assistant referee raises his flag for offside.
The home side are knocking at the door and are giving up chance after chance in this second half. Certainly has been a game of two halves and The Warriors need to get this game under control if they're to leave with the 3 points.
Another chance for the home side on 65 minutes. Nicky Jamieson had a great block in the box and Conor Brennan was able to smother the scraps.
The Warriors had a rare chance on 68 minutes with Philp firing a cross across goal but Tam Orr couldn't get on the other end.
Straight up the pitch and a last ditched Sean Crighton block deflected the ball for a corner which was cleared up to Tam Orr who held up the ball well, but The Warriors eventually gave up possession.
GOAL: Against the run of play, The Warriors retake their 2 goal advantage. Mikey Miller picked up the ball in the middle of the park and laid it off to Matty Yates who made no mistake with his finish. BONNYRIGG ROSE 1-3 STENHOUSEMUIR [Matty Yates 75 minutes]
SUBSTITUTION: Mikey Anderson replaces Ross Forbes on 77 minutes
Penalty for the home side as the referee deems that Sean Crighton handled the ball following a challenge in the box. The Stenhousemuir captain was adamant that the ball did not hit his arm, but the referee isn't interested.
GOAL: Martyniuk makes no mistake as he smashes the ball down the centre of the goal. BONNYRIGG ROSE 2-3 STENHOUSEMUIR [Martyniuk 83 minutes]
Into the final 5 minutes and Bonnyrigg again are pushing for an equaliser. Conor Brennan needed to make a smart save to keep The Warriors in front.
GOAL: Tam Orr picked up the ball at the edge of the box and ran passed a few defenders before a eat finish into the back of the net to surely secure the points. BONNYRIGG ROSE 2-4 STENHOUSEMUIR [Tam Orr 89 minutes]
FULL TIME: BONNYRIGG ROSE 2-4 STENHOUSEMUIR
Highlights and post match interviews with Matty Yates and Stephen Swift can be found HERE
We're back at Ochilview for the next 3 weekend, with Annan Athletic being our opponents on Saturday. The sides met at Galabank earlier this season, with the hosts winning 2-1. Our goal that day was scored by Matty Yates, which finished 3rd in the goal of the month vote for August. Both sides had come off a positive Premier Sports Cup campaign heading into that match, which was the second game of the league season, but it's a different story now. The Warriors currently are unbeaten in 5 matches and sit 3rd in the table, whilst Annan sit 8 points below in 9th.
Admission for Saturday's game is set at £14/9/5 and you can either pay at the gate or buy your ticket in advance through the Fanbase app.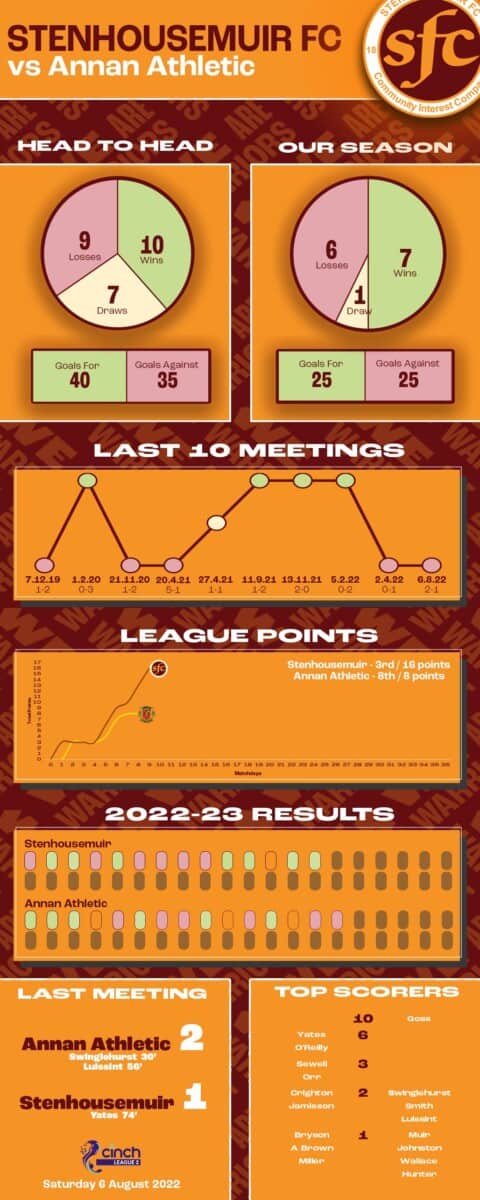 Stenhousemuir vs Westdyke
On the back of a great win away to Grampian last week, the Warriors are at home this week as Westdyke take the long trip down the A90. The Warriors came into this game with 13 points from their opening 6 games and sit level with todays opposition although Westdyke have a game in hand.
Jack Cameron's squad was looking thin today as a couple of midweek injuries contributed to him being without 6 players for todays match. 3 Trialists helped fill out the numbers as had 14 players for the game. Harkness started in goals while wingers Richard-Campbell and Kelly started as full backs. Sullivan, Jones and Vickerman joined them in the centre of defense while 2 Trialists made up the centre midfield, bolstered by Jude Connolly and Eirinn Maguire on the right and left hand side while Samantha Montgomery started as the lone striker upfront. Pearson, Phee and a third Trialist started on the bench.
The game started off well. Both teams challenging for the ball in the middle of the park with no one really getting any real chances in the opening 15 minutes.
YELLOW CARD: Lucy Sullivan is the first into the referee's book as she blocks a throw in.
Montgomery almost gets a shot on goal after Kelly lays her in with a great ball but Houston for Westdyke is able to knock out for a corner.
The away team Westdyke win a freekick in the attacking 3rd. Its layed off for Cochrane to take a shot but Harkness had it covered.
Westdyke start growing into the game as they begin to find a little bit of space in behind the defense. A long through ball feeds in the winger who manages to get into the box and have a shot, but Harkness gets down well to cover it. The Westdyke winger picks up the rebound but is crowded out, before she flashes it across goal. No one is able to get on the end of it though and the ball is eventually cleared.
GOAL WESTDYKE: A poor throw in from the Warriors in the last dying seconds of the half set Westdyke off on the counter. They manage to get the ball down the right wing and lay it off to Cochrane who is waiting on the edge of the box and she finds the back of the net. [Cochrane 45'+2]
HALFTIME : STENHOUSEMUIR 0-1 WESTDYKE
SUBSTITUTION: Kelly is withdrawn at halftime and is replaced by a Trialist 1.
A quick series of passes allows the Warriors to get up the pitch but a stray pass from Montgomery allows Westdyke to break on the counter. A series of runs and passes allows them a shot on the right wing but Harkness is able to make the save before Sullivan clears the ball out for a corner.
GOAL WESTDYKE: The ball is crossed in from the corner, then passed back out before being crossed in again, catching Harkness out with the bounce, it finds Ferries at the back post who does enough to get the ball over the line. [Ferries 52?]
SUBSTITUTION: Lucy Sullivan is removed and is replaced by Carolanne Phee.
The Warriors seem to have disapeared in the game for a good 10 minute spell. They manage a chance for one of the Trialists on the outside of the box but its not enough to trouble the Westdyke keeper.
YELLOW CARD: Carolanne Phee goes into the referees book for a poorly timed challenge.
A chance for the Warriors as the Trialist finds herself through on goal but the ref pulls it back for an offside. Quite a few players left confused by the call as it appears she was onside though.
SUBSTITUTION: Montgomery makes way for Chloe Pearson.
GOAL STENHOUSEMUIR: A poor freekick from Westdyke finds its way to Rachel Vickerman who hits a long ball through the middle and finds the Trialist, she takes on the keeper and slots it into the bottom corner. [Trialist 1 87?]
GOAL WESTDYKE: Lind picks up the ball, takes on Phee and pokes the ball into the net from the byline. Vickerman almost manages to clear it off the line but is too late. [Lind 89?]
FULL TIME: STENHOUSEMUIR 1-3 WESTDYKE
POST MATCH INTERVIEW
We spoke to the Head Coach Jack Cameron after the match to get his reaction.
Can you sum up how you are feeling after the game? 
"Frustrated to be honest. There wasn't alot we can take away from the game. It was flat, just a bit boring. Fair play to Westdyke they came over and done a job on us. They were hard to break down and they took their chances when they got them. We were just flat today. Thats probably the best way describe it."
What about the trialists? Any movement on that front? 
Trialist 1 done well today. She took her chance well when she got it because there wasnt alot going for her, we didnt create alot of chances but she did make a difference. Trialist 2 has been with us for a long time. Shes been with us for about as long as I have been here in pre-season but she has been really unfortunate with injuries. She played out of position today and probably a couple of weeks too early (in her recovery), the same with Trialist 3 who hasn't played since March. This wasn't a game I wanted to throw them straight into. If we had a bit more depth I would have ideally left them for a few more weeks and get them back into training but we had a lot of injuries so we had to get them in. They ran themselves into the ground and got a good 90 minutes into the legs. Not much else we can take from it."
A cup game against Rossvale next week. What do you say to the players now heading into that game?
"On paper nobody is expecting anything because they are in the top end of the league above, but we're going to have a go and see if we can win the game. It gives us a bit of a distraction and a week away from the league. We will go in, give it a go and take the game to them. We'll try and attack them and see what happens. Then in the following week we'll head up to Aberdeen for the return leg of today's fixture and try and correct what happened here today."
Highlights from the match can be found
HERE!
It's a step away from league action this weekend as we take on Rossvale in the SWF Championship and League 1 Cup. Our visitors on Sunday currently sit 3rd in the SWF Championship, so it'll be a tough test for Cameron's side.
The match will be shown live on WarriorsTV for free and admission to the match at Ochilview is by a small donation!

Our October Holiday camps kicks off on Monday for the next two weeks. Spaces are still available and can be booked
HERE!
Additionally, we'll also be running a Player Pro Camp next week. Details and how to book can be found below.

1st Prize £250 – Neal Casley
2nd Prize £100 – Niyah Joseph
3rd Prize £50 – Leslie Burns
Congratulations to the £20 prize winners : Rebecca McDowall, Jacqueline Barr, Stuart Orr, Duncan Frame, Calum MacInnes
JOIN OUR LOTTERY
The Goldline Sports Lottery is a Prize draw with four bands of entry level, Platinum, Gold, Silver and Bronze.
The fees are as follows per month:
Platinum £50.00 (10 entries plus 2 complimentary hospitality places worth £150), Gold £20.00 (4 entries) Silver £10.00 (2 entries) or Bronze £5.00 (1 entry) per Month. The cash prize grows with the number of players involved with guaranteed cash prizes every month of £500.
On joining the Goldline Community Sports Lottery you will receive your unique Membership number(s) corresponding with the entry level you have selected, after having received it you will be entered into the Monthly Draw for cash prizes.. Winners are announced every month and if you win the money will be paid directly into your bank.
Set up a monthly standing order for either £5, £10, £20 or £50 to the following account
Stenhousemuir FC
800674
06000848
You can set up a standing order simply through your bank app on your phone, on-line or in your local branch. You can also cancel this at any time with no long-term commitment and no cancellation fee.
2. Send a confirmation email to info@stenhousemuirfc.com confirming membership level (bronze, silver, gold or platinum), full name and contact number and what date of the month your standing order is set for.
Every new member will be welcomed on social media (if they wish) as a thank you from the Club. We wish to showcase the many hundred's of people who care about our Club and celebrate their backing. If you would like a thank you on social media please email a photograph over with your application.
This week we spoke to another member of our community staff.
Bailey Hanlon is one of the full time community staff but what is his role?
"I am one of two Senior Community Coaches here at the club, Declan Kidd being the other. My role is to Co-ordinate the full Girls Football Programme, from the Girls Young Maroons to the Girls Community Teams and everything in-between. I also split some roles with Declan, for example the School of Football programme and our Adult programmes like our Mental Health group."
The team are kept busy during the week so what does that week normally look like?
"Our weeks are always packed full of different things. It's a mixture of coaching delivery, programme and coach co-ordination, communicating with governing bodies like SWF and the SFA and liaising with other coaches and associations to arrange games etc.  No two days are the same in here, there is always something that pops up to challenge you out of the blue but that keeps it fresh so I can't complain!"
What's it like working with the two other full time staff members? (Daniel Newbigging and Declan Kidd)
"Working with Danny and Declan is great! We get on very well which helps as we probably see more of each other than we do our own families! We try to split the workload though evenly between us so we all chip in and help out where needed. That might mean myself doing a wee bit to cover one of the boys' teams or Danny doing a Young Maroons session – we try to ensure everything gets done to a high standard!"
Finally, as part of his role, Bailey helped organise the Under 10s girls festival that took place at Ochilview this past Sunday. How did he find organising the festival and the day itself?
"Our Region-wide festival took place on Sunday 2nd of October there. From the feedback we've had, it seems it was a huge success. I worked in conjunction with Nichola Sturrock at the Scottish FA to organise and run the day so a massive shoutout to her! We had 160+ players playing on the pitch from 16 teams across the Forth Valley region. Parents and Carers came out in their numbers to support too so it was a great day all-round!"

The women's national team are in action tonight at Hampden Park. They'll take on Austria in the World Cup Play-off Semi Final. If they are able to win, they'll also host the final as they'll take on Republic Of Ireland on Tuesday. Tonight's game is live on BBC Alba and kicks off at 7:35pm.
Also on tonight is the Europa Conference League. Hearts will be looking for back to back wins as they take on Fiorentina at Tynecastle.
The Old Firm have also been in action in the Champions League this week, Rangers lost 2-0 at Anfield against Liverpool, whist Leipzig saw off Celtic 3-1 in Germany.
These fixtures will be flipped next week, with Hearts travelling to Italy and The Old Firm hosting.