The club were dealt another blow this week as Peter Urminsky has once again be recalled by St Mirren on an emergency 7 day loan. The big keeper will again act as back up after Jak Alnwick's red card vs Dundee United.
Although this is only a 7 day recall, we expect a 2nd request to follow meaning the big man will miss out on this week's game against Annan Athletic and next week's visit to Elgin City.

The Warriors found themselves back in Fife and will need a step up in performance from the showing last week against Cowdenbeath.
Swifty has shuffled the deck with Euan O'Reilly, James Lyon and Mikey Anderson coming into the starting 11.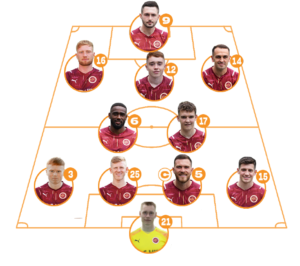 Kelty Hearts started the match sharp and had the first good chance, inside 5 minutes with Ngwenya bursting into the box, but his cut back was cleared by Callum Yeats.
It wasn't much long after for The Warriors to have their first attempt. A long ball forward by Nat Wedderburn bounced nicely for Tam Orr, but his left footed volley was struck over the bar. There then followed a penalty claim by Daz Christie, but the referee was having none of it.
Into 7 minutes and the away side pick up the games first corner. Euan O'Reilly floated the ball into the box but was well cleared by the home defence.
Stenhousemuir have definitely started strong and playing with a far higher temp and intensity than last week.  Kelt always look dangerous though, especially when they're given time on the ball. Adam Corbett almost opening the scoring inside 14 minutes, but a good save by Jamieson kept the score at 0-0 and the defence easily dealt with the following corner.
Thomas O'Ware picked up the games first yellow card for a cynical foul on Daz Christie as the midfielder was running through on goal.
As has become standard, The Warriors defence had held up strong with Kelty being restricted to long range shots. Thomas Reilly with the latest, on 19 minutes which drifted harmlessly over the bar.
Stenhousemuir started to sit back and let Kelty Hearts have the ball. A dangerous game as the home side are so good on the big pitch. But as strong as the home side are at keeping possession, Stenhousemuir are equal in their resolute defence.
Mikey Anderson did have a shot on goal after 36 minutes after some nice build up play by The Warriors. His shot was very high and well over the bar.
HALF TIME: KELTY HEARTS 0-0 STENHOUSEMUIR
SUBSTITUTION: Tam Orr picked up a painful knock in the first half and won't be out for the second. He's replaced by Robert Thomson
Into the 2nd half and Kelty almost took the lead through a breakaway attack. But Peter Urminsky stayed tall though and made a good save.
If the save was good, the one that followed a few seconds later was even better. Kelty took a quick free kick and the ball made it's way to Cardle. His shot from outside the box was well saved by Urminsky. The following corner almost resulted in a goal, but big Nat was there to clear the ball off the line. Strong start by Kelty.
The Warriors almost took the lead when Thommo chased down a back pass. Jamieson's clearance was straight at he big man, but unfortunately the players were too close and the bounced back into the keepers grateful arms.
Straight back up the other and Jo Cardle had loads of time at the edge of the box. He picked his spot and it looked to nestle in the back of the net, but big Peter Urminsky made an amazing save to keep the game level.
The home side burst forward on 56 minutes when Daz Christie drove forward. He tee'd up Thommo, but as the big striker cut onto his right foot, he drove his shot well over.
SUBSTITUTION: Euan O'Reilly makes way for Ross Lyon [61 minutes]
Another breakaway from Kelty and another good save by Urminsky. Agyeman this time getting on the end of a through ball by Cardle. The Big Keeper is having a great half.
Booking: Daz Christie manages to get booked for being fouled [67 minutes]
Booking: Nat also gets booked after being fouled, this time though, his reaction was the reason for the booking. [69 minutes]
Ross Lyon and Thommo both seemed to be fouled, but nothing from the referee. Kelty did pick up a free kick outside the box after a foul by Mikey Anderson. Higginbotham can't find the target though with the shot.
GOAL: Kelty finally made the breakhrthough with 10 to play. Higginbotham whipped in a dangerous cross and Kucheriavyi headed into the top corner. [83 minutes]
SUBSTITUTION: Adam Brown and Ross Forbes come on for James Lyon and Daz Christie. [83 minutes]
SUBSTITUTION: Jordan Tapping comes on for Mikey Anderson . [86 minutes]
Swifty is throwing everything forward with Tapping and Crighton moving up top beside Thommo.
BOOKING: Nicky Jamieson picks up a booking for a late challenge. [88 minutes]
FULL TIME: KELTY HEARTS 1-0 STENHOUSEMUIR
Starting XI: 
21. Peter Urminsky 15. Adam Corbett 3. Callum Yeats 5. Sean Crighton 25. Nicky Jamieson 17. Mikey Anderson 6. Nat Wedderburn 12. James Lyon 14. Daz Christie 9. Tam Orr 16. Euan O'Reilly
Subs: 
7. Ross Forbes 19. Cammy Graham 2. Ross Lyon 23. Spencer Moreland 4. Jordan Tapping 11. Adam Brown 10. Robert Thomson 20. David Wilson 8. Declan Hughes

The Warriors are back at Ochilview for the first time in 3 weeks after back to back trips to Fife.
We welcome Annan Athletic to Stenhousemuir as we look to finally move into the playoffs positions. And with Edinburgh City hosting League Champions Kelty Hearts on Friday night, The Warriors will know what needs to be done.
This season has been kind for results against Annan with 3 wins out of 3 so far, and that's a record that Stephen Swift and the boys will want to continue.
Aside from Peter Urminsky's 7 day return to St Mirren, it is unlikely that Thomas Orr will make the squad after coming off injured last week.

The ladies take to the pitch for the second last time this season on Sunday. The Warriors host Glenifer Thistle on Sunday at Ochilview. Kick off is at 2.30pm and you can come along and cheer the team on for free!
If you can't make it to Ochilview, you can catch all of the action on Warriors TV for free.
The Warriors were last in action on 13th March as they put 5 past BSC Glasgow without return. Suzanne Wyatt scored her 2nd hatrick taking her total to 13 goals [and 5 assists] in the last 8 games!
Head Coach Vacancy 
Stenhousemuir Football Club have an exciting opportunity for a Women's Football Head Coach to join our highly respected, community-orientated football club.
Our Women's First Team currently play in Scottish Women's Championship (South). We train twice per week (Wednesday & Friday evenings at Ochilview Park, Stenhousemuir) and play on Sunday.
As a club, Stenhousemuir FC are passionate advocates of female sport. We strongly believe in the power of sport to change lives. The successful candidate must demonstrate to us that they share this view.
The Women's Head Coach will play a pivotal role in developing our Women and Girls Pathway. We seek a motivated individual who is passionate about female sport and sees success as coming through the development of strong, female athlete role models.
Full details can be found here.

Barcelona vs. Real Madrid draws world record crowd for women's soccer match with 91,553 fans
Women's football reached a huge milestone Wednesday thanks to one of the sport's deepest rivalries. The UEFA Women's Champions League quarterfinal between Barcelona and Real Madrid at Camp Nou drew 91,553 supporters, an official world record for a women's football match.
That attendance number far surpasses the previous official high for a club match: 60,739 for an Atletico Madrid vs. Barcelona game at Wanda Metropolitano in 2019. It's also higher than the crowd of 90,185 that attended the World Cup final between the U.S. and China at the Rose Bowl in 1999. There were also unofficial reports of 110,000 fans at the 1971 Women's World Cup final between Mexico and Denmark in Mexico City.
Wales await in play-off if Scotland get past Ukraine
Scotland will have to beat Wales in Cardiff to qualify for a first World Cup finals in 24 years – should Steve Clarke's side overcome Ukraine in their delayed play-off semi final.
The Welsh beat Austria on Thursday to secure their play-off final spot.
Scotland's tie with Ukraine at Hampden has been delayed until after Russia's invasion, with fears now that game may not be played until September.
Discussions are under way about finding a new date for Ukraine's trip to Glasgow, with the Nations League window in June initially suggested
The sides are due to meet at Hampden in a Nations League tie on 7 June, as well as play three other matches in that window.
"Ultimately it's Fifa's competition so they'll make the decision," Scottish FA chief executive Ian Maxwell told BBC Scotland.
"We want to give Ukraine every chance to fulfil that fixture. It's really difficult to predict, there is no certainty.
"We're talking about football in the context of a war. We have to let what happens, happen over the next couple of months and take things from there."
A large contingent of recent squads selected by Ukraine have contained players who play their club football in their homeland, with 15 out of the 23-man pool for November's World Cup qualifiers based there.
The World Cup finals in Qatar take place from 21 November to 18 December.