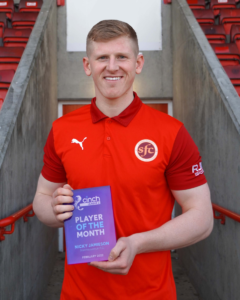 The Warriors have been recognised for our good form in February, by receiving 2 cinch League 2 awards for the month.
Defender Nicky Jamieson has picked up the Player of the Month award and Swifty has picked up the Manager of the Month Award.
Nicky has been a giant at the back all season and was a clear pick for Player of the Month.
Stephen took the chance to speak to Warriors TV about his award.
"Delighted to receive Manager of the Month award for February, obviously a great accolade for all the hard work but bottom line is it is a team effort.
"Frazer and Mike had a do a lot of work before the Elgin City game changing tactics as I tested positive for Covid, I put a lot of pressure on them to implement things I had put in place and for them to get message across.  They managed this for the Elgin and Annan game and they both should receive a lot of credit for this award.
"The players stepped up to the mark, we are not doing a lot different from the start of the season but everyone is working really hard.   Testament to this is Nicky Jamieson collecting Player of the Month for February and Thomas Orr picking up the award in January.
"We are on a good run and take all the plaudits that are going but there is still a lot of hard work to be done to get to where we want to be, and if we get there by the end of the season we could be in the race for promotion."
Congratulations to both Nicky and Swifty on their awards.