The Warriors welcome Elgin City to Ochilview following a week off.
Elgin come into the match on red hot form after an impressive 2-0 victory against Kelty Hearts.
Our recent Head to Head has been a mixed bag with 4 wins a piece in our last 10 meetings with 2 draws.
The sides have met each other 35 times with 14 victories for Stenhousemuir, 17 for Elgin City and 4 draws. The Warriors are slightly better off on the goal front, with 58 goals for and 56 against.
Stephen Swift could have a full squad to select to for the first time since his move in the Summer with both long term absentees Robert Thomson and Graeme Smith returning to full training albeit with the latter unlikely to be ready for match action.
A win for either side could see them move into 4th place with only 2 points separating 4th placed Edinburgh City with 8th place Elgin City.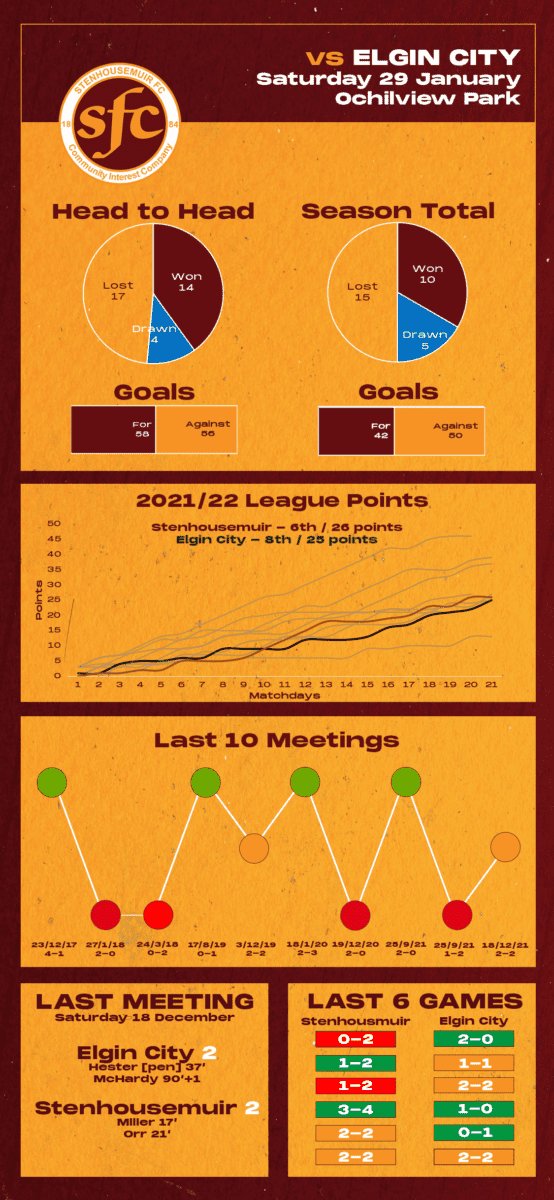 ---
Pre-match, Warriors TV caught up with returning striker,  Robert Thomson
So Robert, that's you back now to full training, how does it feel being back?
It's been good to be getting back involved. Obviously it's been difficult trying to get back into the swing of things again and work through some aches and pains, but it's good to be back and training with the boys.
It's been pretty up and down on the pitch, how hard has it been for you on the sidelines knowing that you can't impact the game?
Yea, like you said, up and down! Just after I was injured we went on a good run, so it was good viewing and we were picking up results and moving up the league then we got some undesirable results. But yea we've shown that we can get results, and hopefully I can contribute towards the end of the season.
We've spoken to a few players and the manager and the general agreement is that Kelty will win the league, but there's still a few play off places to play for, is this your aim for the season?
I think, for anyone looking at the league at the moment, it's Kelty's League to lose, but there's 3 positions up for grabs and anyone can beat anyone in this league, so it's up for anyone to take those positions.
And looking at yourself, as a striker, we have Tam Orr, Ryan Tierney, Daz Christe, Adam Brown has even played up front, how important is it for yourself to have competition and to have to fight for a space?
Yea, that's what you want in a squad is competition. Coming back into it, I believe i'll have to fight for my position and that's what you want because it will help the team to play well.
---
Warriors TV also sat down with Stephen Swift to look ahead to this weekend's fixture.
How has training been over the last 2 weeks due to us not having a game on Saturday?
It's been really intense and we gave them a really tough week last week, on Tuesday and Thursday. This resulted in some heavy legs, so we gave the boys a weekend off, the first weekend off all season. We asked them to come back fresh for another tough week to help us prepare for Elgin. So, it's been a productive few weeks. We've come in this week and worked hard again and hopefully this break, and a fresh start, gives us some freshness moving into Saturday.
Elgin are a team we've not managed to defeat this season, how have you prepared to set up against them?
I think the prep has been pretty similar to how we played them the last time. I think that, although the results haven't been great, I think the performances have been very good and we've just not gotten over the line, like the last game, being 2-0 up and missing chances to go 3 and 4 up. So I think prep has been pretty similar, but what to expect is a few changes to the starting lineup because we feel that we're not getting the energy at home, so we will change that.
Robert Thomson has finished his first full week of training since his injury in October, how has he looked these last few weeks?
That's Thomo been back training for 3 weeks now, though the first week was very light training and he's gotten up to speed after two full weeks of training. He's been out for quite some time, so we're not expecting miracles right away. However, he's a player that's right at the forefront of our thinking, so we'll see how it goes for Saturday.
We're at the tail end of January now and the window is closing soon, do you plan on making any additions to the squad?
January can be a very difficult month for a lot of clubs and it can be very frustrating at  times. We, like every club, are looking to make additions but it's proving very difficult to get them over the line, especially at this time of year when there's lots of indecision between players, buying clubs and selling clubs. So, we're like everyone else, of course we're trying to strengthen but we make sure that it's the right player, we need to make sure it's the right deal for the club and, hopefully, we can get a couple more in.
---
MATCHDAY INFORMATION
Kick-off: 3pm
Match Entry: Both home and away fans can enter via pay at the gate [cash] or you can purchase your ticket in advance by using Fanbase. Adult admission costing £14, concessions £9 and under 16's just £5.
Live Stream: If  you can't make the match, Warriors TV has you covered with PPV commentary from Cameron McIntyre. PPV is available for just £10 here.
Getting Here: Click here for details of how to get to Ochilview by car or train.
Season Card Holders: Season Tickets are valid for the match, please check the turnstiles for the ticket number.
The Pie Hut: Food and drinks will be available to be purchased once again from the Pie Hut.
The Wee Bar: The Wee Bar is open from 12pm with all fans welcome.
Face Coverings: Face coverings are not mandatory inside the ground but fans are encouraged to continue to wear these. Masks should be worn when moving around the ground.
Covid Secure: Please ensure that you are following all safety guidance when visiting the ground. If you're feeling unwell or are showing symptoms, please do not attend. We also recommend that you take a Lateral Flow Test before attending any crowded places.
Matchday Programme: The matchday programme is available via donation on entry to the ground.
---
2022/23 League Table
| Pos | Club | P | W | D | L | F | A | GD | Pts |
| --- | --- | --- | --- | --- | --- | --- | --- | --- | --- |
| 1 | Dumbarton | 27 | 16 | 5 | 6 | 41 | 29 | 12 | 53 |
| 2 | Stirling Albion | 26 | 15 | 7 | 4 | 51 | 29 | 22 | 52 |
| 3 | Annan Athletic | 29 | 11 | 7 | 11 | 51 | 45 | 6 | 40 |
| 4 | East Fife | 29 | 11 | 7 | 11 | 40 | 44 | -4 | 40 |
| 5 | Stenhousemuir | 28 | 10 | 8 | 10 | 44 | 45 | -1 | 38 |
| 6 | Forfar Athletic | 27 | 10 | 7 | 10 | 31 | 34 | -3 | 37 |
| 7 | Elgin City | 27 | 9 | 6 | 12 | 39 | 46 | -7 | 33 |
| 8 | Stranraer | 28 | 9 | 6 | 13 | 36 | 46 | -10 | 33 |
| 9 | Albion Rovers | 28 | 8 | 6 | 14 | 37 | 37 | 0 | 30 |
| 10 | Bonnyrigg Rose | 29 | 7 | 7 | 15 | 30 | 45 | -15 | 28 |