Stenhousemuir vs Clyde
Stenhousemuir Ladies were back in League action at Ochilview on Sunday afternoon.
Despite going down to an early Clyde penalty, the Ladies fought back with goals from Ralston, Montgomery, Phee and Maguire securing a 5-1 win.
Highlights – HERE
Post-Match Interview with Defender, Eirinn Maguire – HERE
Post-Match Interview with Head Coach, Alan Milne – HERE
---
Warriors TV caught up with Head Coach Alan Milne this week as he looked to strengthen his side with 2 new signings.
Right Alan, so 2 new signings Suzanne Wyatt and Chantel Patterson, how are you feeling about that?
Delighted, Susie's a player that we've been trying to get in for a number of months now, so I'm delighted to finally get that one over the line. She played in the game against Gleniffer and scored 4 goals. So she's going to bring goals to our game and she's going to bring an experience as well to the squad and she's just a real good character to have around the place. So, she's one that I'm really excited about and can't wait to see her on Sunday and hopefully we can get the goals from her and see her over the next few weeks and how many goals she can get.
Chantel as well, what kind of player is she?
Chantel is a centre back that's strong and tenacious and loves a tackle. She's also good on the ball and can play. She can play with the left foot or the right foot and she's got a wee bit of tenacity about her and that's something we needed and lacked at centre back. I've known Chantel for a number of years and the opportunity came that I could get her in, and I jumped at the chance to bring her in, and she's still young and hungry and wants ti play football, and that can only keep us in good stead.
Do you think these players will be first team regulars or do see the players being used in squad rotation?
I think if they get their chance and they play well, they'll keep their position and that's the same with anybody in the squad at the moment. If you get your chance, play well and do the right things then the position is yours, and nobody can take that away from you. I would never drop someone if they're playing well or doing the right things or they're doing the stuff that we focus on and work at in training. So if they come and do well and score goals or they stop goals, then yea, they'll keep their positions as much as possible.
With Susie coming in, that's going to create quite a bit of competition up front, how do you see that having an impact on the rest of the squad?
Hopefully it brings a fresh challenge for everyone and gets them to lift their levels a wee bit. They need to know that if they're not on their game, then there's someone waiting on the bench to come on and play. If there's someone not scoring or doing the right things in the areas of the pitch, there's someone itching to get on and play and take that position. So, competition is great and that's what we want. We want a good healthy competition in the squad and want everybody working hard and fighting for their places.
---
The Ladies embark on their first away game of 2022 on Sunday, playing BSC Glasgow.
Kick off is at 3.15pm at the Clydebank Sports Hub and admissions is free if you want to go and cheer the Ladies on.

STENHOUSEMUIR vs COWDENBEATH
Stephen Swift made 1 change from the team that beat Albion Rovers last week. Adam Corbett had been struggling with a hamstring through the week and he was replaced by Adam Brown.
It was Cowdenbeath that had the first shot of the match, a quick turn inside the box by 11 prompted a good save from Marshall with Crighton completing the clearance for a corner kick, which ended up with a header wide.
A break away by Tam Orr and he found Ross Forbes on the edge of the box, but his left footed drive was wide of the Keeper's post.
Just a minute later, Ross Forbes had another chance. This time with a free kick that was 30 yards out with his shot well over the bar.
It was 12 minutes before The Warriors had their first corner of the match after some fine play by Sean Crighton. Ross Forbes' in swinging corner was met by Jordan Tapping, with his header going over the bar.
Chances were few and far between in the first 20 minutes. Cowdenbeath were the team most likely to score, forcing a few corners but the home defence was equal to everything that The Blue Brazil produced.
Nicky Jamieson took a nasty knock on 22 minutes, it looked bad for the big defender, but he was able to shake it off and return to the pitch a few moments later, a welcome sight for the home fans.
Into 30 minutes and Cowdenbeath still look most likely to score. The Warriors can't seem to find any forward momentum with most of the game being played in the home half.
Adam Brown did have a chance on 30 minutes, with his wild shot failing to cause any issues.
Jamie Todd made his second high challenge of the match, this time on Ross Lyon and resulting in a yellow card for the big defender. Ross Forbes' free kick was cleared, but that seemed to have sparked The Warriors into life with Daz Christie and Ross Forbes both having attempts on goal. A flurry of home corners came next with the closest chance coming from Michael Miller, getting on the end of a deep corner.
Tam Orr had a chance on 37 minutes. A short header back by Thomson was met by Orr, but his chip over the keeper landed agonisingly wide of the post.
Cowdenbeath had the final chance of the half. A corner was swung in deep, with Ryan Marshall producing the save for the corner. The resultant corner was again saved by Marshall with Ross Forbes completing the save on the line.
HALF TIME: STENHOUSEMUIR 0-0 COWDENBEATH
GOAL: It was the away side that started off better in the second half. Ryan Marshall had to deal with a few clearances and indeed, it was the away side that struck first. A throw in was headed through to Robbie Buchanan and the striker was never going to miss from a few years out. STENHOUSEMUIR 0-1 COWDENBEATH [48 minutes]
SUBSTITUTION: The goal sparked immediate response from Stephen Swift as BJ Coll came on for the injured Nicky Jamieson. The change of personnel also saw a change of formation with The Warriors reverting to the familiar 4-5-1
Nat Wedderburn then picked up The Warriors first yellow card of the afternoon following a high tackle.
Craig Thomson was next to enter the referee's book. The Right Back clearly kicked the ball away, but somehow tried to plead his innocence.
GOAL: With Stenhousemuir struggling to clear their lines, the ball was played up top and a perfectly headed knock down was met by Bobby Barr who finished in the bottom corner to make it 2-0. STENHOUSEMUIR 0-2 COWDENBEATH [58 minutes]
The Warriors had a shot on target a few minutes later. the ball dropped to Michael Miller on the edge of the box. He wasn't able to get any power behind the shot which was easily held.
Ross Lyon made his way into the referee's book next after a pull back.
The Warriors were pushing everyone forward and an Adam Brown shot found its way wide to BJ Coll His cross was blocked for a corner. Another Forbes' in swinger was met by Michael Miller, but his header was well wide.
Stenhousemuir had the next chance as BJ Coll headed the ball back across to Michel Miller, he made his way to the touchline with the cross being cleared for a corner. Ross Forbes was again on corner duties, but his cross was held by the keeper.
Cowdenbeath went straight u the pitch and their shot was deflected over for a corner which was cleared by Marshall, with Daz Christie and Ross Forbes completing the clearance.
Jordan Tapping found himself in a spot of bother as he lost the ball. Luckily, the resultant shot was fired wide of Marshall's post.
SUBSTITUTION: Treble change for The Warriors with Nat, Ross Forbes and Adam Brown going off for Ryan Tierney, James Lyon and debutant Spencer Moreland. [76 minutes] Stephen Swift desperate to make an impact by going with 2 up top.
It was one of the subs that had Stenhousemuir's first short on target for long Tim as he nipped past a few defenders, cut inside but his shot was easily held by Gill.
SUBSTITUTION: Tam Orr came off for Cammy Graham with the young midfielder only having a few moments to make an impact. [86 minutes]
Into injury time and James Lyon forced his way into the box but took a tumble. The ref judged that as simulation and booked the midfielder.
FULL TIME: STENHOUSEMUIR 0-2 COWDENBEATH
| | | |
| --- | --- | --- |
| Stenhousemuir | | Cowdenbeath |
| 42% | Possession | 58% |
| 13 | Shots | 12 |
| 2 | On Target | 6 |
| 10 | Corners | 7 |
| 10 | Fouls | 10 |
| 3 | Yellow Cards | 2 |
| 0 | Red Cards | 0 |
---
Match Highlights – HERE
Post-Match Reaction from Manager, Stephen Swift – HERE

Free Weekend
The Warriors were due to play Edinburgh City on Friday night. However, with Edinburgh's participation in this weekend's Scottish Cup fixtures, our next match is on Saturday 29th January against Elgin City at Ochilview.
Keep an eye out next week for out match preview.

Women's Walking Football
Our Walking Football Programme is on the rise with Over 30 participants attending on a weekly basis between both Monday and Thursday sessions.
We are now launching our Women's only Walking Football Class for the very first time.
Come and get involved with us at Ochilview Park!
Tea and coffee are provided at the end of each session.
To book your place, or to pick up some more information, contact Declan.Kidd@stenhousemuirfc.com

Ex-Warrior makes his mark on Africa Cup of Nations
Willis Furtado burst onto the Scottish scene in 2017. Willis played 14 times for The Warriors scoring 4 goals and assisting in another. The winger then went on to play for Airdrie and Raith Rovers before leaving Scotland.
Willis came on as a 78th minute sub for Kenny Santos for Cape Verde vs Cameroon. The game finished 1-1 and ended Cape Verde's participation in the Tournament.
---
Robert Lewandowski lands FIFA Best men's award as Alexia Putellas wins Best women's award 
Robert Lewandowski named best men's footballer and Alexia Putellas named top women's player at Best FIFA awards; Chelsea head coaches Thomas Tuchel and Emma Hayes win coach of the year awards; Edouard Mendy named top goalkeeper; Ronaldo and Christine Sinclair win FIFA Special awards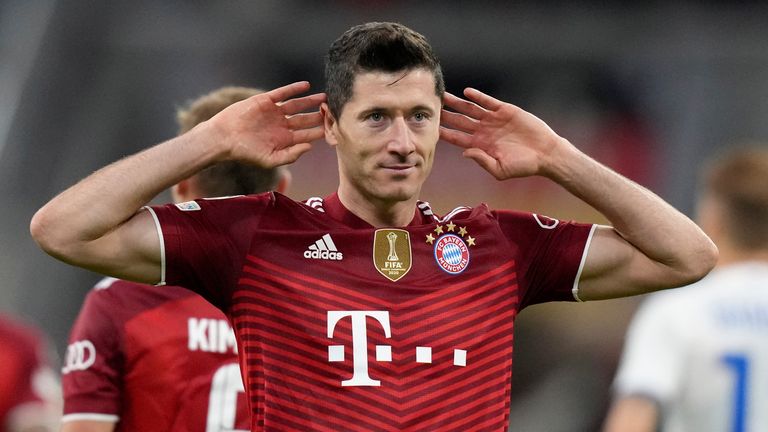 Poland international Lewandowski set a new record for most Bundesliga goals in a calendar year with his 43rd goal in December, breaking the record set by Gerd Muller in 1972.
The 33-year-old, winner of the men's award in 2020, also became the first player in Bundesliga history to finish top scorer in four consecutive seasons.
Barcelona midfielder Putellas was named women's player of the year, adding the accolade to her Ballon d'Or triumph.
Putellas, 27, captained Barcelona to the treble, with the Catalan side winning the Women's Champions League, Spanish league and Copa de la Reina last term