Hello and welcome back to another edition of Warriors Weekly! Both men's and women's sides were in action this weekend and we also said goodbye to a member of our men's first team staff. Read on to find out more!


Saturday was our Sports Therapist, Jenna Orr's last match with the club
Jenna has been a rock for The Warriors, spending 12 years with the club over two spells
We wish her all the best in her new role, and with her upcoming wedding, and beyond
Thank you Jenna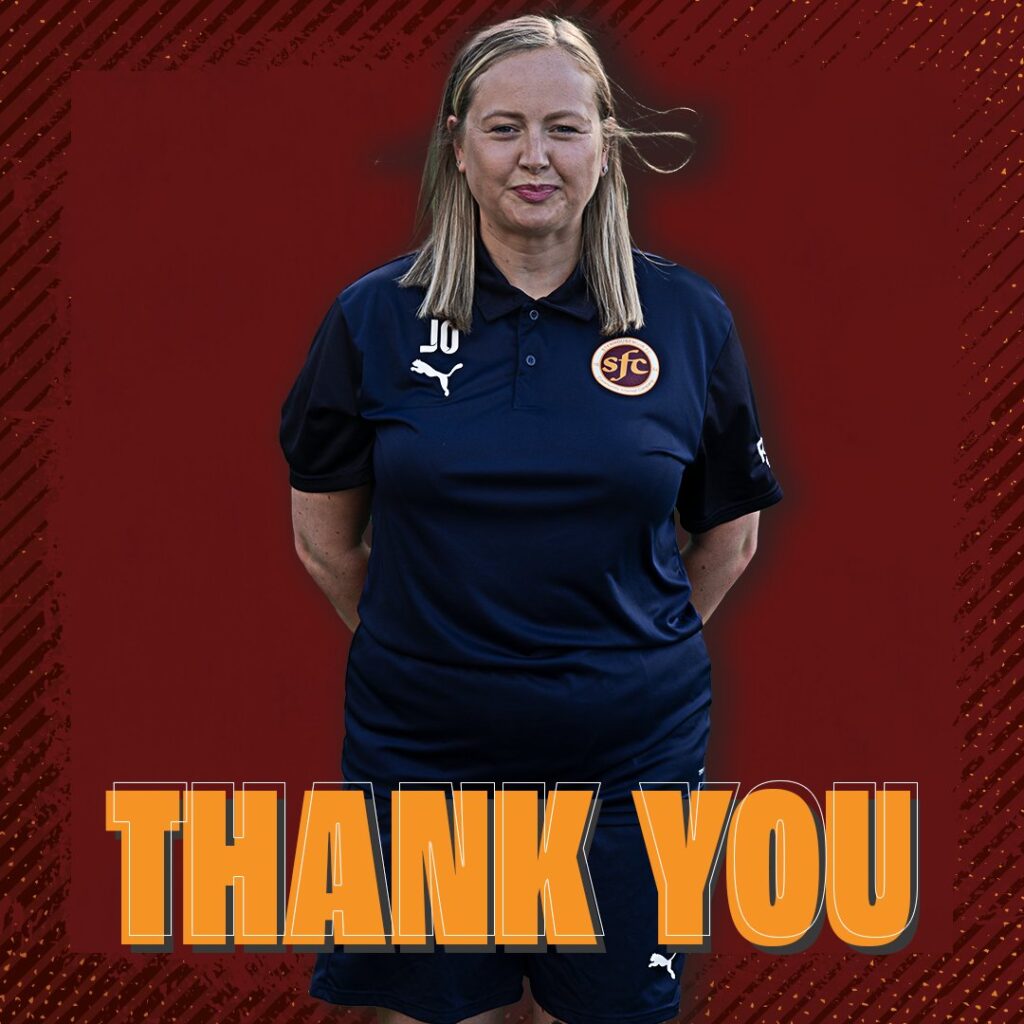 Stenhousemuir vs Annan Athletic
Swifty is forced into a few changes with a few players missing Mikey Miller, Dan Higgins, Callum Yeats and Liam Brown all miss out Tam Orr comes back in to partner Matty Yates up front Ross Philps starts his first game for the club
Annan had an early penalty claim in the first few minutes, but the referee wasn't interested.
Annan had the first good chance of the match with Conor Brennan performing the save at his near post with Ross Philp clearing the resultant corner.
Just a few moments later, Brennan had to pull off another good save at the expense of a 2nd corner which was well worked with the ball hitting off Tony Wallace.
GOAL: Just as The Warriors try to clear their line, the ball came out to Tommy Muir who drilled the ball across goal with Tony Goss getting in before Conor Brennan. STENHOUSEMUIR 0-1 ANNAN ATHLETIC [Goss 10 minutes]
Stenhousemuir almost had the ball in the net just a few moments later, Adam Brown's shot was charged down for a corner, which was easily cleared.
Annan had a penalty claim in 13 minutes, however, the referee booked Galloway for simulation.
Matty Yates had the Warriors first good chance just moments later as he picked up a pass from O'Reilly in the box. The young striker turned in the area, but Fleming was able to hold his shot.
Swifty saw red after an exchange with the referee. The gaffer picked up a yellow at first, but has he defended himself, the ref showed a second yellow, meaning he'd have to watch the rest of the match 5 feet behind the dugout.
Annan had a good chance to double their lead on 23 minutes with Muir and Goss linking up well, but Ross Forbes was able to intercept for a corner, which was eventually cleared.
Euan O'Reilly was heading towards goal and was pulled back. Ross Forbes stepped up to take the free kick and was just inches over.
Just a moment later, Tommy Muir saw red for an awful challenge on Matty Yates.
And a moment after that, another bad challenge on the edge of the box on Matty Yates, no booking this time though. Matty picked himself up and drove the free kick into the wall.
The extra man really has given The Warriors the boost as they push for an equaliser. Tam Orr and Matty Yates both having good chances to get on the scoresheet.
40 minutes into the game and another good chance for The Warriors. Matty Yates floated in a free kick and Ross Forbes found himself in free space but his header was inches over the bar.
More and more chances for The Warriors. Euan O'Reilly picked the ball out wide and he drove into the box but his shot was blocked. Nat picked up the rebound ad his shot was blocked, falling to ross Philp who saw his shot saved.
Another free kick on the edge of the box and Ross Forbes stepped up, but again, his attempt wasn't on target.
HALF TIME: STENHOUSEMUIR 0-1 ANNAN ATHLETIC
First chance of the second half dropped to Stenhousemuir and Adam Corbett. He picked up a pass from Euan O'Reilly and the defender fired his shot which was held by Fleming.
Another chance jus a few moments later with Philp seeing his shot the next to be held by Fleming.
10 minutes into the second half and it's been constant pressure from the home side with no end result. The Warriors are holding a high line though and need to be careful of the counter attack.
SUBSTITUTION: Tam's afternoon is over after 57 minutes as he's replaced up to by Will Sewell.
Almost an immediate impact as Will Sewell is played through on goal, with Greg Fleming making the save. That was followed up immediately by a drive by Ross Forbes which was touched past the post by Fleming, but the referee gave the goal kick.
Another glorious chance for the home side, but this time Adam Brown drills his shot wide.
SUBSTITUTION: Niyah Joseph and Scott Walker were added to the team to add some energy. The youngsters replaced Ross Forbes and Ross Philp on 69 minutes.
The pressure continues into the final 20 minutes. Stenhousemuir have controlled the entire second half but have struggled to find an end product.
Just as The Warriors are pushing forward, they're always exposed to the breakaway. And that's exactly what happened in 75 minutes with Conor Brennan making the one on one save to keep the score at 1-0.
Big penalty claim for the home side on 75 minutes with Matty Yates through on goal. The referee pointed to the corner flag though.
Will Sewell almost had the leveller on 77 minutes but for a word class save from Fleming, keeping the clean sheet.
GOAL: Finally after waves and waves of attack, The Warriors make the breakthrough. Nat Wedderburn found space and drove a shot towards goal, the shot was blocked and Nat continued his run, but Sean Crighton popped up and drilled the ball home. STENHOUSEMUIR 1-1 ANNAN ATHLETIC [Sean Crighton 81 minutes]
The Warriors haven't taken their foot off the gas as they push for a winner. Adam Brown and Adam Corbett both having good chances.
GOAL: The Skipper does it again! a perfect cross from Euan O'Reilly and Sean Crighton rises the highest to find the back of the net. STENHOUSEMUIR 2-1 ANNAN ATHLETIC [Crighton 87 minutes]
GOAL: Just as The Warriors look to see the game out, Tommy Goss picks up the ball on the edge of the box and fires past Brennan STENHOUSEMUIR 2-2 ANNAN ATHLETIC [Goss 90 minutes]
FULL TIME: STENHOUSEMUIR 2-2 ANNAN ATHLETIC
You can find highlights and post match interviews with Stephen Swift and Sean Crighton HERE
Our 2nd of 3 matches in at row at Ochilview takes place this Saturday as we take on Stirling Albion in a local derby. The Binos won the only meeting of this season 3-0 at Forthbank and will go into the game off the back of a 6-0 win over league leaders Dumbarton.
The Warriors go into the game with a 6 match unbeaten run, whilst Stirling are unbeaten in 5. So it's sure to be one to watch!
Admission for Saturday's game is set at £14/9/5 with tickets being available to purchase in advance through the Fanbase app. Alternatively, you can choose to pay at the gate.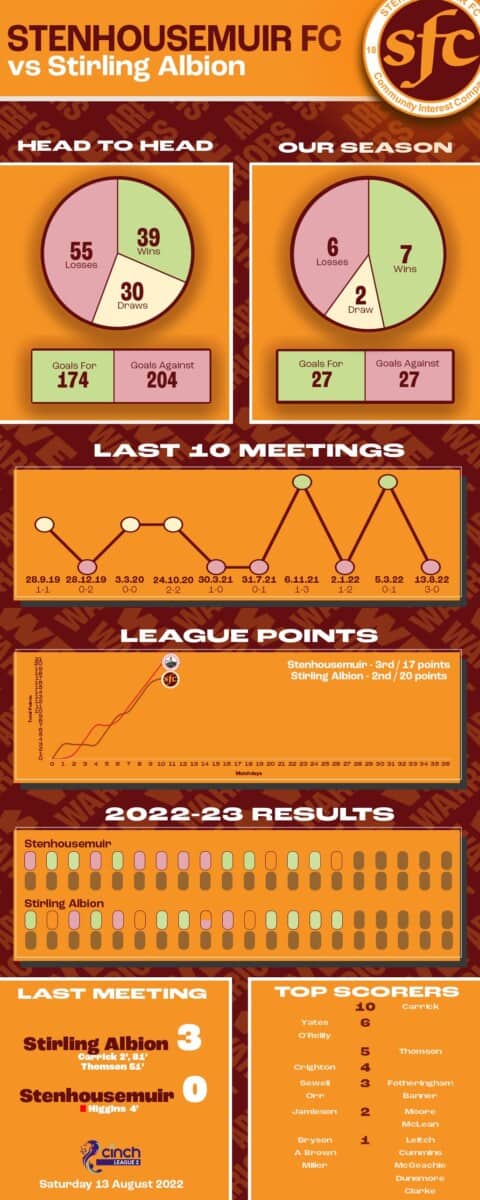 We are pleased to confirm the signing of Helen Templeton!
Helen has scored 3 goals in 3 games as a trialist this season so we are pleased to get this one across the line!
Welcome to the Warriors!

Stenhousemuir vs Rossvale
After a dissapointing 3-1 loss to Westdyke last week, the Warriors look forward to some Cup action as they take on Rossvale in the SWF League One and Championship Cup. Rossvale currently play in the top half of the Championship and head into this game on the back of a 2-0 win away to Hutchison Vale.
Jack Cameron named a side with a couple of changes from last week as Erin Wilson and Shantel Paterson returned to the squad. Last week's Trialist Helen Templeton put pen to paper this week and officially joined the squad in todays line up. A squad of Harkness in goals, Vickerman, Paterson, Jones, Sullivan and Connolly in defence, Maguire, Erin Wilson, Montgomery and Richard-Campbell made up the midfield with Templeton as the lone striker up front. Carolanne Phee, Chloe Pearson and Sarah Kelly start on the bench.
The Rossvale squad is made up of Rachel Docherty in goals and an outfield squad of Eilidh Milligan, Lynne Jackson, Natasha Donaghy, Aimee Henderson, Fiona Cullie, emma Rogers, Lauren McCulloch, Josslyn Fletcher, Morgan Anderson and Rachael Downs. On the bench; Megan Whiteford, Elise Wieringa Louise McJacobs, Rachel Ashe, Kirsten Treanor and Taylor Johnson.
The Warriors start well as the ball spends alot of time in the middle of the pitch. No team is initially able to create any chances for the first 20 minutes or so as both teams battle it out.
The first real chance of the game fell to Morgan Anderson for Rossvale as she managed to break through into a 1-on-1 with the keeper but Harkness does fantastic to make a massive save and kill the attack.
Anderson again finds a way through the Warriors defence after a quick couple of passes and she gets off a shot, but again Harkness has it covered as she dives down well to get it.
The first real chance for the Warriors falls to Templeton who picks up the ball from 30 yards out and turns, making a snap shot, but she doesn't quite catch it right and drifts to the wrong side of the post.
A minute later Templeton repeats the feat by carrying out almost the exact same move, snapping a shot from 30 yeards out. This one dips though and is flying into the top left corner were it not for Rachel Docherty who does really well to get up to it.
Rossvale are awarded a freekick on the edge of the box after a slack tackle from Montgomery. Donaghy steps up to take it but she doesn't get her shot right and slashes it wide.
The Warriors win a freekick around the halfway line after Templeton is pulled down. Vickerman takes it and floats it in beautifully over the top of the Rossvale defence finding the feet of Richard-Campbell who cant quite take it in her stride the Rossvale defence get back to shield the ball for the keeper to collect. And unfortunate touch.
HALF TIME: STENHOUSEMUIR 0-0 ROSSVALE
No changes for the Warriors at the break as Templeton gets the game back underway.
SUBSTITUTION: Rossvale make their first change of the day with a double substitution as Louise McJacobs and Rachel Ashe come on to replace Josslyn Fletcher and Rachael Downs.
Rossvale substitute McJacobs comes very close to opening the scoring after getting the break of the ball, not once but twice, and finding herself 1-on-1 with the keeper, but again Harkness does fantasic and pulls off a brilliant save!
Jude Connolly picks up the ball on the right wing and skips round a few Rossvale players before laying the ball in for Montgomery who races towards the keeper. 1-on-1 she takes her shot but cant keep it on target as it slides painfully past the post.
Rossvale win a corner from outside the box, close to the left hand corner flag. The ball is floated in and the Rossvale number 2, Jackson, gets a free header in the box but cant quite keep it down as it drifts over the bar.
GOAL ROSSVALE: Almost a minute later, another Rossvale freekick, this time from about the middle of the park, is floated in to the back post and again finds the head of Jackson who nods it into the net off the underside of the bar. Stenhousemuir 0-1 Rossvale [Jackson 71?]
SUBSTITUTION: Rossvale make another change as Elise Wieringa comes on to replace Morgan Anderson.
SUBSTITUTION: Jack's reaction to the goal is to withdraw Montgomery, who is replaced by Sarah Kelly. This is followed a few minutes later by Richard-Campbell coming off to be replaced with Carolanne Phee.
SUBSTITUTION: Another double change for Rossvale as Amiee Henderson and Fiona Cullie come off and are replaced by Megan Whiteford and Taylor Johnson.
YELLOW CARD: Carolanne Phee is booked for a tackle after she brings down a Rossvale striker that got on her wrongside.
Lucy Sullivan breaks down the left hand side of the pitch and almost makes it to the box. She tries to cross it in or shoot with the outside of her foot but gets it all wrong and the ball goes out for a goal kick.
FULL TIME STENHOUSEMUIR 0-1 ROSSVALE
Rossvale progress to the next round of the cup after a single goal in the 71st minute is enough to seal the win. Good luck to Rossvale in the next round.
POST MATCH INTERVIEW
We caught up with Head Coach Jack Cameron after the match.
How are you feeling after that game? 
Probably as satisfied with a loss as you can be. Obviously you want to get through to the next round and ultimatley we've been put out of the cup, but against a top side from the top half of the league above, we've come and gave a good account of ourselves. Maybe if we had been a wee bit more clinical in the final third we could have stole something today but in general the players can be proud of that performance. It was a good shift.
A couple of big saves aswell from Harkness. How important was she today? 
I think that was Toni's best game for us. She's been brilliant. She came in to be a part of the coaching staff and has ended up having to fill in for a lot longer than we thought she was going to, but shes been a brilliant player and this was by far her best game. Big saves at big moments.
Helen Templeton making her debut as a non trialist today. How pleased are you to have her in the squad? 
I'm delighted. She is an experienced player and shes going to be good for the group. We've got a real young group here which is mostly under 21-22 so I think she will add alot to the team on the pitch aswell as off it and I think she has settled in well.
Is the squad here today closer to what you are expecting to have going forward now for the rest of the season?
We've still got 4 players out just now. Three we think might be back in the next few weeks and one real long term injury but we are getting there slowly. We knes it was going to be a bit of a big turn around, we knew we would probably take a bit of a hit in the short term in terms of growing the squad, but we are starting to get there now.
Looking ahead to next week, you've got the return leg away to Westdyke. Have you had a chance to think about that game? 
We try and only focus on one game at a time. We did just play them though and we we're not delighted with our performance. We could have been better and we had a lot of players out injured in that game. Hopefully if we can keep the squad that was here today and avoid any further injuries, maybe get some of the others that are out back, and then try and head up to Aberdeen and try give a really good account of ourselves.
Highlights from the game can be found HERE
We're back on our travels this weekend as we head back to Aberdeenshire to take on Westdyke. The two sides met recently with Westdyke winning 3-1. Jack Cameron will be hoping his side can get back on form following back to back defeats.
Sunday's game kicks off at 2:45pm and the game takes place at Westdyke Community Club, Westhill.
We have several opportunities, both paid and voluntary, to join our club and welcome applicants for each of the roles listed below.
MATCH ANALYSTS
---
 Stenhousemuir Football Club have created a football department structure and strategy that is at the very forefront of the Scottish game with a club philosophy and ethos that is performance driven and encourages all players and staff to maximise their ability and potential. Improving performance on an individual and collective level is at the very core of everything we do. Our Football Department is committed to the provision of an integrated, structured and proactive approach to the management of player development with the aim of improving individual and team performance
We are looking to identify and recruit hardworking and enthusiastic Analysts to work alongside and with our First Team coaching and playing staff.
 The roles will initially be engaged on a voluntary basis but will offer a unique opportunity to become involved and gain experience in senior professional football.
 Successful applicants will work within the current Analysis dept under the supervision of our senior analysts.
 For more information, including how to apply, click here. 
CLUB PHYSIO
---
The 1st Team Physiotherapist is integral to the success of the Football Club by providing the highest level of physiotherapy care. The individual will work closely with the 1st Team Coaching Staff and 1st Team Sport Scientist to ensure all injured players are rehabilitated effectively and available for selection as quickly as possible.
This is a fantastic opportunity for a hard-working, dedicated, and caring professional to join an ambitious Club with aspirations higher than SPFL League 2.
 For more information, including how to apply, click here. 
MATCHDAY MEDIA TEAM
---
We have some exciting opportunities available to join the Stenhousemuir FC Media Team.
The club is seeking applications from highly motivated, knowledgeable, and skilled individuals who wish to pursue a career in the media and within sport.
All media roles are voluntary and would ideally suit a student undertaking a qualification within a media or sports field. 
Primarily, we are looking for a Matchday Twitter controller, however, if you feel that you could contribute to the Media Team in any way, please contact Ian.fitzpatrick@stenhousemuirfc.com and we can have a chat.
This week Warriors Weekly spoke to a member of our Media Team. Cameron McIntyre works as the media officer at the club and is involved with our men's and women's sides.
Cameron joined the club in November 2017, initially as the camera operator. How did he get involved?
"I remember seeing an article from the club, saying that they were looking for a new camera operator. At the time I had no experience but decided to reply saying I was interested. I didn't think anything would have came from it. I received an email from Iain McMenemy a few days later asking if I was still interested and offered me the role! My first game filming was a Scottish Cup match against Alloa at Ochilview. I remember the game well, not because it was my first match filming but because I had Jim Goodwin down next to me. If you know Jim, you probably know why I remember it well."
Cameron's role at the club as evolved since he first joined, what does he currently do?
"I do quite a bit in terms of media for the club. I am involved with both the men's and women's team, where I work as the stadium announcer for home matches and film away matches. I edit the highlights and interviews for each match for both teams too. Having the Pixellot system for home games is handy as all I need to do is set up the fixture on the system, input the times and date and then everything is done automatically! Interviews after the  men's matches are normally conducted by myself, so I need to prepare questions for Stephen Swift and the players whilst I'm trying to do my other matchday jobs! I also record commentary for the highlights, I used to do live commentary for home games but have since moved to doing post commentary for all games.
For away matches, usually I'll be the one behind the camera. It's hard sometimes to keep quiet but sometimes you'll hear me reacting to something in the highlights, the end of the Playoff Final away to Peterhead springs to mind.
Away from matchdays, I help run the club's Instagram account and also type up Warriors Weekly. Am I interviewing myself? You'll never find out."
During the pandemic, the club would stream home matches. How did Cameron find that?
"It was weird at first. I got used to filming all Stenhousemuir matches, home or away, so when I found out we had got an AI camera for home matches, I wasn't sure what I'd be doing at home games. I suggested doing commentary for our streams, which eventually happened.
I commentated along side John Fernandez, Craig G Telfer, Craig Anderson and a few others whilst we were doing live streams. Looking back on it now, it was a lot of fun but quite tiring as remaining energetic for 90 minutes can be difficult, especially if you're commentating yourself.
It was weird not having any fans for the first season but once they returned, it felt like football again. There's nothing better than hearing the roar of the crowd on a matchday!"
A key part of the role is editing highlights and interviews for WarriorsTV after matches, how does he go around this?
"It depends on what team I am editing the content for really. The women's football doesn't have any restriction in terms of when highlights go up so I usually aim to get them up as soon as I can. Normally I can have this done by 8 or 9pm on the day but if I'm working or it's away game it's a bit more difficult to do so.
For the men's game, there's a restriction meaning that no match footage can go out before the midnight following the game. This is why you normally see our highlights go out bang on midnight. I always make sure I get the interviews out as soon as I can following the game, sometimes this could be a few hours after the game, depending on where we are playing that day. Once the interviews are uploaded, I create the graphics for the highlights then get to work on getting the package created, with the aim to get it out for midnight or as soon as possible after then."

Unfortunately the Scottish Women's National Team will miss out on the 2023 World Cup. The side were able to beat Austria 1-0 in the Semi Final, needing extra time to grab the win but a tough evening at Hampden saw them lose 1-0 to Republic Of Ireland.
In Europe, Hearts head to Fiorentina later today, looking to avenge last week's 3-0 defeat at Tynecastle. Celtic were unable to get the better of RB Leipzig, losing 2-0, whilst Rangers lost 7-1 to Liverpool in Glasgow. Ouch