Our Ladies Team welcomed another new player to their squad this week with the signing of forward Jaya Gill on loan from Glasgow Girls and Women FC for the rest of the Season.
Jaya joined the Ladies Team just in time for the Scottish Cup game which saw our Ladies Team win 5-0 against Rutherglen Girls.
The home win has set up a home tie with Rangers, to be played at Ochilview on Sunday 9th January.
You can view highlights from the Cup win on Warriors TV here and also hear from the gaffer on the victory here and Adel Paterson here.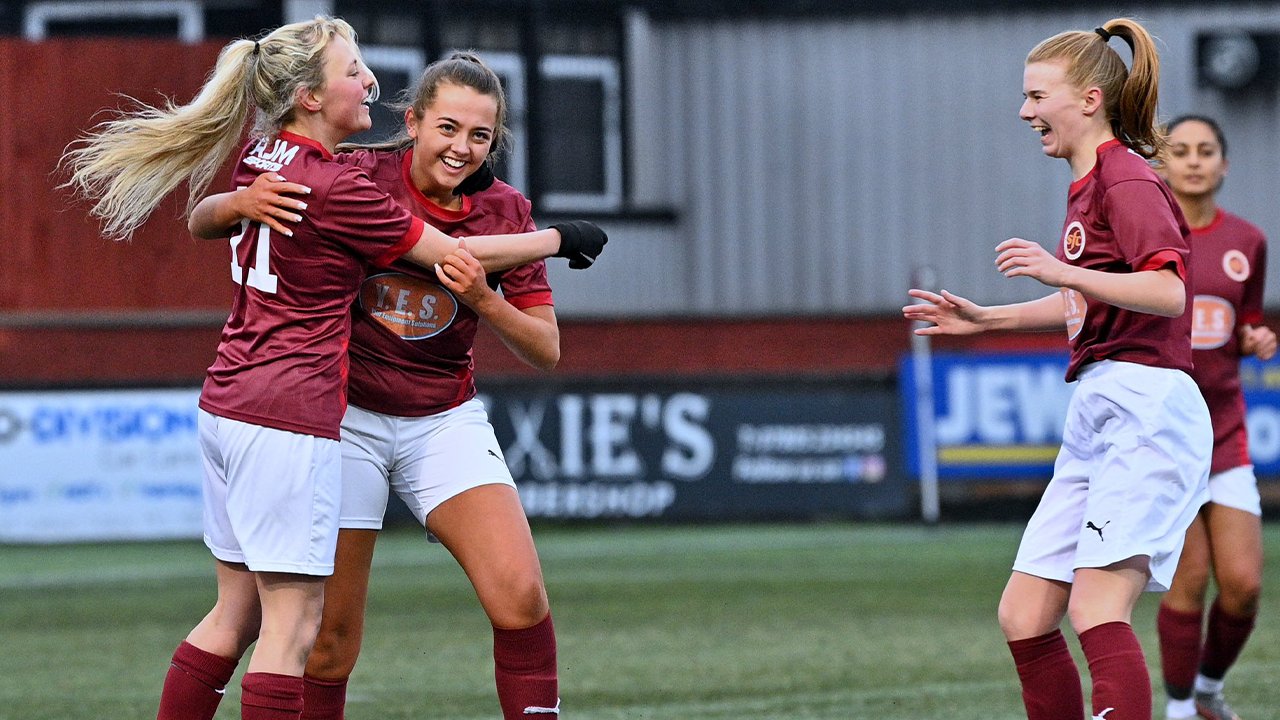 Elgin City 2 – 2 Stenhousemuir 
Stenhousemuir made the long trip north to play our second last game of the year.
The previous meeting saw Elgin take a 2-1 victory at Ochilview and revenge was definitely on the cards.
Stephen Swift made 3 changes to starting lineup with Mikey Miller, Ross Forbes and Jordan Tapping all coming into the starting lineup. Mikey Anderson and James Lyon dropped to the bench with Nicky Jamieson out injured.
The Warriors started strong and it was Mikey Miller who picked up his first goal for Stenhousemuir. Nat Wedderburn played a lever pass inside to the on-loan midfielder and his shot was deflected up and over the keeper to make it 0-1 to The Warriors.
The visitors didn't hold back and it didn't tale long to double their lead. Tam Orr got on the end of a David Wilson free kick and cushioned the ball towards Daz Christie. He drove down the right wing and clipped in a cross which the defence couldn't clear. Eventually it fell to Tam Orr and clever finish from the striker allowed him to pick up his 8th goal of the season. 21 minutes into the game, and it's 0-2 to Stenhousemuir.
There wasn't much in the way of chances for either side. Tam Orr did take a stiff knee to the backside which resulted in his substitution, to be replaced by James Lyon.
Despite that setback, The Warriors had the game under control until the 36th minute when Sean Crighton was judged to had fouled in the box. It took the referee a while to decide what to do and eventually, he pointed to spot. Hester then stepped up and put the ball down the middle to make it 1-2.
Elgin had a chance to equalise before the break, but Div Wilson managed to save the shot to keep The Warriors ahead at the interval.
HALF TIME 1-2
Into the 2nd half and The Warriors had several chances to pull away. Daz Christie was one on one with the keeper and he managed to curl his shot wide.
At the other end, the always dangerous Kane Hester was looking to double his tally as he turned Sean Crighton in the box, only to see his shot hit the side netting.
The home side then found themselves down to 10 men inside 80 minutes. Euan O'Reilly was clean through and he was pulled to the ground by Grivosti. The referee had no choice, and it was a straight red for the Elgin defender.
Into injury time and Elgin City had one last free kick. With the keeper up the ball was played in and Darryl McHardy got on the end and fired his header into the back of the net to equalise right at the death to make it 2-2.
A point keeps The Warriors in the hunt for a playoff place, but there were chances to take all 3 and the visitors will be disappointed not to be going back down the A9 with a win.
FULL TIME 2-2
Match Highlights & Reactions from Stephen Swift and Mikey Miller – here

Our final match of 2021 is against high flying Forfar Athletic at Station Park on Boxing Day.
Stephen Swift will be desperate to get back on winning form but it will be a difficult task with high flying Forfar wining 6 out of their last 7 league games.
Tam Orr, Mikey Miller and Jordan Tapping all looked to pick up injuries on Saturday. Robert Thomson, Dec Hughes, Graeme Smith and Jon Craig continue to be ruled out and Nicky Jamieson could also be missing through injury.
While we wait for guidance from the home side on admission, we can't confirm away fan attendance as of yet.
The match will be on PPV though, and you can make sure you don't miss the action by purchasing here.

After the Governments announcement on Tuesday, the current plan is for all sporting events to be capped at 500 fans.
We will confirm with fans as soon as we can over what that means for home matches at Ochilview. Our next home match is scheduled for January 2nd vs Stirling Albion with an attendance limit of 500.

Our Festive Friends programme delivered over 50 Christmas Hampers across our Community on Friday. We got to meet and talk to some wonderful people and the response and thanks that they have given us has been unbelievable.
These things don't just happen though, and the club would like to say a big thank you to everyone that helped us spread some Christmas cheer this week.
Our key members of our Warriors in the Community team have given their final end of year reports, and you can read them below.
Don't forget, the Christmas Holiday Camp is currently still scheduled as planned.
You can book today by calling the Stenhousemuir FC office on 01324 562992.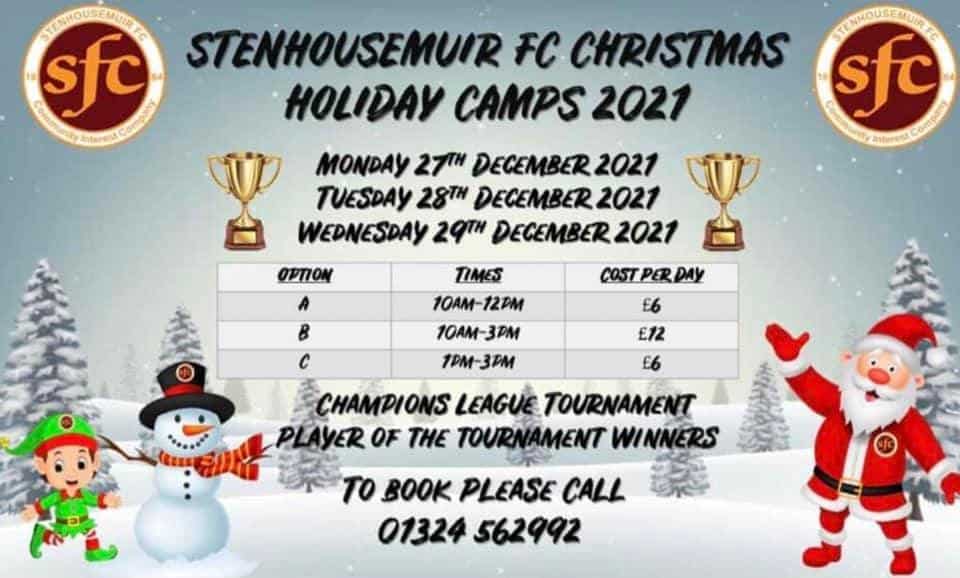 Nations League Draw
Thankfully, we missed out on another Israel match as we were drawn alongside Ukraine, Republic of Ireland and Armenia. Games will kick off in the Summer with 4 games being played across a 2 week spell! You can get up to date here.
Omicron vs Football
A decision on whether or not the Scottish Premiership winter break will be brought forward is expected in the next 48 hours.
Top flight clubs met on Tuesday night, with the majority in favour of shifting the mid-season pause from 4-20 January to a Boxing Day start. However, the final decision will rest with the SPFL board.
Three full fixture cards are scheduled during the period, including New Year derbies in Glasgow, Edinburgh and Dundee.
As things stand, the winter break is due to commence on 4 January, with Hibs the first team back in Scottish Cup action on 20 January.
At present, there's no plans to pause the lower leagues. But we'll keep our fans up to date on our social media channels whenever new information is available.