Final player sponsorship still remaining!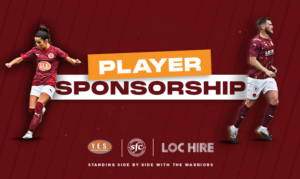 The club would like to place on record our massive thanks to all supporters and local business who have sponsored our players and staff for this season! Your contribution not only helps to back the players but also provides the club with some crucial extra income.
There are however a few players and staff sponsorships available across both our men's and ladies teams. Please follow the link below to find out what our sponsorship packages include, what players are available and also how to secure your package:
https://www.stenhousemuirfc.com/2021/10/07/sponsorship/
Onto the next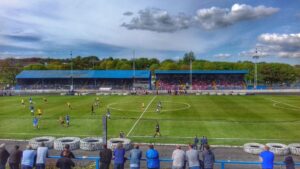 Saturday 3pm – Cowdenbeath (A)
We hope you all enjoyed your feast of international football over the course of the last week, however it's time to get back to the serious business as the Warriors return to action! Not only are the boys playing again this weekend but its right in at the deep end as we head to Fife to take on Cowdenbeath in an absolute crunch 6 pointer.
The Warriors sit 9th in the table, level on points with 10th place Cowdenbeath who are one goal worse off in goal difference. If this doesn't sound tight enough, the previous 4 encounters between the sides saw a win each and 2 draws, including August's 1-1 tie at Ochilview. A win for either side could see them rise as high as 7th. The loser however, will go bottom of the league.
So there's no doubt that Saturday's match will be not only tight but will also have a lot at stake. Therefore we need your support! Concessions (under 16s, over 65s and those with a disability) are priced at £8, whereas adults are £14. Pay at the gate will be in operation, however tickets can be purchased in advance via the following link:
https://www.tickettailor.com/events/cowdenbeathfootballclub/594520#
There is also a bus leaving Ochilview at 1:30pm.
If your unable to make it to Central Park for the game then don't worry, there is a pay per view stream available for £11, which can be accessed by clicking on the link below:
https://www.bluebraziltv.co.uk/
Ladies latest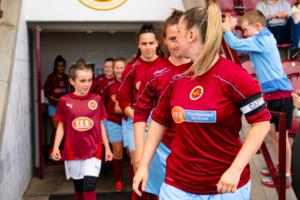 Next up –  St. Mirren (A)
Just like the men's team, the ladies side are returning to action this weekend after a week off. This Sunday the Warriors will travel to Paisley to take on St. Mirren in their latest SWF Championship South fixture.
Kick-off is at 13:30 at Mossedge football pitch for any supporters that which to head through to watch the game.
The Warriors will be keen to bounce back from a 4-1 defeat to Gartcairn but will be enthused by their strong first half performance. St. Mirren on the other hand have lost 5 on the bounce after winning their opening 2 fixtures and sit only 3 points above the Warriors in the table.
This is a game that the ladies will be looking to win and if they do so, they will leapfrog the buddies into at least 14th place.
 Iain McMenemy features on Graham Spier's PressBox podcast
We have some Warriors related content to bring to your attention today which you might be keen to listen to over your lunch or as you work your way through your afternoon!
Club Chairman Iain McMenemy spoke to sportswriter and broadcaster Graham Spiers on his PressBox podcast. Please follow the link below to hear Iain talk about life before the Warriors and why Scottish football must change, among other things:
https://www.patreon.com/posts/iain-mcmenemy-in-57125923?utm_medium=social&utm_source=twitter&utm_campaign=postshare
 Just in case you're interested…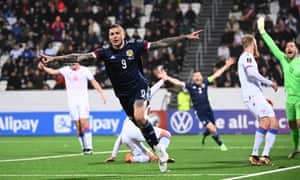 How far are Scotland from the Qatar World Cup?
After a massive week for the national side which saw dramatic late victories against Israel and the Faroe Islands, Scotland sit second in group F, four points ahead of 3rd place. But what more do they still need to do to get to the FIFA World Cup next year? Please follow the link below to find out:
https://www.bbc.co.uk/sport/football/58215232
 Amnesty International demand meeting with Premier League over Newcastle takeover
Human rights organisation Amnesty International have demanded a meeting with the Premier League over concerns about their owners fit and proper test after the recent Saudi backed takeover of Newcastle United. Please follow the link below to read more:
https://www.skysports.com/football/news/11095/12432678/newcastle-united-amnesty-international-want-premier-league-meeting-over-saudi-backed-takeover
Why is the ultra element of Hungarian supporters so hard to control?
The troubles with racism and violence of Hungarian football supporters has been well publicised of late. But why is it so hard to manage the individuals and groups that are responsible for this disorder? Please follow the link below to read more:
https://www.theguardian.com/football/2021/oct/13/why-hungary-is-infected-by-ultras-who-are-almost-impossible-to-control-wembley-violence