Exciting times for Warriors in the Community
It's exciting times at Warriors in the Community as this week the club announced that in order to grow and enhance our offering to the local community, several operational staff changes have taken place.
Fiona Kennedy, our first ever community engagement and inclusion officer will now lead Warriors in community going forward. Danny Newbigging will take over as head of community football. Bailey Hanlon joins the team as head of our girls programmes and lastly, Declan kidd will oversee our pre-school and mini maroons programmes.
Club chairman, Iain McMenemy said: "The last 16 months or so have been a tough time for everyone.  Whilst we were at times prevented from delivering our community football programmes, as a club we always strived to be there for our community.  Our community team led from the front throughout the pandemic, and we are also grateful to the parents of our young participants who continued to support the club."
"Now that we are able to resume our programmes with a degree of normality, we have restructured to ensure that we continue to build our programmes, including our football and non-football activity, as we strive to be the best we can be."
Please follow the link below to read more about the changes and to hear what else Iain had to say:
https://www.stenhousemuirfc.com/2021/08/17/exciting-changes-within-warriors-in-community/
Last time out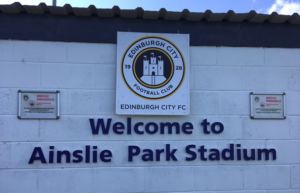 Edinburgh City 1-0 Warriors
Back on Friday night, the Warriors travelled to Ainslie Park to take on Edinburgh City in the Pilton sunshine as both sides looked to secure their first league win of the season.
The boys started brightly and Orr tested Schwake in the City goals after only 3 minutes. His shot on the turn just inside the box had plenty of power on it but the keeper did excellently to hold on to his effort.
In the 10th minute our hosts hit back with an effort of their own, as a hard-struck volley from long distance forced Marshall into an acrobatic save to his left.
The two and throwing continued as Coll was next to have an effort at goal. He picked the ball up on the left hand side and curled a shot with the outside of the boot just inside the far post, however once again Schwake was able to make the save.
Edinburgh countered immediately after this and on 31 minutes broke the stalemate. The ball was played up the Citizens left hand side and Shanley got the better of Jamieson to surge into the Warriors box and slot low past Marshall to make it 1-0.
It would remain 1-0 to Edinburgh until half time, however straight after the break the Warriors were awarded the opportunity to draw level after being awarded a penalty. Orr was able to nip onto a loose ball ahead of the defender just inside the box before being bundled to the ground. Agonisingly for the Warriors, Schwake guessed correctly and was able to save the effort from Orr and the onrushing defenders were able to clear.
Robertson should've then made it 2-0 to our hosts after he was played through but he dragged wide as he tried to pick out the near post. Soon after See missed a similar chance as he was able to turn Jamieson and run through on goal, however his effort was too central and Marshall was able to save.
The Warriors were able to create one last chance late on and almost equalised as Reid put in an inswung cross which was met by the head of Thomson only for his looping header to be tipped over the bar.
The match finished 1-0 to Edinburgh, leaving the Warriors still pursuing a first league win after a disappointing performance in which they didn't create all that many chances.
Edinburgh City: Schwake, Bronsky, Crane, Toshney, Hilton, Tapping, McIntyre, Jardine, Shanley, Robertson
Substitutes: Goodfellow, Handling, Kane, See, Reekie, McFarlane, Hamilton
Stenhousemuir: Marshall, Reid, Crighton, Jamieson, Coll, O'Reilly, Christie, Wedderburn, Brown, Orr, Thomson
Substitutes: Forbes, Teirney, Hughes, Corbett, J. Lyon, Wilson, Craig, Graham, Anderson
Match highlights: https://www.youtube.com/watch?v=y5wzCA9hpdw&t=325s
Stephen Swift interview: https://www.youtube.com/watch?v=WcA7NIkx_hk
Onto the next
Saturday 3pm – Cowdenbeath (H)
This weekend its back to Saturday 3pm action and its back to Ochilview as we play host to Cowdenbeath in our 4th Cinch League 2 encounter of the season.
Our visitors will be coming into this one on a high having bounced back from an opening day defeat to Kelty Hearts by beating Elgin City and then also Fraserburgh in the SPFL Trust Trophy. Contrastingly, the Warriors will be desperate to get that elusive first win that will surely kick things off and see us push up the table. A win for the boys will see us leapfrog Cowdenbeath in the table.
After last season's league was resumed, the sides have faced off twice with one win apiece, meaning its set to be a close one which definitely isn't to be missed. So get yourself along and support your local team!
Both home and away supporters are welcome for this fixture, with away fans housed in the terrace and home supporters in the Norway Stand. Adult admission costs £14, concessions are £9 and under 16s can watch the match for just £5. Tickets can be purchased in advance via the FanBase website or app, however pay at the gate will be in operation with cash and contactless payment options available.
The pie stand is open for this fixture, as is the wee bar for pre and post-match drinks. Matchday programmes can be purchased outside the stadium.
Lastly, if you are unable to make it along on Saturday, you will still be able to follow the action on Warriors TV with coverage from Cameron McIntyre and Craig G Telfer available from 2:45 onwards. All virtual and full season ticket holders will be able to access the coverage for free, however there is also a pay per view option for £10.
Ladies latest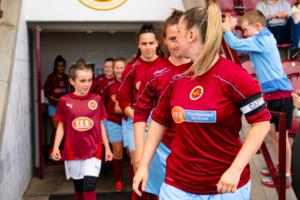 Warriors 2-6 Livingston
The Warriors ladies team played out their latest SWF Championship fixture back on Sunday as they took on Livingston Women at Ochilview in front of a live crowd as well as plenty more on Warriors TV.
The Warriors will have been delighted with how competitive a first half performance they were able to produce. The girls even surged into an early lead as McPhee played an excellent ball in behind for Montgomery to run onto, who then lifted the ball expertly over the onrushing goalkeeper.
Livi did respond well however and were back level after winning the ball high up the park before hitting the post and having the follow up blocked, before agonisingly for the Warriors dispatching at the 3rd attempt.
It was 2-1 to the visitors soon after as the livi striker came in off the left and was played through on goal before finishing well.
Despite this setback the Warriors showed good mental strength by being able to respond. We were awarded a penalty after some sustained pressure saw the ball handed inside the area by one of the defenders. The penalty was consequently tucked home to make it 2-2.
Unfortunately, the girls couldn't hold onto the draw until half time as a high ball was played over the Warriors backline before being slotted home despite protestations that the goal scorer was offside.
The match was over as a contest not long into the second half after the Warriors failed to clear a corner and the loose ball was volleyed home emphatically.
Livingston looked comfortable from this point forward and added a 5th when a high ball played their striker in who lobbed the keeper. Soon after it was 6 in almost identical fashion as the West Lothian outfit put the cherry on the cake.
It ended up being a tough game for the ladies, however despite the scoreline there are plenty of positives to be taken out of the first half performance.
Goals: https://www.youtube.com/watch?v=u1AcCknLw_g
Allan Milne interview: https://www.youtube.com/watch?v=CRAJ0xRiMcM
Nicole McPhee interview: https://www.youtube.com/watch?v=DLrC1TiwR5k
 Next up – Ayr United
 This Sunday, the ladies are back on the road for their latest SWF Championship fixture as they travel to Ayrshire to take on Ayr United Girls.
The Warriors are keen to get off the mark in the table 3rd time lucky after defeats to Livingston and Rossvale, whereas our hosts are looking to bounce back from defeat to Edinburgh Caledonia after beating Hutchison Vale in their opening fixture.
The match kicks off at 1:30pm at Townhead Park and entry is free for all spectators, so why not head down and cheer on the Warriors!
 Community sports lottery winners
This week the club announced the winners from our June Community Sports Lottery, with 3 separate prizes up for grabs!
Please follow the link below to find out who won what and also how to take part in future draws:
https://www.stenhousemuirfc.com/2021/08/18/community-sports-lottery-winners-july-2021/
 Just in case you're interested…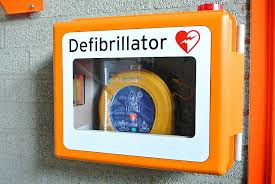 Should all sporting facilities have defibrillators?
Most of us will be familiar with the cardiac arrest suffered by Denmark's Christian Eriksen at the Euros. Eriksen received some of the best care possible and fortunately survived, however at lower levels, other athletes aren't so lucky. Please follow the link below to read more about how one English non-league player is running a campaign to see defibrillators fitted at all venues:
https://www.bbc.co.uk/sport/football/58160047
 UEFA to consider "historical Champions League spots"
UEFA are reportedly considering introducing 2 Champions League qualification sport for sides based on historical merit as opposed to qualification through the previous season's domestic competitions. Please follow the link below to learn more:
http://www.insideworldfootball.com/2021/08/18/uefa-reviews-plan-award-two-champions-league-slots-historical-achievement/
Hearts to be fan-owned by the end of the month
It was announced yesterday that Hearts will become the latest club in Scotland to become majority supporter owned by the end of August following the repayment of Anne Budges £2.5M investment from the foundation of hearts. Please follow the link below to read more:
https://www.skysports.com/football/news/11095/12384621/hearts-set-to-become-largest-fan-owned-club-in-the-uk-with-chair-ann-budge-to-transfer-shares