We hope you enjoyed your return to Ochilview!
It look a whole 16 months! However after a painful  time away, everyone at the club was over the moon to see Stenhousemuir supporters back where they belong in Ochilview, for our recent Premier Sports Cup fixtures. We hope that you enjoyed your return just as much as we did, as despite the results, the Warriors put in 2 strong performances against sides from higher divisions.
The St. Mirren match sold out, whereas spare tickets for the Partick Thistle game were down to the 10's, which is an incredible effort from both the Warriors support and those of our visitors. The income generated will prove to be extremely valuable for the club, so thank you!
Just in case you missed it, you can follow the link below to access the short film "Welcome Home", where some of you spoke to our media team and discussed what exactly it means to be making the return to Ochilview:
https://www.youtube.com/watch?v=VsWf9qc_GdQ
A special thank you is also in order for all of those Warriors fans that have purchased a season ticket for the coming season. We are pleased to confirm that season ticket sales have increased on the previous year for the fourth campaign in a row!
Last time out
Warriors 1-2 Partick Thistle
Back on Saturday, we welcomed supporters back to Ochilview on a glorious day in which we looked to continue our 100% record since the beginning of preseason, as we took on Championship side Partick Thistle. The Jags were also keen for the win in order to bounce back after defeat to Dunfermline.
The visitors had more of the ball in the early stages, however the Warriors remained firmly in the game as a contest. The first chance came in the 10th minute as Turner broke through for Thistle, only for a stunning tackle from Jamieson preventing the shot.
Both Graham and Orr then had half chances for the Warriors as we began to come into the game even more. A huge chance to score was then squandered by the boys as a ball into the box fell to Graham, who's shot was deflected into the path of Orr 5 yards out, only for Stone to pull off an excellent save to preserve the scoreline.
Orr would then get another chance in the 31st minute, this time from the spot, as Graham was pushed in the box. Orr confidently dispatched the penalty, sending Stone the wrong way for 1-0 Warriors. Thistle almost responded immediately however, with only the post denying Docherty a wondergoal.
In the second half, Thistle rallied and their quality began to shine through. It was 1-1 on 52 minutes as Tiffony was able to make it to the by-line and square the ball to Rudden for a tap in.
The winner then also came from the Jags left flank, this time a high whipped cross was headed home comfortably by  Graham in the 73rd minute.
The match finished in a 2-1 defeat for the Warriors, which although wasn't the desired result, there were still plenty of positives to take from what was a very strong performance.
Match highlights: https://www.youtube.com/watch?v=4f2kEusv1g8&t=455s
Stephen Swift interview:https://www.youtube.com/watch?v=S_qiLLdgTxM
Thomas Orr interview: https://www.youtube.com/watch?v=c9dLvzudH5A
Warriors 1-3 St. Mirren
Tuesday night has an even tougher test in store for the Warriors as Premiership side St. Mirren travelled to Ochilview in the Premier Sports Cup.
The early stages of the match were quiet despite a brilliant atmosphere in the evening sun. The game did spark into life on the 33rd minute when Mein attempted an overhead kick from 12 yards out and was denied by Marshall who dived to his left and managed to get his fingertips to it.
The pressure was then piled on by the visitors and it should have been 1-0 after a ball into the box appeared to be cleared off the Warriors line by a St. Mirren player before the boys scrambled it clear.
It was 1-0 however in the 49th minute after a big mix up from Marshall and Jamieson resulted in Mein being allowed in to tap home. It was then 2-0 in the 65th minute as Dennis turned home at the back post from a low ball across the box.
Despite being 2 down, the boys responded well and were back in the game after the Buddies failed to clear a Warriors freekick, resulting in a second ball being crossed into the back post where Orr was waiting to volley home to the delight of the home supporters.
Agonisingly, the Warriors could have come away from the game with a draw in stoppage time as the ball ping-ponged around the St. Mirren box but didn't fall to a maroon jersey. Two minutes later there would be a final goal but it would come for the away team as Erwin hammered the ball past Marshall from 20 yards.
Match highlights: https://www.youtube.com/watch?v=5eXnMzrRC9k&t=314s
Stephen Swift interview: https://www.youtube.com/watch?v=fAtXOKDetLg
Onto the next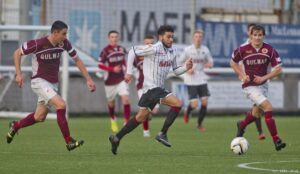 Saturday 3pm – Dunfermline Athletic (A)
Looking ahead to Saturday, the Warriors will make the trip north of the Forth to East End Park, where we will face Dunfermline in our final Premier Sports Cup group stage fixture.
After successive defeats to Partick Thistle and St. Mirren we can no longer qualify for the knockout stages, however the boys will be keen to finish on a positive note, especially in front of the first Warriors away support for a competitive game since early 2020. As for the Pars, they will be keen for the win, knowing that 3 points should be enough to see them through to the next stage of the competition.
Both home and away fans are able to purchase tickets for this fixture and Warriors fans should take note of the details below:
Tickets are priced at £12 for adults and £6 for concessions. Concessions are Over 65s, Under 18s, full-time students, and disabled.
Stenhousemuir fans should buy their tickets for the South Stand East Wing (section SSEW). Tickets are available online via https://dafc.co.uk/matchtickets/ and a maximum of 15 people from 15 households can sit together, you must select all your required seats before clicking add to basket.
The tickets will be sent via email so please ensure you have entered the correct email address at the checkout. You will have 15 minutes to complete your purchase before you are timed out.
The match is also available for pay-per-view on Pars TV and all relevant details with regards to this can be found by clicking on the link below:
https://dafc.co.uk/story.php?t=How_to_watch_Saturday`s_match_v_Stenhousemuir&ID=13228
Virtual season tickets now on sale
We are pleased to announce that our Virtual season tickets are now on sale for the 2021/22 season!
If for whatever reason you're unable to make it along to Ochilview for our home Cinch League 2 fixtures, you can still watch them live streamed on Warriors TV for £90 for the full season. Alternatively, individual matches can be purchased on a pay-per-view basis for £10.
Simply sign up using the link below:
https://stenhousemuirfc.univtec.com/home
All season ticket holders will be able to receive a free virtual season ticket so that they will be able to never miss a game for no extra cost, even if on holiday!
Warriors vlogs
With fans and competitive football making a return to Ochilview, so too have the media. One form of sports media that is growing in popularity is vlogs, often shared to audiences via YouTube. This week, the club granted special access to football vloggers Sam North and Juddy Talks, who's content is a must watch for any Warriors fan!
Sam North
Sam was granted special access to our match against Partick Thistle last weekend. Follow the link below to watch him soak up the game and atmosphere as well as chat to various supporters, FanBase and also club Chairman Iain McMenemy:
https://www.youtube.com/watch?v=bW6QkJ1uvZk
Juddy Talks
Please follow the link below to access Juddy's action packed vlog as he takes viewers through the history of the club and behind the scenes goings on at Ochilview while attending our match against St. Mirren, before interviewing Stephen Swift and even taking on our media team in a penalty shootout!
https://www.youtube.com/watch?v=rc55TyBak7A
 Ladies Fixtures announced!
Yesterday, the long awaited announcement regarding the league fixture schedule for the ladies team was finally made and now supporters can get excited for the side's return to competitive action in just 17 days' time!
The ladies kick off with an away fixture to Rossvale on the 8thof August. A full list of league fixtures can be found by clicking on the link below:
https://scotwomensfootball.com/league-competitions/champ-south/
Just in case you're interested…
Why isn't there a male Team GB football squad at the Olympics?
Just as the Euros have drawn to a close, the Olympics in Tokyo are kicking off. In terms of football, the Team GB women's side got off to a good start by defeating Chile in their opening fixture. But why isn't there a men's team at the tournament? Please follow the link below to find out why:
https://inews.co.uk/sport/football/team-gb-mens-football-team-tokyo-olympics-2020-squad-who-explained-1104045
Scottish Government to consult on Pyrotechnics
The Scottish Government are currently looking to consult with football supporters over the issue of pyrotechnics at football matches. Whether you love them or hate them, you can have your say by following the link below:
https://consult.gov.scot/justice/use-and-sale-of-fireworks-in-scotland/
Could we need Covid passports to attend matches in the future?
South of the border, we have seen the Government call for Covid passport to be a necessity for anyone looking to attend a nightclub and now conversations are ongoing regarding having the same protocol in place for football matches. Could we end up with similar discussions in Scotland? Please follow the link below to find out more about what this sort of procedure would look like:
https://www.skysports.com/football/news/11661/12360618/premier-league-remains-in-talks-over-fans-covid-passports-ahead-of-new-season