Jamie Swinney to depart club for new role
It's safe to say that each and every Warriors fan was gutted to hear the news that highly rated club CEO Jamie Swinney would be moving on from the club, which is testament to the massive impact he's had over his 12 year stay.
Jamie will leave his role on the 5th of August having accepted a new role as the CEO of Falkirk Football Club.
Jamie initially started off at the club as both our under 11s Academy Coach and as our Head of Community Football. It was in this role that Jamie was able to help transform Warriors in the Community into the success that it is today, which is illustrated by the fact that in 2012, the club was the first in the country to receive the award "Best Professional Football Club in the Community" from the SFA. Jamie then went on to work as the Head of Children's Academy at the Forth Valley Academy before returning to the club full time in 2018 as our first ever CEO.
Club Chairman Iain McMenemy said: "Jamie has had a long association with us as he first became a part of the club many years ago when he joined to help build our community programme.  His current role as our CEO was his second stint at the club, and he has decided that now is the right time to move on to a new challenge."As we have been building the club over the past three to four years, Jamie has played a key part in delivering the club's vision and has worked diligently to achieve the goals, milestones and targets that had been set.A Chairman always works closely with a CEO and I am grateful to Jamie for his support throughout my time as Chairman.  On a personal level, I wish him and Natalie all the very best for the future."
Jamie thanked everyone at the club for everything they've done for him and said that he was "sad to leave but proud to have laid the foundations for a period of success."
The club would like to firstly thank Jamie for his contribution to the club and to wish him all the very best for the future. Your welcome back at Ochilview for a visit anytime!
The club will now be inviting applications to fill the vacancy at the club.
Iain McMenemy said: "We have spent a few years putting in place the building blocks for what we hope will be a successful period for Stenhousemuir FC.  We are just at the start of that journey and will be looking to replace Jamie with someone who will work with the board and the structures we have put in place to ensure that the club continues to deliver for our supporters and the wider community."
If you're interested in this role, you can apply by emailing recruitment@stenhousemuirfc.com
Last time out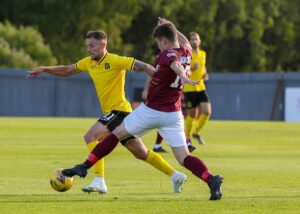 Dumbarton 1-2 Warriors
Back on Tuesday, the Premier Sports League Cup saw the Warriors travel to face higher league opposition as we played Dumbarton. The match ended in a 2-1 win for the boys as we took our 100% preseason win record into the competitive season.
There weren't any Warriors fans at the game, however there was a small crowd permitted inside the stadium to see us almost take an early lead as Thomson headed off the post from only a few yards out.
The following exchanges were fairly even with little clear cut chances, until Connor Duthie skied a great chance as the ball was cut back to him 10 yards from goal. Our hosts did however take the lead in the 40th minute when Ross McLean was teed up in the box and side footed an effort past Marshall into the corner of the net.
The Warriors came out strongly in the second half but relied on Marshall to keep it at 1-0 as he saved from McLean from a tight angle with his feet. Thomson should have then made it 1-1 shortly after but his effort rose over the bar.
We did however equalise on 63 minutes as Lyons grabbed his first goal from the club by curling an excellent effort into the top corner from 22 yards out.
The turnaround was then completed in the 79th minute as Thomson made up for earlier misses by heading in a Brown cross in off the bar.
An excellent win for the Warriors which will no doubt build both momentum and confidence within the squad.
Match highlights: https://www.youtube.com/watch?v=3Ahf5c6PI-E
Stephen Swift interview:https://www.youtube.com/watch?v=kdkLrmCeblQ
Onto the next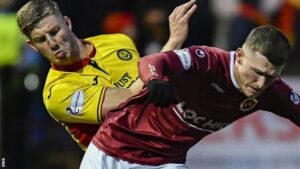 Everyone at the club is absolutely buzzing to welcome Warriors supporters back to Ochilview not just once, but twice this week!
Due to current social distancing rules the capacity will be restricted to 350 with supporters split between the Norway Stand and Terracing. Season ticket holders, Warriors in the Community members, Warriors Abroad members and club partners have been offered the chance to purchase tickets in the priority sale. Any remaining tickets will be placed on general sale.
Our hospitality suites will open as a pay bar service, we hope you can come along and enjoy a drink with friends and family before the game, opening time below.
Partick Thistle – 11.30-2.30pm
St Mirren – 5.15-7.15pm
No need to book, simply come along and enjoy a drink before watching the Warriors.
Saturday 3pm – Partick Thistle (H)
The Warriors will be looking to build on our excellent run of form and 100% win record in the tournament so far as we welcome Partick Thistle to Ochilview. This match will prove to be a tough game for the boys given the fact that the Jags are the League 1 title holders and will play in the Championship next season. Despite this, the benefits of having Warriors fans in attendance can without a doubt make the world of difference to the way the game might pan out. Thistle will be keen to get their league cup campaign back on track after a defeat to Dunfermline in their opening fixture.
Tuesday 7:30pm – St. Mirren (H)
Following on from Saturdays game, Tuesday will present an even tougher test in the form of Premiership side St. Mirren. The buddies go into this fixture in similarly good form as the Warriors and saw off both Partick Thistle and Dunfermline so far without conceding a goal. The match is set to be a cracker against last season's semi-finalists, so if you're able to purchase a ticket, get yourself along and cheer on the boys!
Club online shop now open!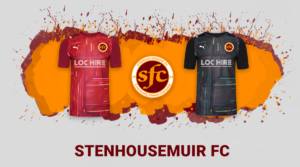 The club is pleased to announce the launch of our new online shop in partnership with RJM Sports!
Warriors fans can now purchase official club replica kits, leisurewear, hoodies, jackets and more by following the link below:
https://rjmsports.com/rjm-club-shops/stenhousemuir-fc/
Ladies latest
Player signings
This week has proved to be a busy one for the staff, players and volunteers associated with the ladies team as the squad is strengthened ahead of the 2021/22 SWF Championship league season.
We are happy to confirm that the following players have been resigned for the new campaign:
Carolanne Phee
Erin Wilson
Nicole McPhee
Chloe Pearson
Summer Garrity
These signings will help to provide continuity from the previous campaign as well as allowing full attention to be switched towards winning as many of our opening fixtures as possible.
Player sponsorship packages now available!
With these new signings and our squad beginning to take place, the time is right to announce our player sponsorship packages which are now on sale to both fans and local businesses!
These packages will help to provide the ladies team with the valuable income required to maintain the side and to ensure their continued progression, which we have seen in recent times.
For just £60, sponsors will receive the following benefits:
A signed photo from the sponsored player
A letter of thanks from the sponsored player
Name and logo on official club website
Player interviews with name and logo
Discounted end of year awards ticket
For more information on these packages and to find out both why you should purchase and how to purchase, please follow the link below:
https://www.stenhousemuirfc.com/2021/07/12/player-sponsorships-ladies-team/
Community update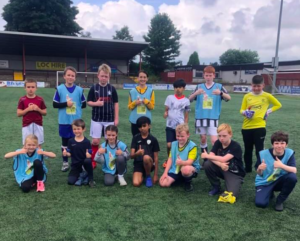 Summer camps
Stenhousemuir FC's Warriors in the Community is proud to be well-known for its excellent summer camps programme and with us now 3 weeks in to this year's programme, it is safe to say that we are on for another great success!
The camps have been running at full capacity, with over 100 participants across our camps. Despite this, there is still availability for upcoming weeks! Please call on 0134562992 to book!
McDonald's Fun Football
Tomorrow marks the final session of Warriors in the Community's McDonald's fun football programme. The programme has been deemed to have been very successful with over 25 participants attending 13 consecutive weeks.
We hope that everyone had a great time and would like to thank all the coaches and volunteers that made it possible!
Just in case you're interested…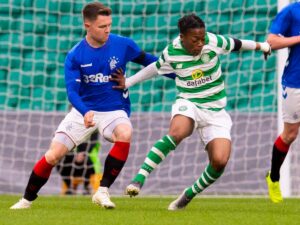 SPFL clubs say no to league reconstruction
The latest SPFL league reconstruction proposal is now back off of the table after it failed to draw enough support from clubs to merit a formal vote. The proposal would have seen 6 new clubs admitted to the senior league set up over the next 3 seasons, including both Celtic and Rangers colt teams. Please follow the link below to read more:
https://www.bbc.co.uk/sport/football/57823277
England vows to ban online racist supporters
South of the boarder, Borris Johnstone has this week committed to amending football banning orders so that online racists are prohibited from attending football matches for up to 10 years, although his proposals aren't as straight forward as you might think. Please follow the link below to read more:
https://www.bbc.co.uk/news/uk-politics-57837003
Covid and the return of Scottish fans
All over the nation, clubs are now welcoming back very limited numbers of supporters. Although this is a positive step in the right direction, many remain confused by the lack of permitted supporters compared to matches at the likes of Wembley. Please follow the link below as the BBC have explained all there is to know about the return of supporters and restrictions in Scotland: