488 days later… it's time to welcome you back to Ochilview!
Cast your mind back to the 7th of March 2020, a day where we played out a 0-0 draw with Queens Park at Ochilview. None of us could have anticipated the fact that we would have to wait 488 days to see the Warriors play in front of fans again.
During this spell, we have all gone through some tough times but one positive we can take from closed doors matches is that the importance of the ordinary supporter has well and truly been thrust into the forefront of everyone's thinking.
Therefore, we couldn't be more delighted to announce, in this edition of Inside Ochilview, the attendance details for our upcoming home fixtures in the Premier Sports Cup against Partick Thistle and St. Mirren.
Under current Covid-19 regulations, we are able to host 300 supporters for these fixtures. Due to this limited capacity, priority ticket sales will be made firstly exclusively to season ticket holders. Any remaining tickets will then be released to a general sale which will be announced via our official social media channels.
Season ticket holders will each be emailed a link on Monday which will allow you to purchase your ticket via FanBase.
Saturday 17th of July 3pm – Partick Thistle (H)
 Season ticket holders will have until the 14th of July to purchase tickets, before a general sale which will commence on the 15th.
Tuesday 20th of July 7:30pm – St. Mirren (H)
Season ticket holders will have until the 17th of July to purchase tickets, before a general sale which will commence on the 18th.
Also just a reminder to supporters that season tickets can still be purchased for the coming season. Please follow the link below for more details:
https://www.stenhousemuirfc.com/2021/05/31/2021-22-season-tickets-news/
Last time out
Spartans 1-5 Warriors
The Warriors made it 4 wins from 4 this preseason as we thrashed Lowland League Spartans 5-1 at Ainslie Park. The boys started well and were creating chances, with Thomson coming close with a header in the 17th minute before Cammy Graham then had a shot cleared off the line.
Despite putting on early pressure, the Warriors did fall behind on 34 minutes as a deflected freekick fell perfectly to Murrell  who was able to tap home. However the boys responded excellently with 2 goals in the following 5 minutes. Firstly, Orr equalised from a Thomson knockdown, before provider turned scorer as Thomson scored from a looping header.
The score remained 2-1 until the 48th minute when some tiki-taka style football saw Orr played through on goal and he made no mistake with the finish as he made it 3-1. Brown added a 4th after the 64th minute with an emphatic finish as the Warriors began to stroll it. The 5 star performance was rounded off in the 72nd minute when Craig Reid was able to turn home a Hughs corner.
Onto the next
Saturday – St. Johnstone (A)
This Saturday, the Warriors will travel up to Perth to face St. Johnstone in our final preseason friendly before competitive action returns. The boys will be looking to make it 5 wins out of 5 but will without a doubt face their toughest test yet against the holder of both the Scottish and League Cups. Match details will be announced this week via social media so please do keep an eye out.
Tuesday 7:45pm – Dumbarton (A)
On Tuesday, we will make the trip to face Dumbarton in what will be our first competitive fixture since May. The fixture, which is part of the Premier Sports Cup group stages, will be getting eyed up by both sides for getting off to a positive start. The 2 clubs haven't met since March 2019 where we ran out 2-1 winners.
This match will have spectators present, however is open to home supporters only. Despite this, Dumbarton have confirmed that match streaming will be available for £12 and will release details on how to access shortly.
Ladies latest
The ladies team were due to be in action back on Sunday, however their match against Ayr United was forced to be postponed after heavy rain caused flooding at Ochilview. Despite this disappointment, there is still plenty to report on the ladies team in this week's edition of Inside Ochilview!
Open trials
Our ladies team is looking to recruit more players for the 2021/22 season and is therefore hosting open trials for those looking for a new club. Trialists must be over 16 years old and be able to attend 2 sessions from 7:00pm-8:30pm on Wednesday the 14th and Friday the 16th.
Please email andrew.thomson@stenhousemuirfc.com to get the ball rolling.
Volunteers wanted!
The ladies team is also looking to recruit a team of volunteers to help with the progression of 1st team women's football at the club.
If you have a passion for the women's game, want to boost your CV and would like to contribute to your local football club, then we may have just the role for you, with opportunities relating to the following:
Committee member
Matchday helper
Media officer
Photographer
Please send any enquiries to andrew.thomson@stenhousemuirfc.com
David Wilson is a Warrior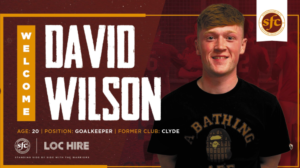 Earlier in the week, we announced over social media the signing of David Wilson from Clyde! The 20 year old goalkeeper impressed this preseason after featuring for the Warriors several times in friendly matches as a trialist.
David initially came through the ranks at St. Mirren, before making his senior debut whilst on loan to Clyde in League 1. The loan move was then made permanent and David remained at Broadwood for a further season prior to catching the attention of Stenhousemuir manager Swifty.
Welcome to the Warriors Div!
Club News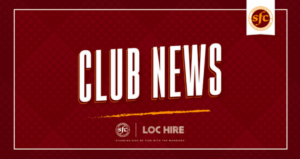 Significant flooding at Ochilview
Due to heavy rain over the weekend, the club can confirm that Ochilview has suffered significant flooding. Please follow the link below to read more:
https://www.stenhousemuirfc.com/2021/07/05/significant-flooding/
Community Sports lottery winner announced
The club can confirm that the June winners of the Community Sports Lottery have now been announced on the club's website. Please follow the link below to find out more:
https://www.stenhousemuirfc.com/2021/07/07/community-sports-lottery-winners-june-2021/
Just in case you're interested…
Even if England win the Euros, is football really coming home?
As England edge ever closer to winning the 2020 European Championships, we should all be familiar with the song "it's coming home" which implies that England is the home of football. However Scotland may just have a bigger claim to be the real home of football than our southern neighbours. Please follow the link to read more:
https://www.scotsman.com/news/opinion/columnists/alan-bairner-true-home-football-not-scotland-or-england-266243
Should football stadiums be more eco-friendly?
What is the environmental impact of the footballing industry? Many expect it to be the next big issue in football. Without a doubt clubs have a moral obligation to pursue sustainable and responsible practices, however how can they go about this? Please follow the link below to read more:
https://www.ft.com/content/7516c601-1d17-4726-8ec7-c240af297c6a
 Away goals rule scrapped for UEFA club competitions
It's often proved a controversial rule and can be particularly frustrating to go out of a competition off of the back of it. However, from the 2021/22 season onwards, there will no longer be any away goals rule in European club football. Please follow the link below to read more:
https://www.skysports.com/football/news/11095/12340830/away-goals-rule-abolished-for-uefa-competitions-from-2021-22-season