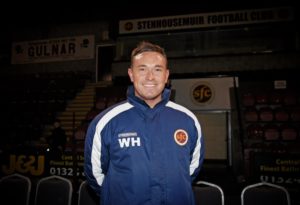 Head of Community Football William Hoggan has accepted a new position at Motherwell Football Club Community Trust and will finish in his current role at the end of August.
Will, has held the position for 5 and a half years and has made a significant contribution to the football club and community programme in the time he has been in the post. Under Will's leadership the Warriors in the Commnity programme has continued to grow and progress as one of Scotland's most highly regarded community football programmes.
The Club's community teams continue to compete and perform well within the local leagues, our recreational programme which includes Mini Maroons, Young Maroons and after schools provide a positive introduction to football for thousands of young people every year. The adult programme has grown significantly during Will's tenure and and the holiday camps continue to be the most popular in town. Will has also introduced a number of new programmes over the years which have helped to ensure the Warriors in the Community programme remains a model of best practice within Scotland.
Speaking about his decision to move on from the club;
''I have absolutely loved my time at Stenhousemuir Football Club and Warriors in the Community. It wasn't an easy decision to move on from the club but I'm also very excited for the new challenges ahead at Motherwell FC Community Trust. 
I am going to miss every part of Warriors in the Community especially the players I've been coaching and developing over the years at all age groups and all community programmes. 
I would like to say a massive thank you to all the football club staff, 1st team management and players, community coaching staff and our amazing volunteers that I've worked with over the past 5 and a half years.
Would also like to wish all the community players every success in the future and to continue enjoying your football. 
I definitely won't be a stranger and look forward to seeing the great work continue at Warriors in the Community'
Everyone at Stenhousemuir FC and Warriors in the Community wishes William the very best of luck in his new role as Community Development Manager at Motherwell. The Board of Directors would like to place on record their appreciation for the contribution Will has made during his time at Stenhousemuir FC.
#YourCommunityYourClub