Stenhousemuir FC has been announced as finalists in the Herald Digital Transformation Awards for the leading role that the club played in the introduction of match day live streaming across a number of SPFL clubs during the pandemic.  The Warriors, together with Albion Rovers FC have been jointly nominated in the Digitally Transformed Business category.
Reaching the finals of the awards is recognition for the hard work undertaken by both clubs, alongside Rovers fan, comic book writer and Hollywood producer Mark Millar.  They came together and led the initiative that eventually resulted in 22 professional clubs across the SPFL adopting the Pixellot camera system which used Artificial Intelligence (AI) to remotely film and broadcast live matches and events to supporters who were locked out of stadiums due to lockdown restrictions.  Since its introduction last summer, over 300 matches have been broadcast with an estimated revenue achieved by clubs of over £200k through live stream sales in a self-sustainable business model.
The new technology also acted as a catalyst for a number of clubs to bolster their online media departments and have offered opportunities for up and coming young sports journalists or media students to get involved with their local clubs and improve the match day content for supporters.
Iain McMenemy, SFC Chairman said "Live streaming was something that we had looked at before but there quite a few financial and technological barriers that prevented us from taking it forward. However, in a conversation with Mark Millar during the pandemic, we were completely aligned in our determination to make this happen.
"Another friend came on board, Liam Nugent, who really understands this stuff, and together with Albion Rovers, we developed a plan that we were able to present to other SPFL clubs. It wasn't an easy journey, and there have been a number of technological challenges along the way, but we're all delighted that clubs were able to stream matches to fans throughout the lockdown, and can continue to do so today. Streaming revenue replaced ticket revenue, and this was a vital financial lifeline for clubs right throughout the lockdown."
The awards ceremony will take place virtually on November 4th, where the winners in each category will be announced.
You can read more here.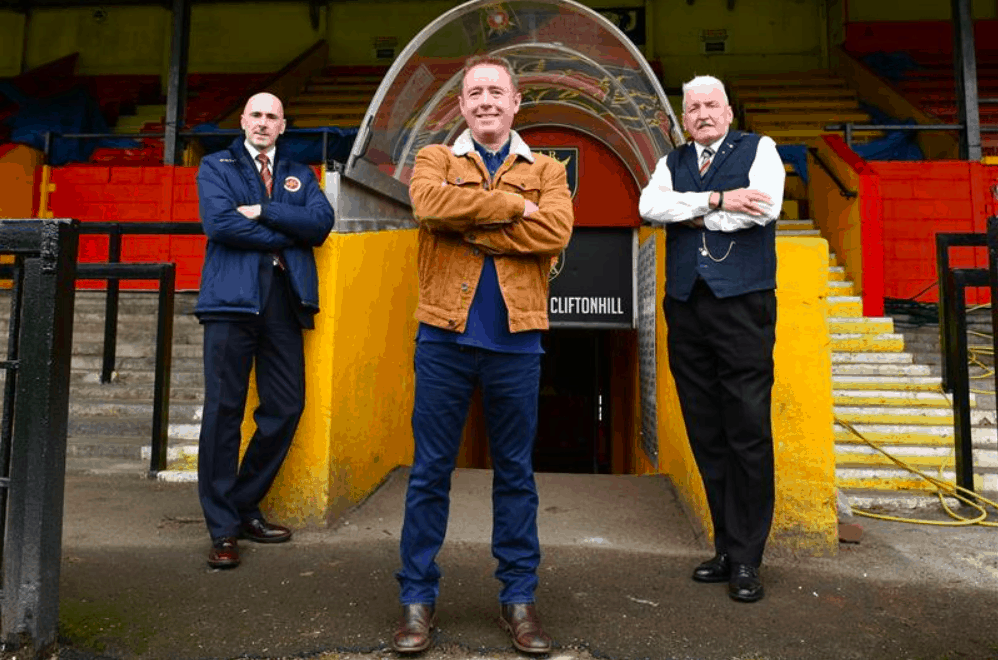 Photo – Iain McMenemy – Chairman SFC, Mark Millar – Comic book writer and Hollywood film producer, Ian Benton – Chairman ARFC