Cammy Graham becomes Melanoma UK Ambassador
By now, most Warriors supporters will be more than familiar with the story of our very own Cammy Graham. Cammy, joined the Warriors aged 18 and got off to a strong start, only for his world to turn upside down after a shock Melanoma cancer diagnosis. Understandably Cammy was sidelined for the rest of last season as he fought back to become cancer clear, but is now well and truly back in action after earning a new deal from Swifty. It's definitely safe to say that no one epitomises the Warriors spirit quite like Cammy!
Therefore, everyone at the club was immensely proud to hear the news that Cammy's struggle has been recognised by the UK's leading Melanoma patient organisation, Melanoma UK, by being appointed as their youngest ever ambassador! Cammy will now work with the organisation to raise awareness of this disease in young people, in the hope that more people will carry out skin checks and get diagnosed early.
What a true inspiration!
Last time out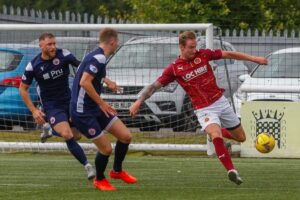 Warriors 0-1 Stirling Albion
Back at the weekend, we hosted Stirling Albion at Ochilview in front of little under 350 supporters, in our opening fixture of the 2021/22 Cinch League 2 season.
The game proved to be a tight encounter between two very evenly match sides, with little clear cut chances during the opening exchanges. The only real half chance fell to the Warriors in the 5th minute as Orr shot high and wide from around 15 yards out after the ball was cut back to him by Thomson.
It should have been 1-0 to the Warriors however, just before half time as Thomson slipped through James Lyons on the counter attack to create a 2 on 2 with Orr to his side. Lyons was able to beat the first defender, only for the second to get enough of a challenge in to prevent him from squaring it to Orr and the Binos were able to scramble it clear. It remained 0-0 at the break.
The 50th minute saw Dale Carrick almost score the goal of the season for the visitors as he attempted a Rooneyesk overhead kick from a McGeachie cross but his effort went slightly over the bar.
Stirling did take the lead in the 72nd minute after Laird played a one-two with Leitch on the right hand side to drive into the box unopposed and square the ball to McNiff who tapped the ball home from 2 yards out. It was a good move from the Forthbank side but the ease at which they were able to advance into the box will be disappointing for the Warriors defence.
It was nearly 2-0 nine minutes later as Moore drove at the boys backline and struck a powerful effort low that struck the inside of Marshall's post, only to rebound and spin out for a goal kick on the opposite side.
Dylan Mackin was sent off in stoppage time for something he said to the referee after not receiving a freekick after feeling as though he was fouled. Despite this, Stirling were still able to withstand strong Warriors pressure late on to secure the victory and take home all 3 points.
Stenhousemuir: Marshall, R. Lyon, Jamieson, Mills, Crighton, Christie, Wedderburn, Forbes, J. Lyon, Orr, Thomson
Substitutes: Coll, Brown, Anderson, Tierney, Wilson, O'Reilly, Graham, Reid
Stirling Albion: Currie, McGregor, Banner, McGeachie, McNiff, Roberts, Laird, Flanagan, Leitch, Mackin, Carrick
Substitutes: Summers, Moore, Heaver, Law, Greenhorn, Johnston, Grant, Bikey, Cummins
Match highlights: https://www.youtube.com/watch?v=5kINB2sL11E
Stephen Swift interview:https://www.youtube.com/watch?v=LLKYrp-NtoY
Ryan Marshall interview:https://www.youtube.com/watch?v=ZO39Fq63rx4
Onto the next

Saturday 3pm – Albion Rovers (A)
 On Saturday, the boys will make the journey to Coatbridge, where we will take on Albion Rovers in our first away fixture of the league season.
The Warriors will be keen to bounce back from a defeat in our opening match against Stirling Albion and get off the mark in the league table. However, this will be far from an easy game to do this as Albion are in strong form having responded from a 5-1 defeat at Falkirk with draws against Hamilton and Ayr, followed by a draw and a win against Edinburgh City.
We have won 3 of our previous 4 encounters with Rovers and a vocal Warriors away support would certainty go a long way to making this happen. You can play a massive part in this as our hosts have confirmed that away fans are more than welcome at the game!
Pay at the gate is in operation from 1:45pm onwards, with both card and cash payments being accepted. Adults are £13, concessions are £7 and under 16's can enter the stadium for a bargain price of £2. Albion have asked that a 1m social distance is maintained between bubbles and have asked supporters to please wear face coverings when going through the turnstiles, except if medically exempt.
Live match streaming is also available for this fixture via our hosts for £10, which can be purchased by clicking on the following link:
https://albionroversfc.univtec.com/event/60f30fa2dc205b24a2a4978c
 Last chance for vaccinations at Ochilview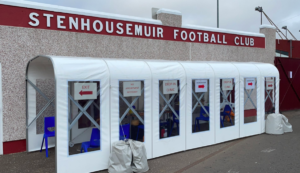 Anyone who attended our match with Stirling Albion on Saturday would have seen the temporary vaccination clinic that has set up at Ochilview. This has been in operation since Saturday for walk in patients who are over 18 and due a first or second jab but haven't yet received an appointment, with many choosing to do so.
Vaccination has become central in our countries efforts to recover from the Covid-19 pandemic, therefore as a community anchor organisation, we have been only too happy to offer up Ochilview as a temporary clinic. Serving the local community is a massive part of our ethos as a club.
Today will be the last day of the clinic and therefore your last chance to receive your jab at Ochilview. So if you have the time and are looking to receive your next jab, then get yourself down to the club before 6pm this evening and you'll be well taken care of!
Ladies latest
It's been a very busy past week for the ladies side, as their preseason draws to a close and they prepare for their league opener this weekend. With so much happening, it would be easy to miss certain bits of news, therefore Inside Ochilview will take you through everything you need to know, right here, right now!
Five players sign for the Warriors
Firstly, Aimee Gillian put pen to paper last Friday to sign up for another season with the club. Aimee, a 27 year old defender, first signed for the Warriors last year and is now keen to get a full season of competitive football under her belt in a maroon jersey. Welcome back!
Next up a new face, as Jude Connelly has signed up for the coming season. Jude is a 20 year old full back and has been on trial with the team in recent weeks, where she has impressed the coaching staff during her friendly appearances. Welcome to the club Jude!
The hectic week continued on Saturday, where we welcomed another new face to Ochilview in the form of 21 year old Samantha Montgomery. Similarly to Jude, Samantha has impressed during preseason and is more than deserving of her new contract with the club.
Fast forward one more day to Sunday and there was yet another new face coming through the door. The club was delighted to announce the signing of forward Eirinn Maguire from Falkirk. The 22 year old performed well during a trial period and even scored in some of our preseason fixtures. Welcome!
Last but certainly not least, we are pleased to announce the return of our defender Rachel Vickerman. The 22 year old signed for the club back in 2020 and is now ready and raring to go ahead of the new season. Welcome back Rachel!
Head coach Allan Milne speaks to Warriors TV
During the week Warriors TV caught up with head coach Allan Milne ahead of the new season. Please follow the link below to hear what the gaffer had to say in relation to preseason, new signings and the season ahead:
https://www.youtube.com/watch?v=PYK6e-cZsJ4
Sean Crighton speaks to Warriors TV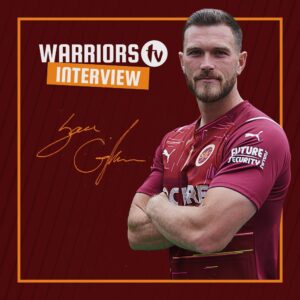 Earlier in the week, Craig Telfer of Warriors TV caught up with new club captain Sean Crighton. The pair spoke about why Sean came to Ochilview, his duties as captain, team spirit and our ambitions as a club. It's not to be missed if you're a Warriors fan!
You can access the interview by clicking on the link below:
Just in case you're interested…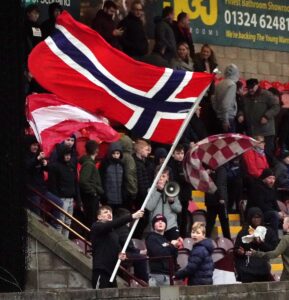 The latest lifting of attendance restrictions
In the latest lightening of Covid restrictions due to take place on the 9th of August, clubs will now be able to host up to 5,000 supporters without permission and can still apply for bigger crowds via their local council authorities. Please follow the link below for more details:
https://www.bbc.co.uk/sport/football/58075021
Former defenders more likely to develop dementia than other positions
In recent years more and more evidence has been provided linking heading footballs to the development of neurodegenerativediseases in later life. In this specific study carried out by professor Willie Stewart, defenders were found to be 3.5 times as likely to experience such health problems than the general population. Please follow the link below to read more:
https://www.bbc.co.uk/sport/football/58060644
SFSA want YOUR opinions on Pyrotechnics
In a recent edition of Inside Ochilview, we mentioned how the Scottish Government was looking to do a public consultation relating to the use of pyrotechnics at football matches. Now the Scottish Football Supporters Association would like to hear your thoughts. You can help them by clicking on the link below and answering their short survey:
https://www.surveymonkey.co.uk/r/sfsa-pyrotechnics