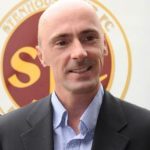 New Chairman appointed at Stenhousemuir FC
Stenhousemuir FC is delighted to announce that Iain McMenemy has been appointed as the new Chairman of the club replacing Gordon Thompson who stepped down recently. Iain is an existing Director of the club and has been part of the board for 6 years.
Acting Chairman David Reid said "When Gordon stepped down as Chairman we decided to take some time to consider a new appointment to this important role at the club. We considered the potential upside of an external candidate whilst at the same time considering those within the board. We also took into account the appointment last month of Jamie Swinney, our new Chief Executive.
"I personally was in no doubt Iain was an outstanding candidate for this role and it was the correct process to consider all options. Having done so, I was delighted to recommend to the board Iain be appointed and was equally pleased to receive their unanimous support.
"Iain came to the club initially as a sponsor through his communications business. He quickly became close to the club and we were pleased when he accepted our invitation to join the board in 2012. His communication skills and business foresight were apparent then and brought a fresh view of the club's objectives and vision.
"Latterly he has been working on a 3-year plan for the club which has involved not only some of the board members and staff, but also other stakeholders from in and around the club. It seemed natural therefore that Iain should now step up and drive delivery of this 3-year plan as well as leading our ongoing work to develop the club.
"I will now return to my role as Vice-Chairman and look forward to working with Iain in the coming years to deliver success both on and off the park."
Iain McMenemy said, "I am honoured to have been appointed as Chairman of Stenhousemuir Football Club.  It is humbling to be leading a club with a long and proud history going as far back as 1884.  I have a strong personal connection to the club as my grandfather 'Gibby the Goalie' played here back in the 1940s.  You could say therefore that the club is in my blood.
"But while history is important to us, equally important is securing the club's future success.
"This will mean ensuring we have the resources to help the manager build a successful first team.  It is also about ensuring that the club continues to be a strong partner within our local community, where we currently offer an unrivalled community sporting programme.
"I will personally be looking to further build our strong community partnerships, whilst at the same time working hard with our new Chief Executive and the Board to ensure we have a strong financial base."
"I'll be continuing with our innovative and progressive approach to running a football club, whilst at the same time fighting passionately to improve the overall game in Scotland.
"I pay tribute to my predecessor Gordon Thompson who led the club through some difficult times.  Gordon provided strong leadership and business acumen at a time when we needed it most.  We are all immensely grateful for his help, support, and friendship.  Our job is to now build on Gordon's achievements and continue the proud history of the club and community."