Management team here to stay!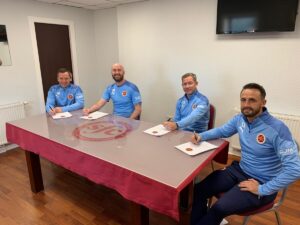 Inside Ochilview is delighted to be the very first place to bring you the news that the entire first team coaching staff have signed new 3 year deals at the club! The club has been satisfied so far with the efforts to rebuild our first team squad and have moved to secure the services of the management team.
Stephen Swift, Frazer Wright, Michael Moore and Stephen Bryceland have committed their futures to the club until at least 2024. These deals will hopefully provide the club's footballing department with the longer term stability required to build for the future and to achieve our footballing objectives.
What an exciting time to be a Warrior!
Onto the next
As you will be aware of by now, our planned fixture against Bo'ness United for Tuesday had to be cancelled. In order to prevent this from disrupting our preseason plans, we have been able to schedule a replacement match tonight against Syngenta FC. Please see below for our upcoming fixtures this week.
Tonight 7:30pm – Syngenta FC (H)
 Having not played since May, the new-look Warriors are finally back in action tonight as we take on our partner club and lowland league side Syngenta FC. The match will be streamed live from Ochilview for free on Warriors tv (Here). So why not tune in and take the opportunity to see our new signings in action for the first time!
 Saturday 2pm – Benburb (A)
The boys will be looking to continue the finetuning of their system and get some minutes into the legs as we travel to Govan, Glasgow to take on West of Scotland League side Benburb. This match will be the very first chance in comfortably over a year for Warriors fans to see the team play live as the fixture is open to away fans for a fee of £6 to be paid at the gate.
Tuesday – Alloa Athletic (H)
Tuesday night will prove to be a different sort of test for the Warriors as we go toe to toe with an Alloa side only just relegated from the Championship. The boys will be looking to show what they can do, especially those new signings who have recently joined from Alloa. Please do keep an eye out on our social media platforms for attendance/streaming information.
We're hiring – club doctor
Just a reminder to supporters that we are recruiting a new club doctor. So if you know anyone that may be interested in the role then please do pass this onto them.
Andy Little, the Club's current Doctor has reluctantly had to step back from the role. The club wishes to thank Andy for his time and support over recent seasons.
If you wish to apply please contact the club on 01324 562992 or email jamie.swinney@stenhousemuirfc.com
Full details can be found by following the link below:
https://www.stenhousemuirfc.com/2021/06/18/club-doctor-position-available-be-part-of-the-warriors/
Summer camps now taking bookings!
Our very own Warriors in the Community are proud to boast an excellent reputation when it comes to operating successful kids summer camps. Now as the school term draws to a close its almost that time of year again!
We have 3 camps available which are already taking bookings: our Mini Maroon Camp (ages 2-4), our Girls Summer Camp (girls only aged 5-14) and our Summer Holiday Camp (boys and girls ages 5-14).
All relevant details can be found below:
Mini Maroons
Week 1 – Monday 28th June – Friday 2nd July
Option K – 10am – 11am / 11am – 12pm
Full Week Cost – £15
Cost Per Day – £3
Venue – Larbert High School
Coach – Declan Kidd
Call : 0134562992 to Book your slots for this year's Mini Maroons Summer Camp at Larbert High School
Girls Summer Camp
Summer Holiday Camp
Season ticket update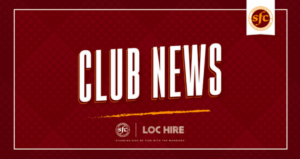 Just to give supporters an update regarding season ticket sales, we have seen an encouraging start with 65% of our target met already and 77% of last season's total sales!
For those that have already purchased, it's time to get excited. For those that are yet to purchase, don't worry there are still plenty available, but remember being a season ticket holder will be the only way to guarantee access to matches while Covid restrictions remain.
To renew, please phone the club at 01324 562992.
Prices are as follows:
Adult – £130 [£7.22 per match]
Concession – £90 [£5 per match]
16 – 21 year olds – £40 [£2.22 per match]
Under 16s – FREE [sponsored by Your Equipment Solutions]
There's also an option to pay monthly for both Adult and Concession Season Tickets.
Adult – £13 per month [July – April]
Concession – £9 per month [July – April]
Just in case you're interested…
The Scots may have fallen short in their Euro 2020 group, but is the side now set up for a bright future?
Sadly the boys are now heading home after defeat to Croatia. However, could this tournament prove to be a turning point for the national team? Boogie fever has united the nation behind the team and has given the players the hunger to qualify for more tournaments. Please follow the link below to read more on how Euro 2020 may just help us to shake off the shackles of the past:
https://www.bbc.co.uk/sport/football/57575587
Munich and Hungary's LGBT dispute
One of the biggest stories coming out of the Euro's this week related to Germany and Hungary's dispute over LGBTQ Pride displays at the 2 nation's clash on Wednesday night. This disagreement has now led to the Hungarian Prime Minister cancelling his plans to attend the game. Please follow the link below to read more:
https://www.bbc.co.uk/news/world-europe-57579821
60,000 supporters to attend Wembley semi-finals and finals
This week, the UK Government has given the green light for Wembley stadium to operate at a 75% capacity, allowing for around 60,000 supporters to be in attendance for the semi-finals and final of Euro 2020. Please follow the link below to read more:
https://www.soccerex.com/insight/articles/2021/over-60-000-fans-to-attend-euro-2020-semi-finals-final