Warriors Quiz
Hello and welcome back to Inside Ochilview, YOUR weekly Warriors update! To kick things off, why not give our Warriors quiz a try and put your Stenhousemuir Knowledge to the test. You might even learn something! All answers can be found at the bottom of the page, best of luck!
1)    In which year was the club first admitted to the Scottish Division 2 proper?
A) 1921. B) 1926. C) 1928
2)    The club participated in the first ever fully floodlight match in Scotland in 1951, but who were our opponents that day?
A) Falkirk. B) Hamilton Academical.  C) Hibernian.
3)    What is the current capacity of Ochilview?
A) 1,886. B) 2,360.  C) 2,645.
4)    In which year did the club win the Scottish Challenge Cup?
A) 1994. B) 1995.  C) 1996.
5)    In which year did the club first move to Ochilview Park?
A) 1890. B) 1896.  C) 1902.
Last time out
Warriors 2-0 Elgin City
 Both sides contributed massively to produce what was an excellent game of football in which the Warriors were able to secure a crucial 3 points to keep the pressure on Stranraer for a top half finish in the table. Paddy Martin was forced into a couple sharp saves early on, including an absolute stunner from a deflected freekick in the 6th minute. The boys then grew into the game and began to get shots off towards the Elgin goal. The breakthrough came early on in the second half when Tam Muir finished from short range to grab his second goal in as many games. Chances then followed at both ends, with Taping coming close for the Warriors. But the points were secured in the 85th minute after Botti Biabi was able to get on the end of a low cross from Tam Muir and turn the ball home.
Match highlights: https://www.youtube.com/watch?v=PgZo1D10ngg
Davie Irons interview: https://www.youtube.com/watch?v=NKRZagRaecw
Creag Little interview: https://www.youtube.com/watch?v=Z3lO1jaQuwg
Ryan Blair interview: https://www.youtube.com/watch?v=amUbuNiS8oo
Warriors 1-3 Queens Park
The weekend's game against destined champions Queens Park proved to be just as tough a test for the Warriors as was expected. The Spiders were the better side during the opening exchanges and the boys found themselves 2 goals down at the break. The Warriors started the second half well and were disappointed to concede a 3rd goal shortly after the visitors were reduced to 10 men. The boys did rally however and pulled a goal back through a Tam Muir penalty on 69 minutes.
Match Highlights: https://www.youtube.com/watch?v=kC18NbCnA9c
Davie Irons interview: https://www.youtube.com/watch?v=kAFS3AfjZdg
Tam Muir interview: https://www.youtube.com/watch?v=iDrkisN-rk0
Warriors 1-0 Cowdenbeath
Last Thursday the Warriors secured a massively important and thoroughly deserved victory over Cowdenbeath at Ochilview. Callum Yeats first ever goal for the club finished off an excellent team move from the Warriors and proved decisive as the Blue Brazil were unable to respond. The boys undoubtedly played some of their best football of the season, creating a host of chances that should have seen us comfortably put the game to bed.
Match highlights: https://www.youtube.com/watch?v=zV1a5RKBwc8
Davie Irons: https://www.youtube.com/watch?v=XP4bW9vxgqc
Callum Yeats: https://www.youtube.com/watch?v=BlkatrqUUKo
Onto the next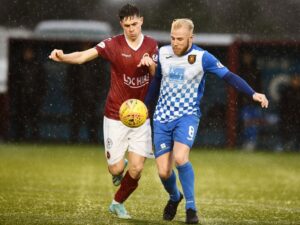 Injury update
 Ahead of our next 2 fixtures, Graeme Smith remains out for the long term with a damaged ACL. Cammy Graham also remains unavailable. Paul Brown is out after a reoccurrence of a hamstring injury during the match with Elgin. Lastly, Johnathan Tiffony is unavailable for tonight's match with a hamstring injury, however we are hopeful that he will be back in time for next week.
Tonight 7pm – Stranraer (A)
 Tonight the Warriors are doing nothing but looking upwards in the table as we travel to face Stranraer in the league. Going into the game, the Warriors sit in 6thplace, 3 points and 6 goals behind our opponents. A 3-0 win would see us leapfrog the Stair park side in the race to secure a top half finish before the league splits next week. Both teams will be full of confidence following recent wins, however Stranraer hadn't won in 3 league matches prior to their victory over Stirling Albion on Tuesday.
Tonight's fixture will be live streamed by our hosts via https://stranraerfc.org/register/ . Pay-per-view is available for £7.99, by entering the relevant details and selecting the box for tonight's game.
Next Tuesday 7:45pm – Annan Athletic (A)
 The Warriors will travel to face Annan Athletic in our final league match of the season before the table splits. Although the real significance of next Tuesday's game will largely be determined by our result at Stranraer tonight, both sides will be keen to go into the split in good form. Annan will be looking to secure their SPFL status as they fight to prevent a late surge from bottom side Brechin City. The Galabankies haven't won since the restart, at the time of writing.
Tuesday's game is being streamed by our hosts at https://annanathletic.univtec.com/home and is available on pay-per-view for £9.99. Simply register an account then select the intended game.
Warriors in the Community Easter camps a great success!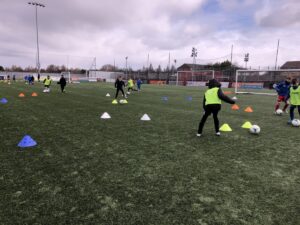 At Stenhousemuir, engaging with the community is central to who we are as a club. With that in mind, it's been amazing to see yet another successful holidays camp ran by Warriors in the Community over the past week! Both weeks reached full capacity with comfortably over 100 kids attending each. We've seen some incredible goals and skills, not to mention plenty of smiles as well. A special thanks also has to go out to the team of volunteers who's hard work has made the camps possible!
 Just in case you're interested…
Why are clubs across the UK boycotting social media?
 The vile racist abuse received by some footballers on social media has been well publicised in recent months. Now, more and more people within the game are calling on social media companies to do more to tackle the issue, with some clubs including Rangers taking the decision to boycott social media altogether for a full week. Please follow the link below to read more:
https://www.bbc.co.uk/sport/football/56686068
Why is female sport absent from Netflix and Amazon docuseries?
By now we will all be familiar with the fly on the wall style documentary series which follow sporting teams over the course of a season. We've seen the likes of Sunderland and Tottenham Hotspur feature in England and even Hearts on the BBC north of the border. But to date there is no female sport equivalent. Follow the link below to read more:
https://www.givemesport.com/1674777-under-the-spotlight-stories-of-womens-sport-absent-from-netflix-and-amazon
Trafalgar Square set to become Euro 2020 fan park
Some good news breaking this week for our national team supporting fans who are planning on heading down to London for Scotland's Euro clash with England, as it was announced that Trafalgar Square is set to host up to 12,500 supporters with live screens in place. Please follow the link below to read more:
https://www.bbc.co.uk/news/uk-england-london-56719454
Quiz answers
 1) A, 1921
2) C, Hibernian
3) C, 2,645
4) B, 1995
5) A, 1890